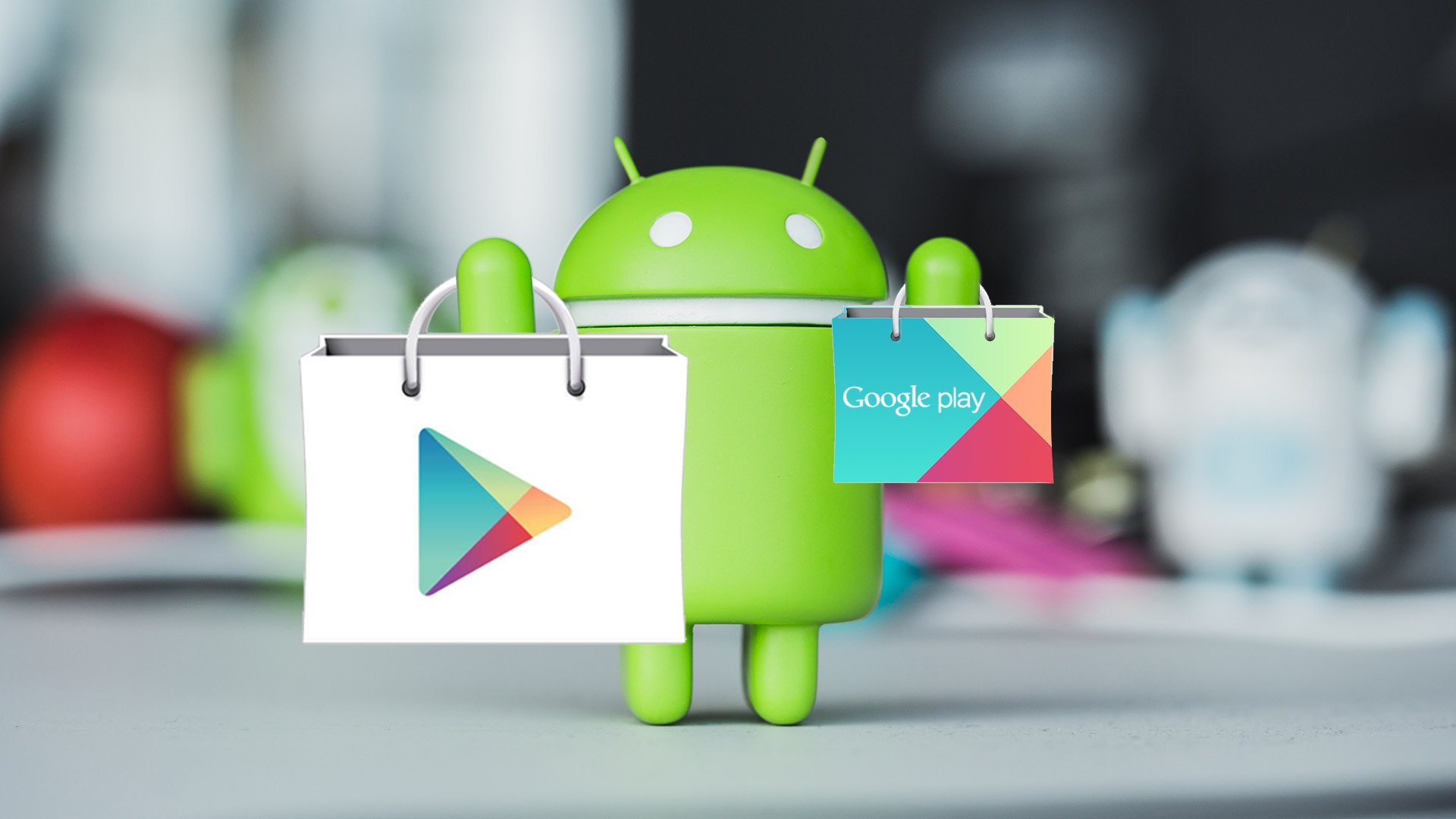 Let's be honest: new apps are flooded every day in Google Play. Finding those that are worthwhile is a long-term task. That's why, according to our weekly tradition, we offer the best new and updated apps from the Play Store. This week we have an exciting strategy simulation from the creators of Plague Inc., a social platform that helps you create quality content and more. Let's go in!
organized
Although we do not usually include early access applications in our list, we have made an exception for Curated. This new application is a social platform that allows you to discover new exceptional content, whether it's books, TV shows, movies, podcasts or games. It gives you the ability to create a list of things to watch, listen to, or read later. You can do this by searching the application databases, via the Discover tab, or by following people with similar interests. Of course, you can also review or manage the content yourself, gaining followers over time.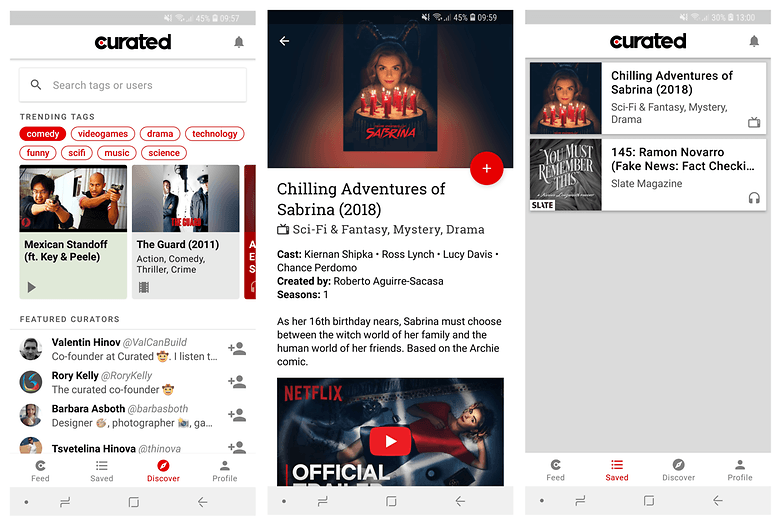 The interface is modern, minimalist and easy to use. You can swipe to the right to select or delete to delete something from your list. The only complaint we could make is that the game database is still missing a bit, but we have to wait for an early access application. Nevertheless, Curated has the potential to become a dynamic online community in which you can find excellent recommendations from like-minded people. We encourage you to try!
Get it on Google Play.
Rebel Inc.
The creators of Plague Inc., Ndemic Creation, present a new simulation strategy that propels you into a war-torn region. The war is officially over, but peace is fragile. Your goal is to stabilize the region through civil, military, and government initiatives. You must make difficult diplomatic decisions, deal with insurgents who are trying to undermine you, while maintaining your reputation and winning the hearts and minds of people.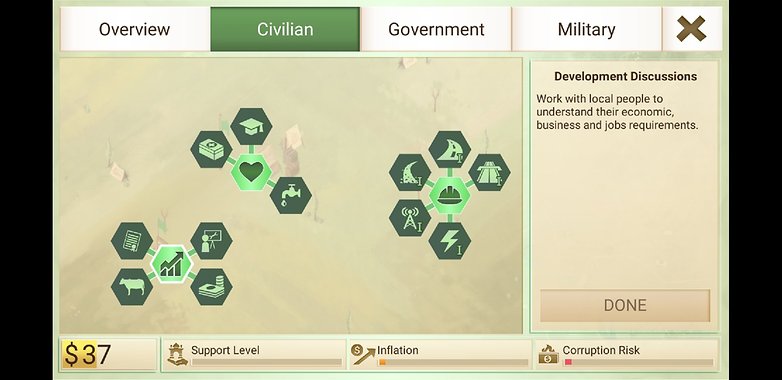 You will also need to prioritize resources, develop infrastructure, invest in education without allowing the spread of corruption. Maintaining this delicate balance is difficult but satisfying. As expected from Ndemic, the game offers deep strategic gameplay that will put your skills to the test. Rebel Inc. is also completely free, but there is a premium version that gives advisors the ability to boost your operations and move your game forward quickly.
Get it on Google Play.
Application tiles
If you do not think your notification bar has enough useful shortcuts, there is an application that can change that! Tiles for Applications allows you to add up to six shortcuts for applications in your quick navigation area in the notification bar. It is easy to use and does exactly what is promised without any invasive authorization. Although application icons may be more aesthetic, it is a practical application. It is particularly interesting for those who accumulate applications and do not wish to scroll through the different drawers to find the application they need.
Get it on Google Play.
Graphing calculator – Algeo
Are you an engineering student preparing for the next semester? Do you have trouble finding calculator apps with all the features you need? Then Graphing Calculator – Algeo could be the application you have been waiting for. Recently updated, this application can be used as calculator, graph and graph free. You can calculate integrals, Taylor series, solve equations, draw functions and much more.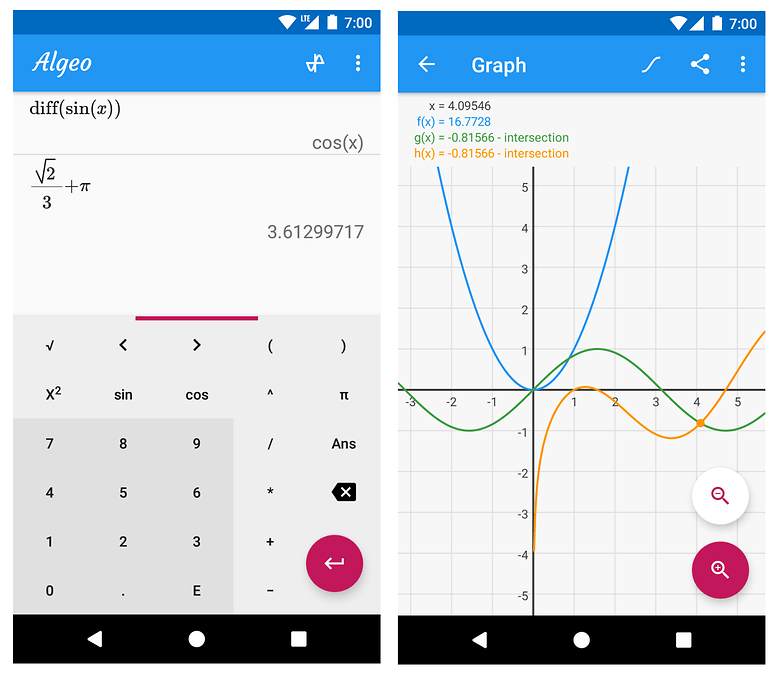 The design is minimalist and easy to use, and occasional commercials are not too annoying. It can be useful to high school students and universities. The engineer we consulted approved. Give certainly Graphing Calculator – Algeo a try!
Get it on Google Play.
Evolution: the video game
Only the fittest can survive in nature! The same thing applies to Evolution: the video game. Inspired by an identical board game, Evolution has now made its way onto the Play Store. Of course, the goal is to adapt as quickly as possible to the environment and to stay one step ahead of competing species. You can do this using various strategies – developing a hard shell to protect yourself from carnivores or a long neck to reach the leaves of trees, for example.
Thousands of possible cash combinations evolve from 17 unique trait cards and you can pit them against other online players or challenging Adaptive AI opponents. There are never two identical games, which gives the game a high replay value. We must also say that not all board games translate well on digital media, but this is not the case here. Evolution: The video game is one of the best adaptations of board games and it will offer hours of stimulating entertainment.
Get it on Google Play.
These are our five apps of the week. Have we forgotten new cool versions? Let us know in the comments.
Source link