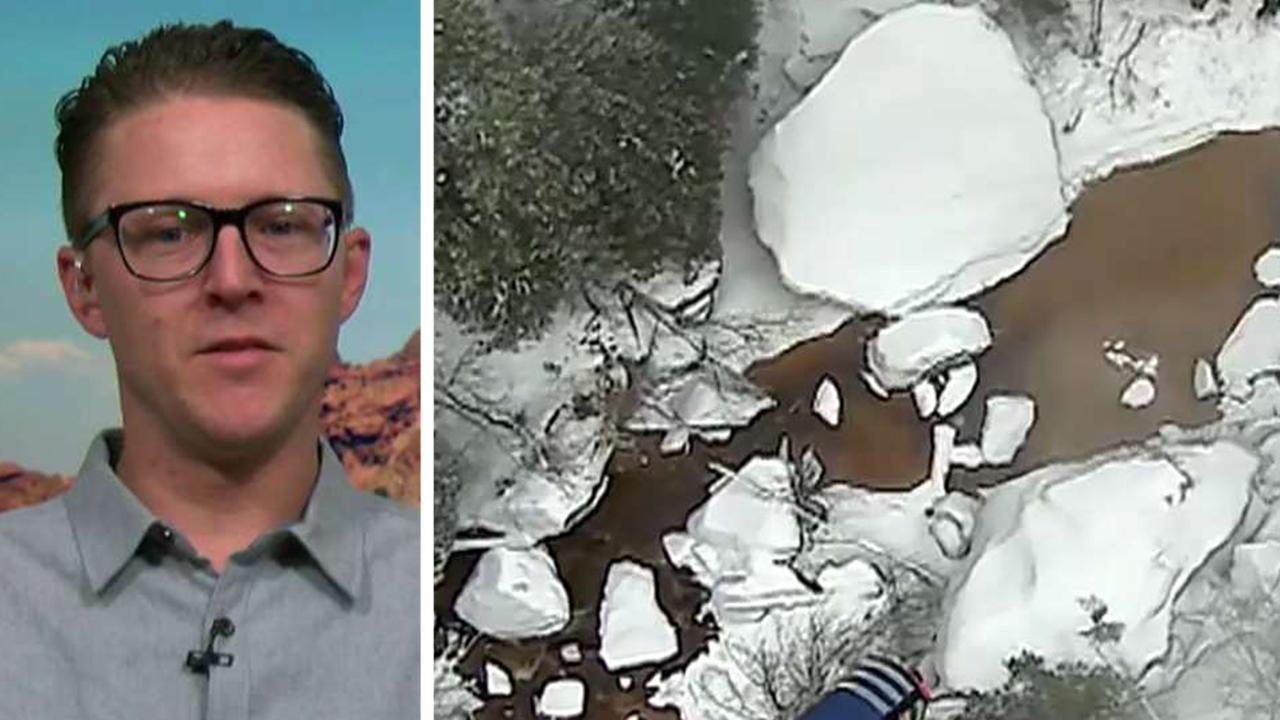 An Arizona man who was hiking with his girlfriend in Zion National Park, Utah, tells the story of a depressed in quicksand for 11 hours during a snowstorm during the weekend.
"It was one of the scariest moments of my life," Ryan Osmun told Shepard Smith in "Shepard Smith Reporting."
HIKER WHO WAS PERMITTED DURING A MECHANISM AND DURING 10 HOURS, IT INDICATES THAT HE COULD LOSE
He said that he was able to stand on his left leg, but the quicksand was at the height of his hip and right leg.
"I stopped drowning myself at the hip," he said.
He had trouble staying awake during his ordeal.
Osmun said he was hiking with his girlfriend, Jessika McNeill, on Saturday, when she got stuck in the mud and fell into the creek. He helped her up, only to find that he was sinking himself into the sand.
"My leg just fell into the ground and she sucked me," McNeill told Smith.
Osmun's girlfriend tried to free her leg, to no avail. "I was trying to search it with my hands and it was very cold," she told Smith.
A MAN ARIZONA GATHERED AFTER LOOKING BY QUICK AND PER HOUR
McNeill went looking for help. A major complication: they were five hours after the start of the hike, with no real track or mobile phone reception.
Osmun recalled being shattered in the water eight hours after the departure of his girlfriend looking for help. He then woke up to a flash of light and thought that he was dreaming when rescuers found him.
Winter storms continued to delay relief efforts until Sunday afternoon.
"It was only after a brief meteorological break in the afternoon that the helicopter (Utah Department of Public Safety) was able to safely retrieve the patient through a hoist rescue operation" , officials said in a press release.
CLICK HERE TO GET THE FOX NEWS APP
Osmun was reunited with his girlfriend at the hospital, where he was treated for exposure, hypothermia and extremity injuries.
Katherine Lam of Fox News contributed to this report.
Source link