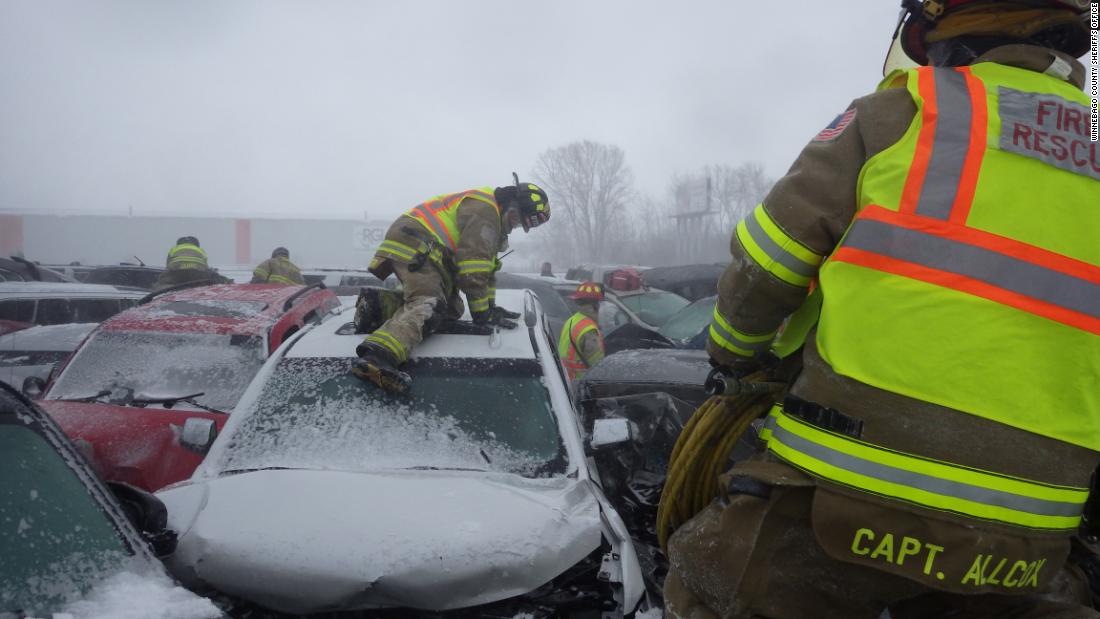 The chain crash Sunday on Interstate 41 at Neenah, Wisconsin, has involved 131 vehicles, according to the Winnebago County Sheriff's Office.
One person was killed – Andrew Schefelker, a 30-year-old science teacher – and 71 others were taken to hospitals in the area, the sheriff's office said.
The office released recordings of some of the calls to 911, revealing travelers' fears and desperation as collisions mounted.
"Help me, I'm on the highway.There is a huge accident, a huge (inaudible) .I'm so scared," said an unidentified woman to a dispatcher.
The dispatcher asks the woman to take a deep breath and find out where she is.
"I'm hooked, hung up, there's a huge heap – people are," the woman starts to respond screaming and crackling noises are heard in the background.
"Help, help, help!" she says later in the call.
You can hear more crunches, but it's hard to tell if any other accidents are happening or if someone is walking in the snow.
"Get back in your car, get back in your car," says the dispatcher as the screeching continues. "Madam, Madam, Madam."
The recording ends then.
Another call begins calmly as a passenger from a blue truck explains that she and her husband have hit another vehicle due to reduced visibility.
"It's as if the snow was blowing from the other side of the highway and everyone was saying: it's a heap," she says.
The caller tries to count the number of vehicles involved when other accidents occur.
"Oh my God, oh my God, oh my God," she said. "Everyone has just hit us because we are as stopped on the side."
The dispatcher asks the appellant and her husband to remain in the vehicle, to fasten their seatbelt and to light the hazard lights.
"My car is shaking, I do not feel safe in the car, what are we doing Oh my God, help us please," she said.
The dispatcher is able to calm the woman and ensures that help is on the way.
In total, Emergency Medical Dispatchers handled 772 weather-related 911 calls between 11:05 am and 6:30 pm Sunday in Winnebago County, the Sheriff's Office announced.
It took about two hours to stabilize the scene, bring uninjured motorists to a nearby location to warm up and redirect about 500 vehicles stuck behind the stack.
The Interstate only reopened on Monday 3 hours.
Source link