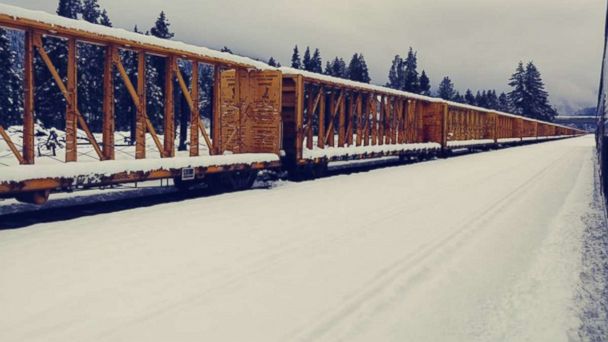 [ad_1]
An Amtrak train with 183 passengers aboard is stuck in Oregon since Sunday night.
According to Amtrak spokesman Marc Magliari, the Coast Starlight Train 11, which was flying from Seattle to Los Angeles, sank Sunday night near the small town of Oakridge, after hitting a fallen tree on a snowy trail.
No passengers or crew members on board were injured, but "conditions have further deteriorated with many obstructions of snow and fallen trees," Magliari told ABC News in a statement. Tuesday morning.
"Due to worsening conditions, road closures in the region and the lack of a viable way to safely transport passengers or crews, train 11 has stopped at Oakridge, in Oregon, "added Magliari. "We are actively working with Union Pacific to clear the right of way and allow passengers to get off the train."
Union Pacific Railroad, which operates more than 32,000 km of track in 23 states in the western United States, is working to open a track for the train, Magliari said.
Union Pacific Railroad spokesman Tim McMahan said the Amtrak train was "unusable" due to poor weather and falling trees, but teams are cleaning up the way and should reach the blocked train on Tuesday at 18:00 local time. The train will then be taken back to Eugene and Portland, Oregon.
"Amtrak made the decision to keep the passengers on the train because the electricity is cut off in town [of Oakridge]McMahan told ABC News in a statement Tuesday morning. "In addition, with only two small hotels in town, they do not want to separate the passengers before returning them for departure."
Amtrak said via Twitter passengers on the blocked train are not charged for food or water.
One of the passengers, Rebekah Dodson, said that the train was powered by electricity and heat and that meals were provided. But the food is depleting and there are no other supplies available. The snow on the outside is too deep for them to get off the train to get in, she says.
"People are restless but in a good mood," Dodson told ABC News via Facebook.
Another passenger, Carly Bigby, said mothers of young children on the train had been forced to create makeshift diapers and needed formula milk.
"They do not have these supplies on the train," Bigby told ABC News. "So we act like we do with what we have."
ABC News & Dominick Proto contributed to this report.
[ad_2]
Source link