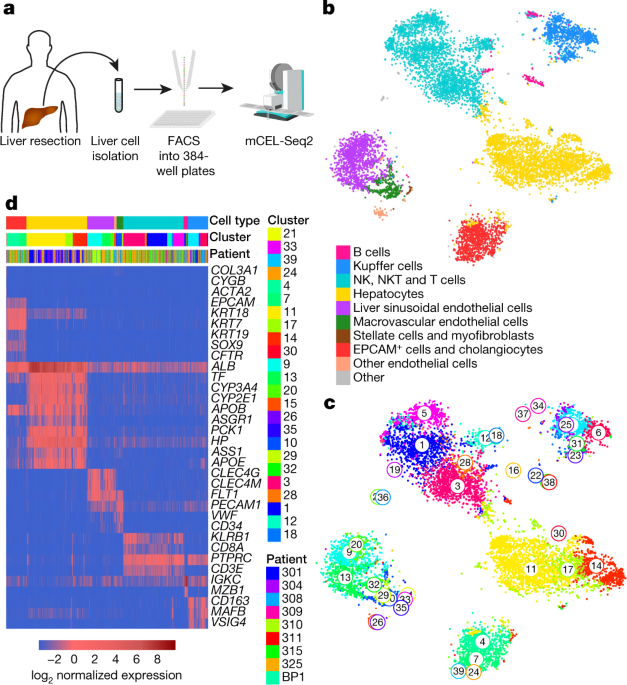 1.
Michalopoulos, G. K. & DeFrances, M. C. Regeneration of the liver. Science 276, 60-66 (1997).
2
Ryerson, A.B. et al. Annual report to the nation on the state of cancer, 1975-2012, presenting the increasing incidence of liver cancer. Cancer 1221312-1337 (2016).
3
Grün, D. & van Oudenaarden, A. Design and analysis of single-cell sequencing experiments. Cell 163799-810 (2015).
4
Herman, J.S., Sagar and Grün, D. FateID deduce cellular fate bias in multipotent progenitors from single-cell RNA data. Nat. The methods 15379-386 (2018).
5
Grün, D. et al. Sequencing of unicellular messenger RNA reveals rare types of intestinal cells. Nature 525251-255 (2015).
6
Jungermann, K. & Kietzmann, T. Zonation of parenchymal and non-parenchymal metabolism in the liver. Annu. Rev Nutr. 16179-203 (1996).
7.
Gebhardt, R. Liver metabolic zonation: regulation and implications for liver function. Pharmacol. Ther. 53275-354 (1992).
8
Kietzmann, T. Metabolic zonation of the liver: the oxygen gradient revisited. Redox Biol. 11622-630 (2017).
9
Halpern, K.B. et al. The unicellular spatial reconstruction reveals the global division of labor in the mammalian liver. Nature 542352-356 (2017).
ten.
MacParland, S.A. et al. Single-cell RNA sequencing of the human liver reveals distinct populations of intrahepatic macrophages. Nat. Common. 94383 (2018).
11
Haghverdi, L., Büttner, M., Wolf, F. A., Buettner, F. & Theis, F. J. Dissemination. The pseudotime robustly reconstructs the branching of the lineage. Nat. The methods 13845-848 (2016).
12
Strauss, O., Phillips, A., Ruggiero, K., and Bartlett A. Dunbar, R. Immunofluorescence identifies distinct subsets of endothelial cells in the human liver. Sci. Representative. 744356 (2017).
13
Halpern, K.B. et al. The pairwise cell sequencing allows the mapping of the spatial gene expression of the endothelial cells of the liver. Nat. Biotechnol. 36962-970 (2018).
14
Raven, A. et al. Cholangiocytes act as facultative hepatic stem cells during impaired hepatocyte regeneration. Nature 547, 350-354 (2017).
15
Michalopoulos, G.K., Barua, L. and Bowen, W. C. Transdifferentiation of rat hepatocytes into biliary cells after ligation of the bile ducts and toxic biliary lesion. hepatology 41535-544 (2005).
16
Schmelzer, E. et al. Human liver stem cells from fetal and postnatal donors. J. Exp. Med. 2041973-1987 (2007).
17
Turner, R. et al. Biology of human hepatic stem cells and the maturing liver line. hepatology 531035-1045 (2011).
18
Grün, D. et al. De novo prediction of stem cell identity using single-cell transcriptome data. Cell strain cell 19266-277 (2016).
19
Okabe, M. et al. Potential liver stem cells reside in EpCAM+ normal and injured mouse liver cells. Development 1361951-1960 (2009).
20
Cardinale, V. et al. Multipotent stem / progenitor cells in human biliary trees give rise to hepatocytes, cholangiocytes and pancreatic islets. hepatology 542159-2172 (2011).
21
Kodama, Y. et al. Hes1 is necessary for the development of the intrahepatic bile ducts. Gastroenterology 124, A123 (2003).
22
Sosa-Pineda, B., Wigle, J.T. and Oliver, G. The migration of hepatocytes during liver development requires Prox1. Nat. Broom. 25254-255 (2000).
23
Huch, M. et al. Long-term culture of stable bipotent stem cells in the genome from adult human liver. Cell 160, 299-312 (2015).
24
Betge, J. et al. MUC1, MUC2, MUC5AC and MUC6 in colorectal cancer: Expression profiles and clinical significance. Virchows Bow. 469255-265 (2016).
25
Park, S.-W. et al. AGR2 disulfide isomerase protein is essential for the production of intestinal mucus. Proc. Natl Acad. Sci. United States 1066950-6955 (2009).
26
Forner, A., Reig, M. and Bruix, J. Hepatocellular carcinoma. Lancet 391, 1301-1314 (2018).
27
Matkowsky, K.A. et al. Aldoketoreductase family 1B10 (AKR1B10) as a biomarker for distinguishing hepatocellular carcinoma from benign hepatic injury. Hum. Pathol. 45834-843 (2014).
28
Rantakari, P. et al. The endothelial protein PLVAP in lymphatics controls the entry of lymphocytes and antigens into the lymph nodes. Nat. Immunol. 16, 386-396 (2015).
29
Grompe, M. & Strom, S. Mouse with human livers. Gastroenterology 145, 1209-1214 (2013).
30
Azuma, H. et al. Robust expansion of human hepatocytes at Fah– / –/ Rag2– / –/ Il2rg– / – mouses Nat. Biotechnol. 25903-910 (2007).
31.
Uhlén, M. et al. Proteomics. Tissue map of the human proteome. Science 3471260419 (2015).
32
Krieger, S.E. et al. The inhibition of infection by hepatitis C virus by anti-claudin-1 antibodies involves the neutralization of E2-CD81-claudin-1 combinations. hepatology 511144-1157 (2010).
33
Lieber, A., Peeters, M.J., Gown, A., Perkins, J. and Kay, M. A. A modified urokinase plasminogen activator induces regeneration of the liver without bleeding. Hum. Gene Ther. 61029-1037 (1995).
34
Mailly, L. et al. Elimination of persistent infection by hepatitis C virus in humanized mice with the aid of a monoclonal antibody targeting claudin-1. Nat. Biotechnol. 33, 549-554 (2015).
35
Hashimshony, T. et al. CEL-Seq2: Highly multiplexed, single-cell, highly sensitive monocyte-seq. Genome Biol. 17, 77 (2016).
36
Li, H. & Durbin, R. Fast and accurate long reading alignment with the Burrows-Wheeler transformation. bioinformatics 26589-595 (2010).
37
D. Grün, L. Kester and A. Oudenaarden, A. Validation of noise models for unicellular transcriptomics. Nat. The methods 11637-640 (2014).
38
Anders, S. & Huber, W. Analysis of Differential Expression for Sequence Count Data. Genome Biol. 11R106 (2010).
39
Yu, G., Wang, L.-G., Han, Y. & He, Q.-Y. clusterProfiler: an R package that compares biological themes among clusters of genes. OMICS 16284-287 (2012).
40
Subramanian, A. et al. Gene Enrichment Analysis: A knowledge-based approach to interpreting genome-wide expression profiles. Proc. Natl Acad. Sci. United States 10215545-1550 (2005).
41
Mootha, V.K. et al. The PGC-1α sensitive genes involved in oxidative phosphorylation are coordinated in human diabetes. Nat. Broom. 34267-273 (2003).
42
Yu, G. & He, Q. Y. ReactomePA: an R / Bioconductor software package for the analysis and visualization of the reateome pathway. Mol. Biosyst. 12477-479 (2016).
43
Broutier, L. et al. Culture and establishment of self-regenerating 3D organoids of adult human and mouse liver and pancreas and their genetic manipulation Nat. protocols 111724-1743 (2016).
44
Aizarani, N. et al. Protocol for sequencing monocellular RNA from cryopreserved hepatic cells. Protoc. Exch. https://doi.org/10.21203/rs.2.9620/v1 (2019).
Source link