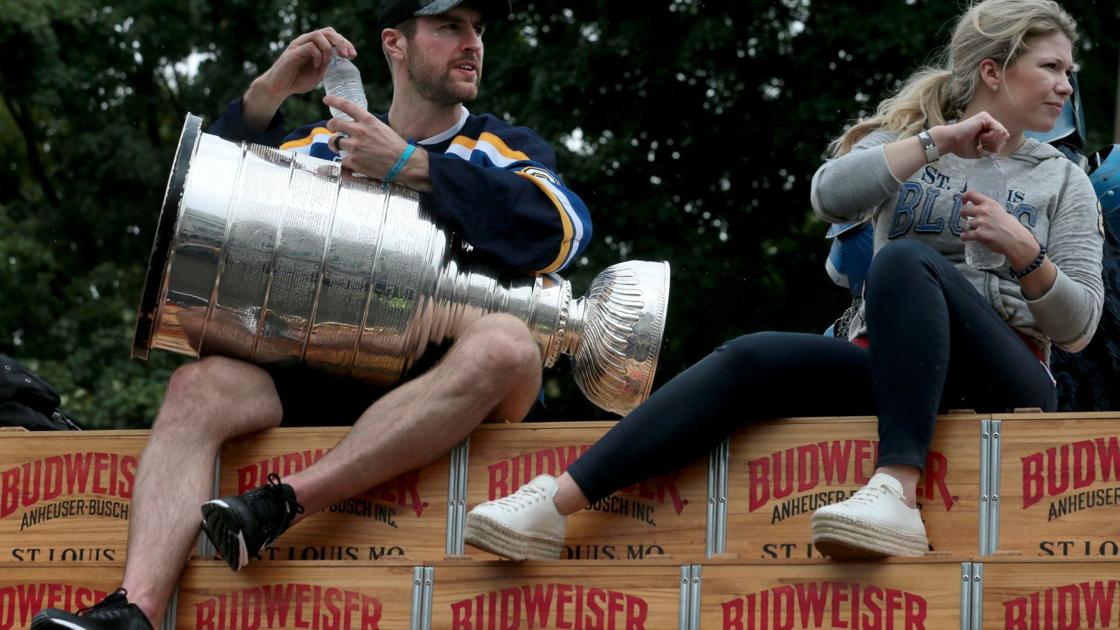 TThe first blues player to win the Stanley Cup had a major problem at 12:18. the Saturday.
Alex Pietrangelo was supposed to find a way to drag his 34.5-pound Cup to the top of Clydesdale's Budweiser wagon that was waiting for him at the Enterprise Center.
And if that was not difficult enough, the captain had to consider other valuable goods.
His wife, father, mother, stepmother and baby triplets were supposed to compete with the defenseman at the Blues Stanley Cup championship parade.
The Clydesdales were a curved ball. The parade began. Like now.
"I remember first of all," said Cup keeper Philip Pritchard, to the question of whether the trophy had been pulled by horses. "But in hockey, there is always a way."
And in St. Louis, there is a captain who shows the way.
Pietrangelo pivoted with precision, assigning his wife to the Budweiser coach and guiding all the others to the golf cart that would follow.
Once installed above the crowd with his wife and his prize, he realized that there remained an important task to accomplish.
He lifted the cup in the air, drawing one of the loudest roars heard in downtown that day.
"I need a beer," he says.
I want to tell you all this because I know that some wanted to be here and could not, and some who came did not see it very well, and even those who came and saw have just seen.
There were so many magical moments.
So, come with your captain on his 1.5 mile long memory with a city that has waited nearly 52 years.
You've all been relentless, just like your Blues.
You skipped champagne in the alleys. You have turned the tops of portable bathrooms into sofas. You climbed lampposts and looked down from the parking garages. You drank, sang, sang and cheered and, after grazing the cup, you cried.
Pietrangelo heard your applause. He saw you pull this "C" on your sweater – his sweater – a sign that you understand his role in this team that goes from the worst to the first. He jumped off the cart and brought you the cup, allowing you to lean against the bulkheads until they were about to pop up. On request, he poured a beer on the head of a bald man. He hugged those who were celebrating their birthday, whether they were 54 or nine years old. He waved a flag bearing the inscription "History Made" at the back of a fire truck. And every time you called him, even after his legs burned and his biceps barked, he lifted the cup.
"I did not think I would work for a few weeks," he said. "I guess I'm back to the situation. Pretty amazing, though. "
He raced past, handing the Cup to Alexander Steen, Ryan O'Reilly and Pat Maroon.
"I will never see him again," Pietrangelo said once Big Rig came into action, and it was hard to tell if he was serious.
Before handing it over to Vladimir Tarasenko, number 91 put his hands on Pietrangelo's face and said, "We did it!"
When Vince Dunn started running down the street with the Cup, Pietrangelo looked at him as a worried parent.
He is a father first and foremost.
Every 10 minutes or so, Pietrangelo returned to the cart to watch over his babies and grandparents.
If the Cup was in front, he had an arm wrapped around his wife, Jayne, or one of their three children: Evelyn, Oliver, and Theodore.
These were powerful images even if you did not know the history of the difficult pregnancy problems that the Pietrangelos had known in the past, a story that they had the courage to share with the world.
"That's all there is to it," he said, nodding to his children.
"Good tears," said Edi Pietrangelo, the captain's mother. "Very proud."
It was around 1:30 pm when Jayne dodged a beer shower, her husband welcomed her with open arms.
It was 2pm when she figured out, forget about it and start spraying champagne, soaking everyone, including herself.
Did you know that she was a fan of the Blues long before her husband led the Blues?
"I saw him accomplish so much," Jayne said. "He is a hard worker. It's so deserved for him and the whole team. They mutilated themselves, found chemistry. After all these years, they brought the Cup to St. Louis, in my hometown. It means the world for us all. "
Whenever the captain saw an officer in uniform, he stopped to shake his hand.
And if the Cup was in his possession, Pietrangelo made sure that they touched it and took a picture of it.
"Do not quote me," said one of the officers. "But it was great."
Dalmatian Budweiser is named April. April fell in love with Alex.
When he got off the car, April looked at him as if his owner had just left for work.
When he came back, his tail moved a mile to the minute.
"I want the dog," he joked.
I have tried (and I have failed) to count the number of times the cup has been hoisted and the number of bottles of beer consumed. Both were impressive. But the only number that remained after the end was three.
Three times Saturday, Pietrangelo did a miracle.
The first came from Harrison Schmidt, 20 years old. He had been trying to play hockey at the Special Olympics last season, but skating was difficult for him. However, he loves Pietrangelo so much that he came to the parade with the captain's jersey in the back, as if he wanted to be able to look down and see the name. Pietrangelo saw Harrison and came to ask a question. "Do you want to walk with me?" Harrison's family could not believe it, but Harrison went through the door and walked up Market Street, with Pietrangelo, to lift the cup.
The second was Bobby Reidelberger. Pietrangelo invited him to take his way from the crowd and pushed his wheelchair to the 8th and the market, where Maroon was presenting Stanley. Reidelberger touched him and started to cry. Pietrangelo hugged him and handed him a Busch Light.
The third was David Mellitz. He suffers from spina bifida and uses a wheelchair. Pietrangelo did not know this part, but the reason why Mellitz had become a fan of Blues was because the team had first visited him at the Children's Hospital in the late 1970s. displayed. Pietrangelo helped him to lift the cup.
He stayed there so long that they almost lost him.
Two police officers had to put the captain in a last band of humanity to get him on the podium for the ceremony under the arch.
Fans who were hurting were angry – until they realized that it was Pietrangelo that had gone at full speed.
"I just shake Pietrangelo's hand!" A woman shouted.
"You are the champion of the world, baby!" Shouted a man.
"The legend forever," shouted someone in chaos.
Pietrangelo downplayed its impact. He always.
"I'm just doing my part," he says.
If you looked at it, you knew better.
Scenes from Blues Stanley Victory Parade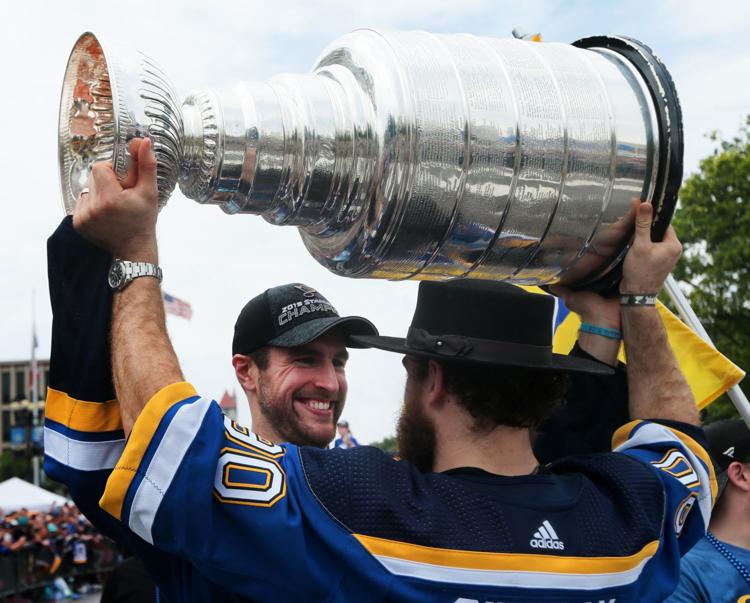 Scenes from Blues Stanley Victory Parade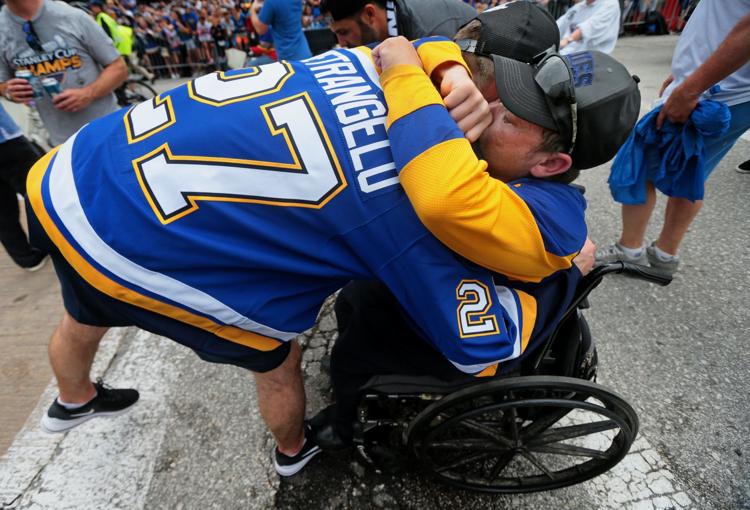 Scenes from Blues Stanley Victory Parade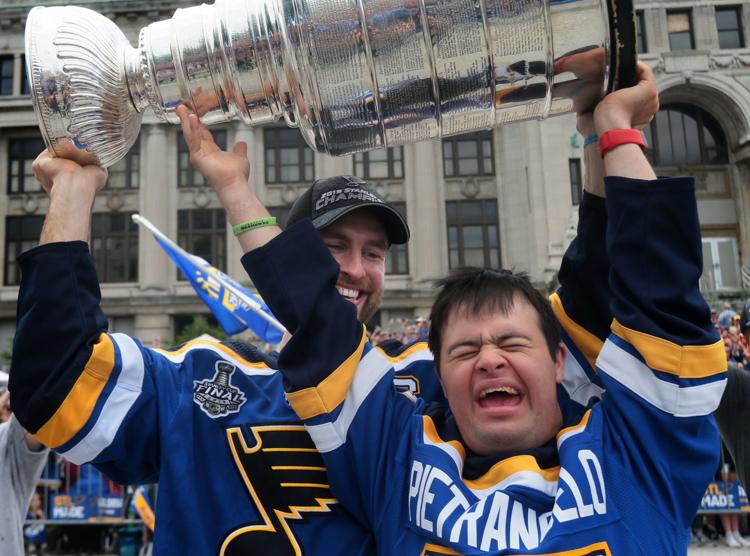 Scenes from Blues Stanley Victory Parade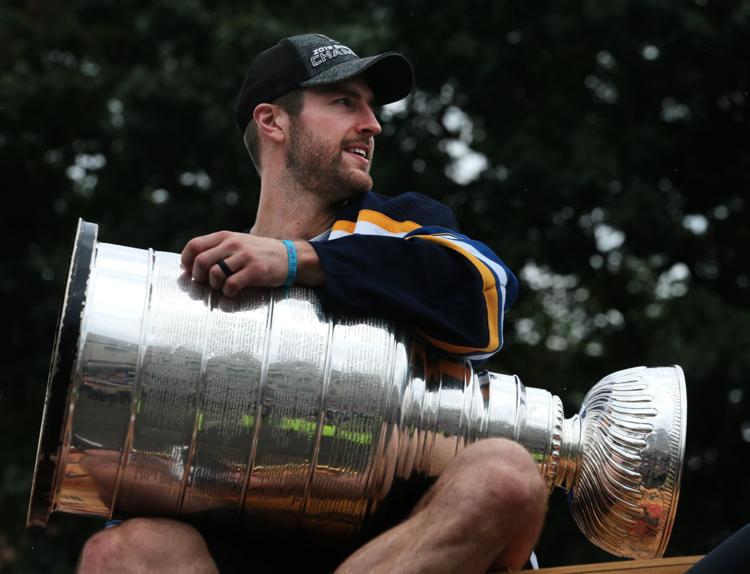 Scenes from Blues Stanley Victory Parade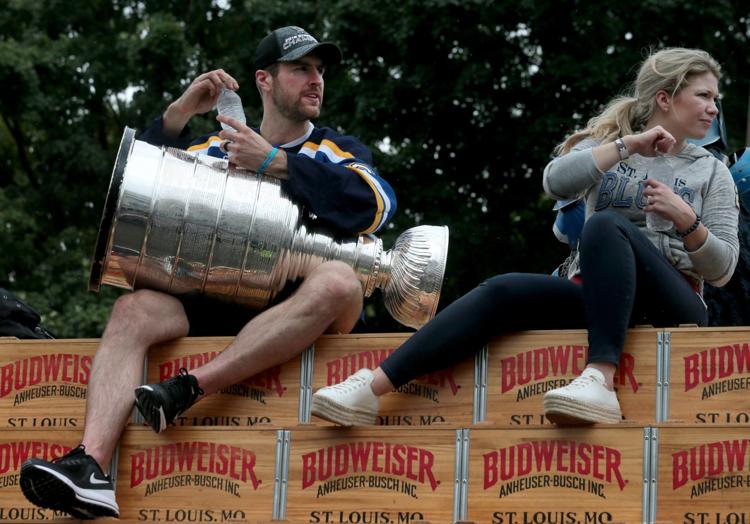 Scenes from Blues Stanley Victory Parade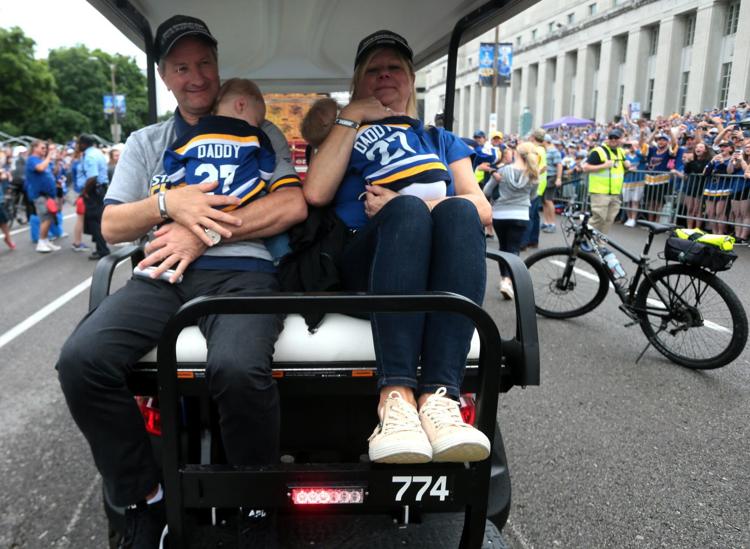 Scenes from Blues Stanley Victory Parade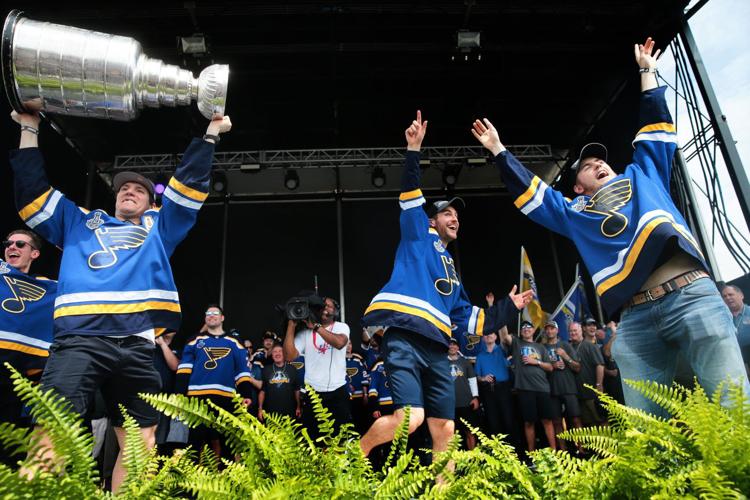 Scenes from Blues Stanley Victory Parade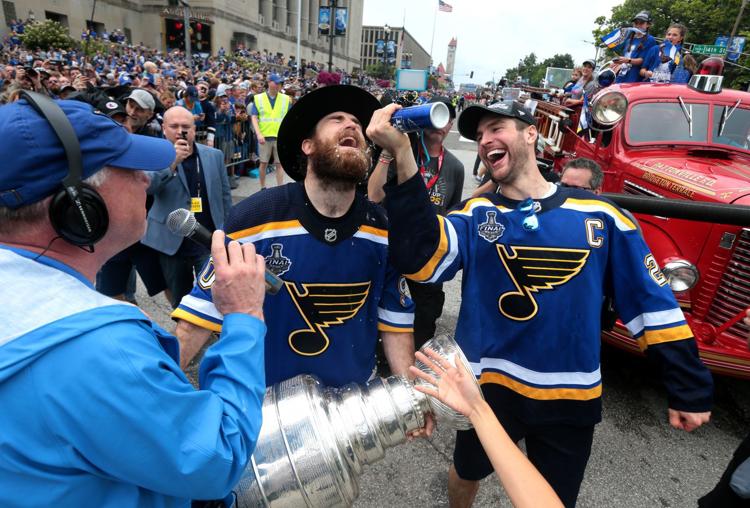 Scenes from Blues Stanley Victory Parade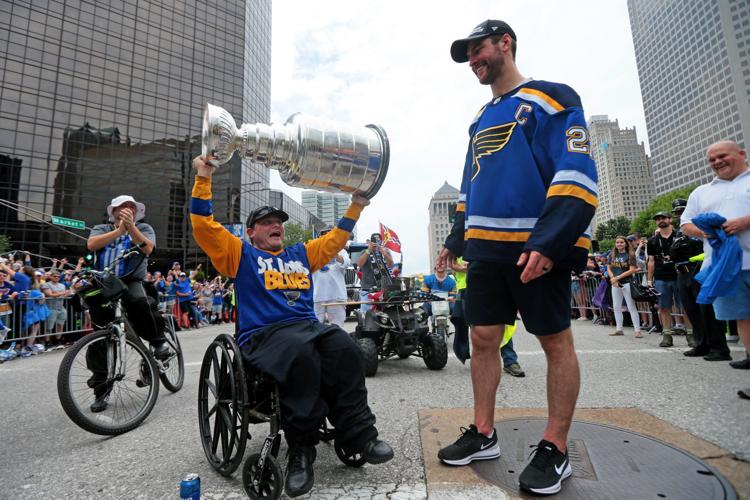 Scenes from Blues Stanley Victory Parade
Scenes from Blues Stanley Victory Parade
Scenes from Blues Stanley Victory Parade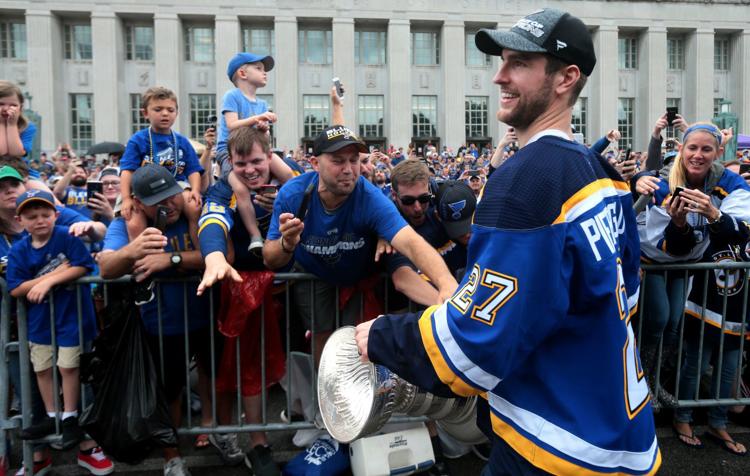 Scenes from Blues Stanley Victory Parade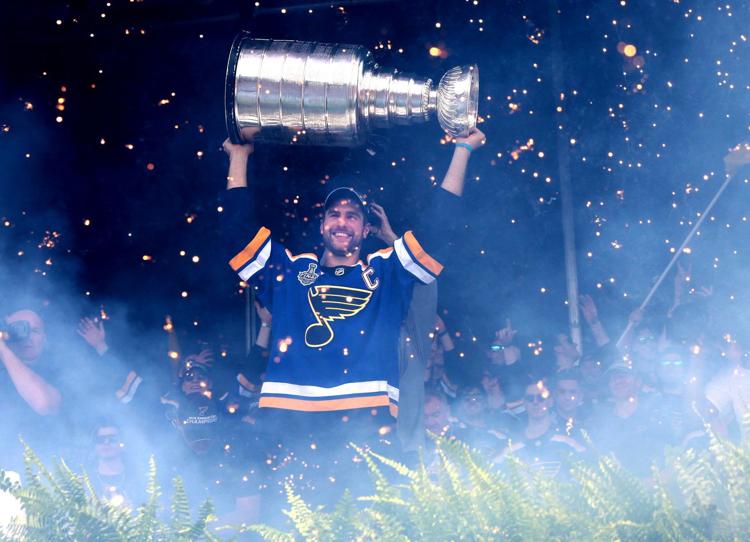 Blues fans parade like champions as St. Louis blues win first Stanley Cup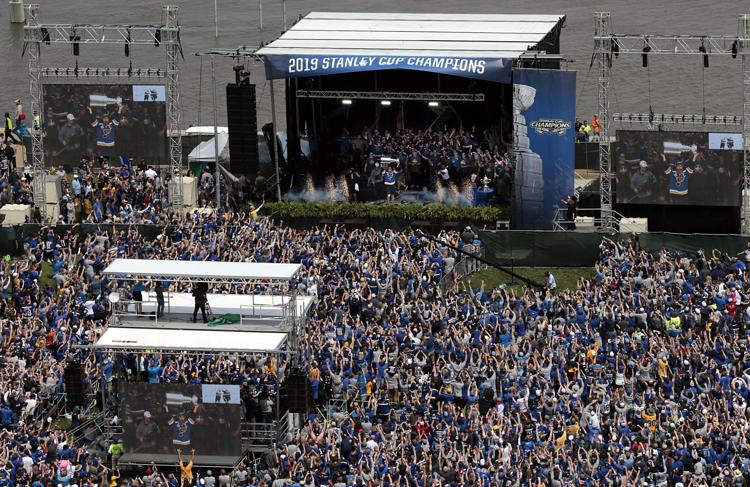 See scenes from Blues Stanley Victory Parade