The lawyers of Covington Catholic student Nicholas Sandmann brought a $ 250 million lawsuit against Washington Post Tuesday, according to the website of the law firm.
The lawsuit filed by Lin Wood and Todd McMurtry of Hemmer DeFrank Wessels, PLLC at the US District Court in the Eastern District of Kentucky, indicates that the Sandmann family is seeking compensatory and punitive damages. Prosecutions can not be limited to To post, no more.
"Lin and Todd will continue to bring the perpetrators to court to claim damages for the damage caused to the Sandmann family," the company's website reads. "It's only the beginning."
Here is the full text of the lawsuit "For the truth, for justice, for Nicholas".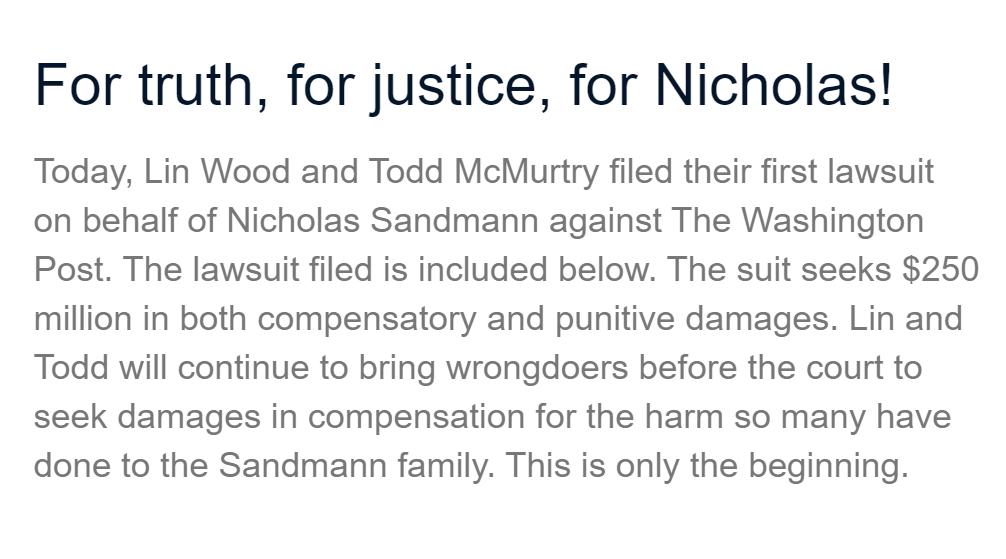 The long complaint indicates that the longtime newspaper attacked Nicholas Sandmann because he was "white" and was wearing a red cap "Make America Great Again" during a field visit to the March for the lives in Washington, DC on January 18th. Sandmann was "unexpectedly and suddenly confronted by Nathan Phillips, a well-known American activist" who hit the drum and shouted at Sandmann's face.
"Nicholas remained silent and respectful for several minutes after being bullied and intimidated by Phillips, and Nicholas' body language remained non-aggressive and passive throughout the incident," the lawsuit says.
The lawsuit claims To post "Reported that Nicholas had committed racist acts by" swarming "Phillips," blocking "his exit from students and also engaging in racist misconduct."
The prosecution also claims To post has a "well known" bias against President Donald Trump, whose red cap MAGA has become a symbol in the 2016 presidential campaign and is still worn by his supporters. He claimed that the newspaper "intimidated an innocent child" regardless of the consequences, including threats, that the student or his family would face.
"The To postTo carry out his political program, Nicholas has used his vast financial resources to enter the bully's rostrum by publishing a series of fake and defamatory articles and articles. Online who effectively served as a spokesman for Phillips and other Trump individuals and entities to smear a young boy who was in his eyes an acceptable victim in their war against the president, "said the lawsuit.
Here is a 4 minute video produced by the Washington Post January 20, two days after the event in Washington, DC
Immediately after the event, a short video of Sandmann under Phillips' gaze became viral. But later, several other long videos surfaced that showed different angles of the confrontation. Other videos showed Covington High School Catholic students facing a group of black men who identified themselves as Hebrew Israelites.
The complaint states that The Post "has published to third parties without privilege not less than six false and defamatory articles about and about Nicholas, including two in his printed newspaper and four online. This number does not include articles that the publication has updated and changed after the initial release. "