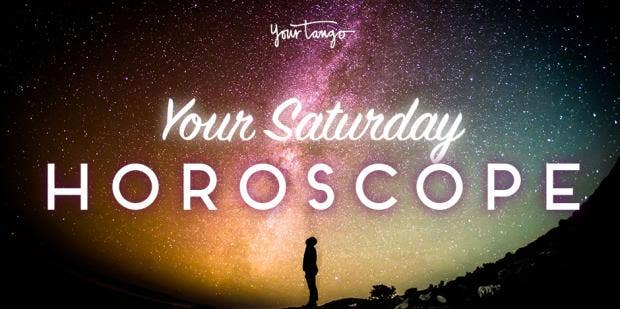 Your daily horoscope is available for all zodiac signs in astrology on April 13, 2019.
Your daily astrology horoscopes are here for today, Saturday, April 13, 2019, for all zodiac signs in astrology. Today, with four out of ten planets on fire, things can seem intense and expressive, but sometimes it's best to go unnoticed to plan the next steps wisely.
You may feel that you are ready to go big or to do something fun and adventurous, but today may be the time to take your pace. It's never bad to plan your day and be selective about who you do things or what you think.
The sun is in the sign of Aries, just like Chiron. The sun in Aries draws your attention to leadership and everyday life. It's time to build and rebuild your life, the way you look at the way you do business.
The Moon enters Leo this morning after spending the end of the week in the cardinal energy of cancer. Now the mind is wide open for fun, exploration and play, but the moment may not be ideal. It is important to keep your intelligence to yourself when doing what you love.
The sun and Pluto have struck a hard aspect today, and Pluto also communicates with Saturn in Capricorn. Unfortunately, life can not always be a bed or roses. There are times when you work hard to build something beautiful or meaningful and the person next to you decides to let you down and you have to start all over again.
Pluto is the energy of transformation, but it can sometimes be felt as the energy of reconstruction or destruction, which was no longer and you have to imagine a life from a new point of view. Today, with the sun 's advice and Pluto' s energy, keep your plans down until you are sure you can share your thoughts openly.
To learn more, search for your zodiac sign below to find out what lies ahead, according to Astrology. Here is your horoscope for today, Saturday, April 13, 2019.
ARIES (March 21st – April 19th)
Tarot Card: The Empress
Take a deep breath and stop your efforts. Once you release the ego of what you are trying to prove, magical things can happen. You can enjoy the process!
TAURUS (April 20 – May 20)
Tarot Card: Wheel of Fortune
All the emotions are not positive and that's fine. When you feel negative, lean into the universe and ask for help. He is always there to guide your heart even when you have moments of doubt.
GEMINI (May 21 – June 20)
Tarot Card: The Sun
The moment you see life as a series of interconnected events is when more than you thought you could happen. Lose the word "my" and replace it with more complete pronouns, such as "ours" or "us" and see that you are part of a plan that involves a lot of people. You are not alone.
CANCER (June 21 – July 22)
Tarot Card: The Emperor
A volunteer often finds life more difficult day after day. A person who learns to surf the wave of life and to follow the flow experiences movements but in a natural way for his day.
LEO (July 23 – August 22)
Tarot Card: The World
Take care of your inner child. The more you take care of yourself inside, the bigger your life outside becomes.
VIRGO (August 23 – September 22)
Tarot Card: The Devil
Give yourself permission to make mistakes. You were not born to be perfect, you had life to live as a human being that is full of beautiful faults that make you particularly beautiful.
LIBRA (23 September – 22 October)
Tarot Card: Queen of Cups
Once you have asked the universe what you want, whether by prayer or meditation, let the rest unfold at your own pace.
SCORPION (23 October – 21 November)
Tarot Card: The Empress
Create something. You do not have to be an artist to create something special. Plant a flower. Create an herb garden. Draw an image. Enjoy your artistic side.
SAGITTARIUS (November 22 – December 21)
Tarot Card: Sword's Page
True friendship resists the test of time. The friends who are with you when you feel the fear or the courage are the people to keep close to your heart.
CAPRICORN (December 22 – January 19)
Tarot card: Seven of Baguettes
Live the moment and enjoy what is happening now. Trust that the trip has you here at this exact time for a reason. You have a goal!
AQUARIUS (January 20 – February 18)
Tarot card: As swords
Be patient. A butterfly takes time to develop and it must go through the painful process of piercing the cocoon to get its wings. Your wings are growing too.
PISCES (February 19 – March 20)
Tarot Card: Nine Pentacles
You are loved for who you are and not for what you must give. Your presence is enough and just being yourself, love shines all around.
Aria Gmitter, M.S., M.F.A., is a writer and astrologer, and the editor of Zodiac & Horoscopes of YourTango, which covers astrology and celestial events. It is live on YourTango's Facebook page on Tuesdays at 10:20 pm EST, reading tarot cards and answering questions about your zodiac sign. Follow her on Facebook.