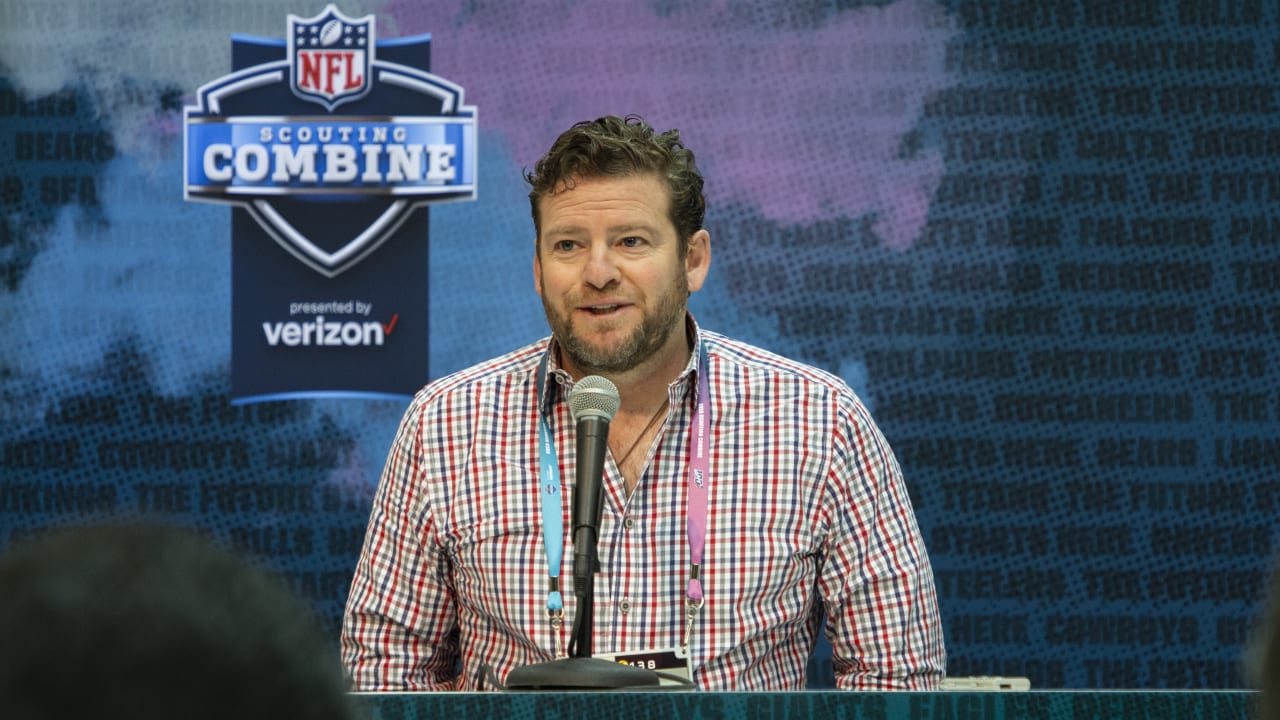 INDIANAPOLIS-Before stepping onto the podium for his own press conference, Seahawks Executive Director John Schneider stopped at the end of the Tampa Bay General Manager's session with the media, asking Licht for a playful : "Who do you see choosing, and can I have your opinion? about Kyler Murray?
Moments later, Schneider spoke to the media at the NFL Scouting Combine. The chief executive of the Seahawks was addressing a lot of topics, ranging from the free agency (you'll know more about it here), to Seattle's limited capital project to, yes, Murray, the Oklahoma quarterback who won the Heisman Trophy and who is one of the biggest names of the combine harvester this year.
In addition to the information on free agencies mentioned above, eight conferences were learned at the Schneider press conference in 2019:
1. Schneider hopes to get out of the 2019 project with more choices than he currently has.
Due to the exchanges for Duane Brown, Shalom Luani and Brett Hundley, the Seahawks enter the 2019 draft with only four choices, which means that they're not doing anything else, they would be coming out of the repechage with the smallest history draft class of the franchise.
When asked about the chances of this happening, Schneider replied: "I hope it is slim".
Given Seattle's propensity to return under the orders of Schneider and head coach Pete Carroll, especially in the first round – the Seahawks have not used their initial first-round pick since 2011 – it is easy to predict a scenario in which the Seahawks would back down one or more times to add to their total number of choices.
When asked about the starting point with so few choices, Schneider said: "It's a challenge. We try to repair our team throughout the year. It's not as if the rough draft was the only avenue to build our team. We are constantly working with the waiver wire, the training teams, with the trading deadline. Not having our second round pick this year with Duane (Brown), it's a challenge for us. We dropped a sixth-round pick for (Brett) Hundley, and then Shalom (Luani) with our seventh. It 's a challenge but it' s exciting, that 's what we do … We do not necessarily need to trade all the time, but that' s all we need. is rather fun. "
2. The Seahawks have achieved great contributions from young talents and hope to continue this momentum.
Asked about last year's off-season when the Seahawks separated from several major veterans, Schneider quickly noticed that "every year you have to make difficult decisions, you have to try to find out where you are going . to be 2-3 years old on the line. This year is not different, we have difficult decisions to make. "
Schneider, however, pointed out that a few more young talents could have emerged last year.
"I thought our coaching staff did a phenomenal job last year with the youngest guys we had played with, returning to the basics, teaching the competition," he said. "Pete and his staff did a phenomenal job."
Schneider added that "these last two classes have done a good job. We need to get to the point where we recruit players willing to accept someone's work, as ugly as it sounds, but they have that level of trust. Some of the mistakes I've made along the way may be that I do not want to come up with types that are ready to commit, for example, they're looking at Kam Chancellor like, "Saint Smokes, that's all." is Kam Chancellor, it's Earl Thomas, that's Richard Sherman, how am I going to make this team?
3. The Seahawks hope to have Kam Chancellor back on the team again in 2019.
Although a neck injury has prevented the Chancellor from leaving the field since the middle of the 2017 season, the veteran leader was still present with the team in 2018, frequently attending training, home games and even when traveling on the road, and Schneider hopes that it can continue. in 2019.
"I hope so," Schneider said. "You know, he was very present this year, somehow guiding some of the younger ones, especially the DBs. We had asked him to come. And Cliff (April) was also very present. But Kam has been such a powerful leader and such a strong presence for us. I mean, it was great to have it with me.
"He's one of those guys, he really did not understand that he was a leader until his first year at university. All these guys kept coming to him to ask questions, whether they were field or field experiments. . He was a pro.
Regarding the Chancellor's contract status – he spent the last year on the list of people physically unable to work – Schneider said: "We need to solve some administrative problems from the point of view of the course."
Schneider said that this administrative trick probably means that the chancellor is no longer on the list, saying, "but he knows. This is not a shock. He knows what's going on. It's really a formality, for our salary cap situation. "
Source link