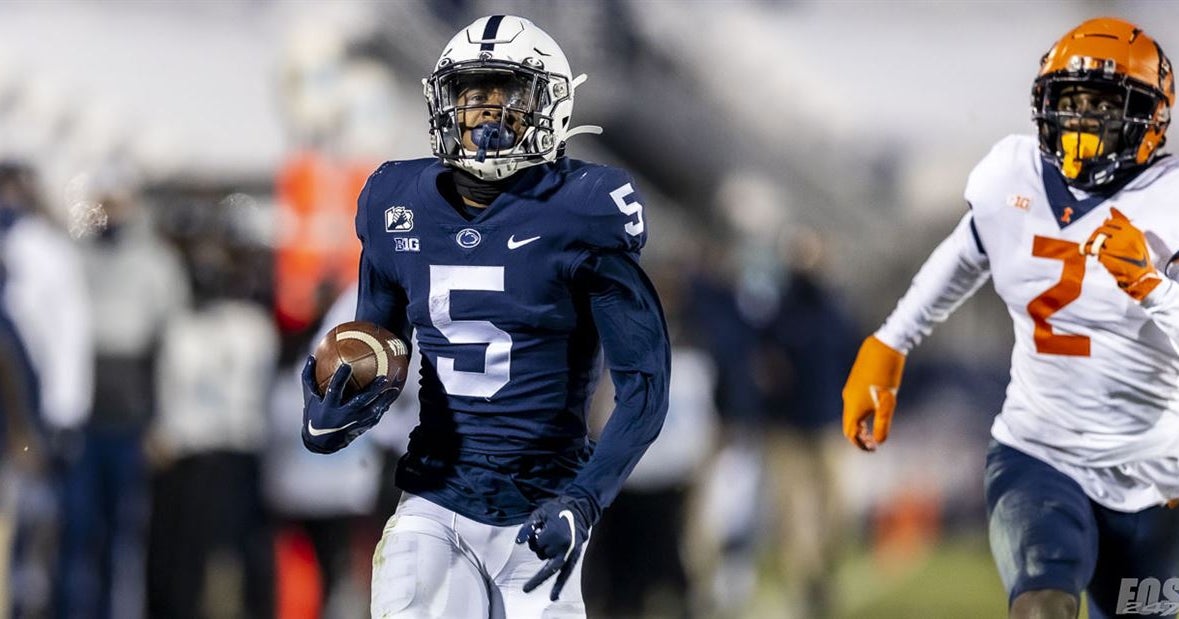 [ad_1]
The 2021 version of the Penn State football team received a huge boost shortly after the disappointing end of the 2020 campaign, when a trio of veteran rookies who were projecting themselves as NFL draft contenders all announced that they were staying in school. Wideout Jahan Dotson led the Nittany Lions to host last fall and was a third-team All-Big Ten pick, safety Jaquan Brisker also won third-team conference honors and cornerback Tariq Castro-Champs gained third-team recognition in 2019 before missing most of 2020 with injury.
It looks like Penn State fans have FaceTime to thank for the return of the three players, who were – in fact – in cahoots during the decision-making process.
"I'll say, I think I got it set up," Brisker recalls from the FaceTime session. "Or maybe (it was) Tariq Castro-Champs. But it was just me Tariq Castro-Champs, Jahan Datson – players like that. We were in the FaceTime call. Maybe it was hit or miss, but we got into a group chat and we were like "FaceTime, now" or something. And we FaceTimed – we talked and stuff like that. And basically we just thought, you know, we're gonna come back, and it's gonna be better than what we did last year.
"Yeah, we were sort of thinking like, 'What are you going to do? ", Dotson added." (The) pros and cons of coming back, literally talking about every little thing, every little detail. We were talking about it and decided it was better for us, it was better for the team.… We have thought of everything. The best for our families, everything. "
For Dotson and Brisker, there was absolutely nothing wrong with what either did last year.
The former led the Big Ten in yards (884) and tied for the league lead in touchdowns (eight) in a season that was shortened to nine games due to COVID-19. Projecting his numbers onto a full 12 or 13 game slate, he ranks among the best receiving performances in team history.
The latter led the Lions in defended passes with six and intercepted a pass he returned 18 yards. He was also third on the team in tackles with 57.
Castro-Fields, meanwhile, started three games and was playing long before his season was cut short by an unspecified injury. But he stayed with the team, serving as a student coach for the young cornerbacks.
As a team, however, Penn State started 0-5. Even a 4-0 was not enough to prevent the program's first losing season since 2004. And it took a heavy toll on their minds as they made their decisions.
"I've always been like, hey, like, in my heart I just couldn't leave, when I know it was a little more personal for me and a little (more) personal for some of the guys in there. 'team,' Brisker explained. "… So pretty much we didn't want to go 0-5, we knew we had more to give to the team and the fans and things like that. So once I talked to my family, I talked to the guys, I talked to the coaches, okay, it felt good to be coming back. And I just want to show that, you know, I got some more on the table. And there will be a different player this year.
It was another part of the process for the trio. With everyone's feedback, they have a chance to improve.
"We felt it was the right decision to come back and give it our all – literally – every day competing with these guys," Dotson said. "They are among the best in the country. And we know that facing each other every day, that will only make us better players for the next level. So it was very important to us.
As the Spring practice progressed, Brisker said there was no regrets about the big decisions made through FaceTime.
"You know, we come back for a reason," he says. "We have a chip on our shoulder. We will bring back to normal. We cannot set the standard with what we did last year. We have to go above and beyond. So that's basically the topic of conversation, and then we made our decision and came back.


[ad_2]
Source link