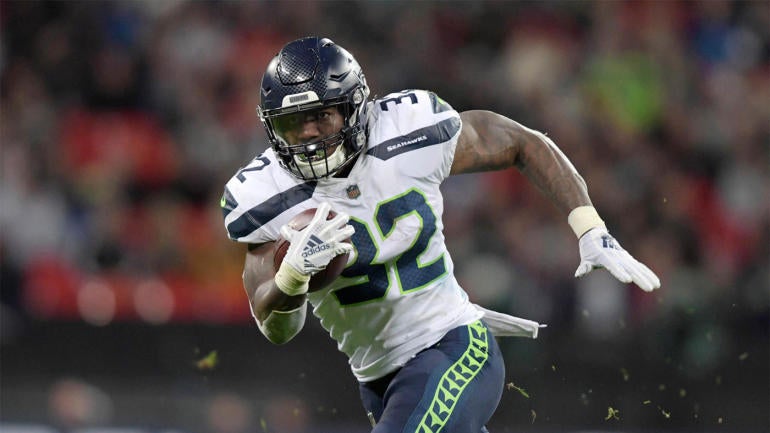 Need a Fantasy Football Advice? Talk to CBS Sports on Google Assistant to get an overview of the best sleepers and help you choose one player at a time. Just start with "Hey Google, talk to CBS Sports".
Preview of the week 13
One more week. One more week to play Fantasy Playoffs or consolidate your playoff position.
Or more weeks to suffer pain because your Fantasy season may be over.
For most fantasy leagues, the playoffs start at the 14th week. It is therefore an important time period. Your Fantasy season might be on the line.
We had a lot of bad news earlier this week with Melvin Gordon's knee injury, Leonard Fournette's suspension and key players like Marvin Jones (knee), Jack Doyle (kidney) and Andy Dalton (thumb) are placed in the casualty reserve. But not everything is lost.
A J. Green (Toe) and Tre & # 39; Quan Smith (Foot) seem ready to play in the 13th week after their absence in recent weeks. And even if guys like Gordon and Fournette are absent, this opens the door to potential replacements for Austin Ekeler and T.J. Yeldon, especially in the PPR leagues.
There are also many great fights to exploit, which you will read below. And we get the added bonus of Rams and Chiefs who have just left their weeks off. It's good to have all those stars back in action.
I wish everyone luck in the 13th week. We hope it will be a good scoring period for you and that your standings will improve as you make your last attempt for a Fantasy Championship.
Editor's Note: Projections are provided by SportsLine.com. The projected points concern PPR leagues.
Beginning of the week
This is my second time taking Chris Carson as Beginning of the week in his two years of career. I hope to have more luck this time.
The last time was week 4 in 2017 against the Colts, and it was a disaster. Carson had a broken leg and he was lost for the season.
Fortunately, Carson is back in force in 2018 and is Seattle's best running back, although the team has chosen a first-round pick against rookie Rashaad Penny. Carson starts the 13th week against the 49ers with at least 12 PPR points in three of his last four games, and it's a good match for him at home.
For starters, Seattle is a big favorite in this game against San Francisco. And the 49ers' defense is in disarray after letting linebacker Reuben Foster leave following a domestic violence incident.
During Week 12 in Tampa Bay, Peyton Barber scored 13 PPR points against San Francisco, and the Buccaneers did not run the ball as well as the Seahawks.
Carson will lose some contact with Penny and Mike Davis, but he is their best running back in a positive situation. And I expect Carson to make a remarkable performance in this home game.
I start again Carson: Mark Ingram (DAL), Dalvin Cook (NE), Sony Michel (MIN), Adrian Peterson (PHI) and Doug Martin (KC)
quarterbacks

Sleepers
Josh Allen (MIA): Allen had a great game in the 12th week against Jacksonville with 27 Fantasy points. He did most of his ground work with 99 rushing yards and one touchdown. He was lucky enough to have a strong reminder in Miami during the 13th week and the Dolphins allowed five of the opposing six quarters to score at least 20 Fantasy points. Allen is an excellent sleeper to consider in the two-quarter and super-flex leagues. Allen has at least seven Fantasy points with only his points total in three of his last five games.
Keenum case (at CIN): Keenum just scored 19 Fantasy points at home against Pittsburgh, and this week he gets a great game in Cincinnati. The Bengals have allowed three touchdowns to quarterbacks in four of the last five games. Only the quarterback that failed was Lamar Jackson on his first start in the NFL. Keenum will probably not reach three touchdowns, but the match deserves to be trusted as a starter in the two-quarter and super-flex leagues.
Daniel Chase (NYG): Daniel should start again in the 13th week while Mitchell Trubisky (shoulder) is still injured. It's a player to consider in two-quarter leagues. Daniel played well in Week 12 of Thanksgiving against Detroit with 22 Fantasy points, but the game is more difficult as the Giants held three of the last four quarters of the opponents 15 points or less. Nevertheless, if Daniel starts again, I rely on Matt Nagy to help him find his way to about 18 Fantasy points on the road.
Bust alert
I will love Brady more if Xavier Rhodes (hamstring) is away for the Vikings, but it will always be a tough match for him, even at home. As we said last week with Aaron Rodgers playing in Minnesota, when defensive end Everson Griffen is active for the Vikings, they are tough on the back quarters. In six games with Griffen, Minnesota have twice scored Jimmy Garoppolo, Rodgers, Drew Brees, Stafford and Trubisky with an average of only 11.8 Fantasy points per game. Brady has also scored more than 17 Fantasy points just once in his last four games. Admittedly, this took place at the 12th week of the Jets, while his whole receiving body was in good health. But I would not be counting on a dominant Brady game this week, especially if Rhodes is able to play.
Running backs
Sleepers
Dion Lewis and Derrick Henry (vs. NYJ): The Titans would like to play their game on the ground and it's the perfect match against the Jets. In their last five games, they have allowed seven touchdowns to make a U-turn and six to earn at least 75 yards. Lewis is the safest of the two Tennessee defensemen in all leagues, but do not be surprised if Henry scores this week at home.
Royce Freeman (CIN): Freeman will have to score to help your Fantasy lineup because Phillip Lindsay has taken over this field and is a must-have option in all leagues. But the Bengals are tied with Tampa Bay for the highest number of touchdowns allowed to turn around with 17. And Freeman has scored in two of his last three games.
T.J. Yeldon (vs. IND): With Leonard Fournette (suspension) absent, Yeldon will be stimulated and I like it better than Carlos Hyde this week, mainly because of his role in the passing game. He has played five games this season with at least five catches, including the 10th week in Indianapolis, when Fournette was active. He has also played seven games this season with at least 10 PPR points, with only his totals. And the Colts are No. 2 in the NFL with respect to allowed receptions with 79 losses, behind the Falcons (88).
Doug Martin (vs. KC): Over the past five games with Marshawn Lynch (groin), Martin has averaged 4.8 yards per run and has scored at least 12 PPR points in two of his last three outings, even with the fall of the Raiders. a part. This week he will face a Chiefs defense that will allow Fantasy's third to score the most half-goals. Although Jalen Richard has been a quality option in the PPR leagues all season, you can use both Oakland halves as flex options in the 13th week.
Nyheim Hines (at the JAC): We'll see if Marlon Mack (concussion) will be out in the 13th week against Jacksonville, but Hines and Jordan Wilkins will share the keys in his place. We had seen this show before when Mack had missed four of the first five games with foot and ankle problems and Hines was the best option thanks to his work in the passing game. Hines had at least 11 PPR points in three of the four games without Mack. I would use Hines as a flexible option in all PPR leagues if Mack came out against the Jaguars and if Wilkins is an option in deeper formats.
Bust alert
You're lucky if you started Coleman at Week 12 in New Orleans because he scored a touchdown late to save a miserable line of statistics. Without the touchdown, Coleman finished with just 23 yards on eight runs for six yards, as well as three catches for 17 yards on four targets. Although he has five touchdowns for the season, he has scored only one goal on the field since the first week and he continues to share contacts with Ito Smith. The Ravens allowed only seven touchdowns in total (five in the race and two in the receiving end), and I'm afraid Coleman will show another disappointing line of statistics. He also scored 10 points or less in three consecutive games. This makes him play as a flexible option, but he is not a running back, even at home, against the Ravens.
Wide receivers

Sleepers
Adam Humphries (vs. CAR): Humphries has been playing well lately, and Tampa Bay is rapidly losing options in the passing game. O.J. Howard (ankle) is out for the season and DeSean Jackson (inch) could be out in the 13th week against Carolina. That would give even more value to Humphries, who has scored at least 14 PPR points in four of his last five outings, including a monster game against the Panthers in the ninth week. eight targets in this match, and Carolina has struggled with slot machine receivers this season. Humphries is a strong No. 3 receptor option in PPR in week 13.
Chris Conley (at OAK): The use of Conley depends on Sammy Watkins (foot) and if he is in good health. If we expect Watkins to play in the 13th week in Oakland, ignore Conley in most formats. But if Watkins is missing, Conley is a top-notch Fantasy 3 receiver this week. In the last game against the Rams in Kansas City in the 11th week, Watkins could not get past the first quarter because of his foot injury. Conley scored seven passes, 74 yards and two touchdowns on eight targets. He is unlikely to replicate this performance, but Oakland is among the leaders of the circuit with 16 touchdowns awarded to the receivers. Keep an eye on Watkins, but Conley has a lot of potential if Watkins is absent.
Taylor Gabriel (NYG): Gabriel has taken control of his last two games, and he deserves the redemption after a cold snap. Gabriel has 17 targets in the last two games against Minnesota and Detroit, and he caught 14 catches for 101 yards over that period. He has not scored since Week 4, but his PPR points are solid as No. 3 receiver of Fantasy. And he was the Chicago point guard in Week 12 against the Lions with eight with Chase Daniel in the middle, and Daniel is probably starting again in Mitchell Trubisky's position (shoulder).
Bruce Ellington (vs. LAR): With Marvin Jones (knee) for the season, Ellington is trapped as No. 2 catcher behind the Lions behind Kenny Golladay, and he deserves to be used as catcher # 3 in the PPR leagues in week 13 against the Rams. In two games with Detroit, Ellington had 12 catches for 80 yards on 16 targets, with six catches in each game. It turned out that Matthew Stafford was a reliable target in a short zone, and Ellington should again have about six shots in this home encounter.
Josh Doctson (PHI): At Colt McCoy's first start in Alex Smith's (ankle) spot at Week 12 in Dallas, he relied on Doctson, who had 66 yards for 66 yards. yards on 10 targets. He has now scored at least 12 PPRs. points in three of his last four games. It's a good match to trust Doctson as the No. 3 bottom-of-the-range catcher as the Eagles award the second highest Fantasy points to the post, and you can also consider Trey Quinn as a sleeper this week.
Bust alert
Boyd will benefit with A.J. Green (toe) is expected to return this week, but he has also downgraded the quarters with the departure of Jeff Driskel. Now, Green is still useful as a Fantasy No. 2 receiver, but Boyd is rather a No. 3 option. Driskel has been in contact with Boyd for a 28-yard touchdown in the 12th week against Cleveland after Andy Dalton got injured, but Boyd could see a lot of coverage from Denver cornerback Chris Harris in the 13th week. Hopefully Driskel will keep Green and Boyd playing at a high level, but I'm retrograde Boyd this week given the quarter-back shift and the possibility of a confrontation with Harris.
Tight ends

Sleepers
Chris Herndon (TEN): Herndon had another strong Week 12 performance against the Patriots with seven catches for 57 yards on target, and has now scored at least 10 PPR points in four of his last six games , with three touchdowns above. scale. He does not have an easy match in the 13th week in Tennessee, but Herndon is still worth using in deeper leagues as a streaming option.
Gerald Everett (at DET): The last time we saw Everett, it was during the 11th week against Kansas City in the first game without Cooper Kupp (ACL) since his loss for the season. Everett and Tyler Higbee both played well, but Everett had the best match with three catches for 49 yards and two touchdowns on four targets (Higbee added six catches for 63 yards on seven targets). Both are potential sleepers this week, but I love Everett better considering his great ability to play. At Week 13 in Detroit, the two tight ends of the Rams are worth using as streaming options.
Jonnu Smith (vs. NYJ): Smith has been on a roll in the last four games and he has emerged as the # 2 Tennessee receiver-wide option behind Corey Davis. Smith has accumulated at least 10 PPR points four times in a row and has scored a touchdown in three of his last four outings. He faces a Jets defense that has allowed only four touchdowns for tight ends this season, but Smith is playing at a late high level and is worthy of being used as a low-end star when 13th week.
Bust alert

Cook is here only if Eric Berry (heel), chief of security services, can play this week. If Berry stays away, consider Cook a safe start, but Berry has been an eraser during his career. Cook has played well lately with five catches for 63 yards and two touchdowns from 11 targets in his last two games against Arizona and Baltimore, but I would be reluctant to play him in a game against Berry.
Defense / Special Forces
Start
Seahawks (vs. SF) – 9.3 points projected
The 49ers will play a second consecutive road game this week in Seattle and Nick Mullens looked like a third-string quarterback at Week 12 in Tampa Bay. The Buccaneers had four sacks and two interceptions, and Mullens has now made four interceptions in his last two games.
Sleepers
Chefs (at OAK): The Raiders have scored 17 points or less in three games out of four, and Oakland has allocated 19 sacks in the last four outings. With Berry potentially back in Kansas City, the Chiefs DST is an indispensable game in the 13th week.
Broncos (at CIN): A.J. Green's return hurts the Broncos DST a bit, but facing Jeff Driskel is a bonus. Cincinnati has cleared several sacks in all but three games this season, and Von Miller and Bradley Chubb should put Driskel uncomfortably in the pocket.
Titans (vs. NYJ): The Jets have allocated nine sacks in their last three games and have intercepted seven interceptions during this period. We'll see if Sam Darnold (foot) or Josh McCown start this week, but in any case, the Titans DST is a solid option in all formats.
Sit Em
Chargers (at PIT) – 7.0 Projected Points
The DST Chargers have recently made a good run with at least 10 Fantasy points in three of the last four games. But this is not the time to trust the DST Chargers in Pittsburgh. The Steelers have an average of 35.4 points at home this year, and Ben Roethlisberger has only four sacks and three interceptions in those matches.
Kicker
Start
McManus has only accumulated 12 Fantasy points in his last two games, but he is expected to make a big come-out, which should happen this week. The Bengals are the No. 4 Fantasy Points allowed for opposing kickers, and five of the last six kickers against Cincinnati have scored at least eight Fantasy points.
Sleepers
Sebastian Janikowski (vs. SF): The 49ers have allowed two goals and three more points for opposing kickers in the last two games, and six kickers have scored several goals against San Francisco this season.
Ryan Succop (NYJ): Succop scored 10 Fantasy points in his last 10-week home game against New England, and the Jets allowed six goals in three games against Miami, Buffalo and the Patriots.
Cody Parkey (NYG): The Giants give the most Fantasy points to opponent kickers. Three of the last five kickers against the Giants have scored at least three goals. Parkey has played two games in his last four outings with at least 11 Fantasy points.
Sit Em
Bailey has been a disappointing kicker with more than six Fantasy points or less in four consecutive games. He just missed two home goals against Green Bay in Week 12 and the Patriots allowed just one kicker to score more than seven Fantasy points against them in the last five games.
So who should you sit down and start? And which runner could you win the 13th week? See you on SportsLine now to get the Fantasy Football Ranking for each position and see what RB was shocked in the top 10 this week, all from the model that beat the experts last season.
require.config({"baseUrl":"https://sportsfly.cbsistatic.com/fly-30/bundles/sportsmediajs/js-build","config":{"version":{"fly/components/accordion":"1.0","fly/components/alert":"1.0","fly/components/base":"1.0","fly/components/carousel":"1.0","fly/components/dropdown":"1.0","fly/components/fixate":"1.0","fly/components/form-validate":"1.0","fly/components/image-gallery":"1.0","fly/components/iframe-messenger":"1.0","fly/components/load-more":"1.0","fly/components/load-more-article":"1.0","fly/components/load-more-scroll":"1.0","fly/components/loading":"1.0","fly/components/marketing-slider":"1.0","fly/components/modal":"1.0","fly/components/modal-iframe":"1.0","fly/components/network-bar":"1.0","fly/components/poll":"1.0","fly/components/search-player":"1.0","fly/components/social-button":"1.0","fly/components/social-counts":"1.0","fly/components/social-links":"1.0","fly/components/tabs":"1.0","fly/components/video":"1.0","fly/libs/easy-xdm":"2.4.17.1","fly/libs/jquery.cookie":"1.2","fly/libs/jquery.throttle-debounce":"1.1","fly/libs/jquery.widget":"1.9.2","fly/libs/omniture.s-code":"1.0","fly/utils/jquery-mobile-init":"1.0","fly/libs/jquery.mobile":"1.3.2","fly/libs/backbone":"1.0.0","fly/libs/underscore":"1.5.1","fly/libs/jquery.easing":"1.3","fly/managers/ad":"2.0","fly/managers/components":"1.0","fly/managers/cookie":"1.0","fly/managers/debug":"1.0","fly/managers/geo":"1.0","fly/managers/gpt":"4.3","fly/managers/history":"2.0","fly/managers/madison":"1.0","fly/managers/social-authentication":"1.0","fly/managers/tealium":"1.0","fly/utils/data-prefix":"1.0","fly/utils/data-selector":"1.0","fly/utils/function-natives":"1.0","fly/utils/guid":"1.0","fly/utils/log":"1.0","fly/utils/object-helper":"1.0","fly/utils/string-helper":"1.0","fly/utils/string-vars":"1.0","fly/utils/url-helper":"1.0","libs/jshashtable":"2.1","libs/select2":"3.5.1","libs/jsonp":"2.4.0","libs/jquery/mobile":"1.4.5","libs/modernizr.custom":"2.6.2","libs/velocity":"1.2.2","libs/dataTables":"1.10.6","libs/dataTables.fixedColumns":"3.0.4","libs/dataTables.fixedHeader":"2.1.2","libs/dateformat":"1.0.3","libs/waypoints/infinite":"3.1.1","libs/waypoints/inview":"3.1.1","libs/waypoints/jquery.waypoints":"3.1.1","libs/waypoints/sticky":"3.1.1","libs/jquery/dotdotdot":"1.6.1","libs/jquery/flexslider":"2.1","libs/jquery/lazyload":"1.9.3","libs/jquery/maskedinput":"1.3.1","libs/jquery/marquee":"1.3.1","libs/jquery/numberformatter":"1.2.3","libs/jquery/placeholder":"0.2.4","libs/jquery/scrollbar":"0.1.6","libs/jquery/tablesorter":"2.0.5","libs/jquery/touchswipe":"1.6.18","libs/jquery/ui/jquery.ui.core":"1.11.4","libs/jquery/ui/jquery.ui.draggable":"1.11.4","libs/jquery/ui/jquery.ui.mouse":"1.11.4","libs/jquery/ui/jquery.ui.position":"1.11.4","libs/jquery/ui/jquery.ui.slider":"1.11.4","libs/jquery/ui/jquery.ui.sortable":"1.11.4","libs/jquery/ui/jquery.ui.touch-punch":"0.2.3","libs/jquery/ui/jquery.ui.autocomplete":"1.11.4","libs/jquery/ui/jquery.ui.accordion":"1.11.4","libs/jquery/ui/jquery.ui.tabs":"1.11.4","libs/jquery/ui/jquery.ui.menu":"1.11.4","libs/jquery/ui/jquery.ui.dialog":"1.11.4","libs/jquery/ui/jquery.ui.resizable":"1.11.4","libs/jquery/ui/jquery.ui.button":"1.11.4","libs/jquery/ui/jquery.ui.tooltip":"1.11.4","libs/jquery/ui/jquery.ui.effects":"1.11.4","libs/jquery/ui/jquery.ui.datepicker":"1.11.4"}},"shim":{"liveconnection/managers/connection":{"deps":["liveconnection/libs/sockjs-0.3.4"]},"liveconnection/libs/sockjs-0.3.4":{"exports":"SockJS"},"libs/setValueFromArray":{"exports":"set"},"libs/getValueFromArray":{"exports":"get"},"fly/libs/jquery.mobile-1.3.2":["version!fly/utils/jquery-mobile-init"],"libs/backbone.marionette":{"deps":["jquery","version!fly/libs/underscore","version!fly/libs/backbone"],"exports":"Marionette"},"fly/libs/underscore-1.5.1":{"exports":"_"},"fly/libs/backbone-1.0.0":{"deps":["version!fly/libs/underscore","jquery"],"exports":"Backbone"},"libs/jquery/ui/jquery.ui.tabs-1.11.4":["jquery","version!libs/jquery/ui/jquery.ui.core","version!fly/libs/jquery.widget"],"libs/jquery/flexslider-2.1":["jquery"],"libs/dataTables.fixedColumns-3.0.4":["jquery","version!libs/dataTables"],"libs/dataTables.fixedHeader-2.1.2":["jquery","version!libs/dataTables"],"https://sports.cbsimg.net/js/CBSi/app/VideoPlayer/AdobePass-min.js":["https://sports.cbsimg.net/js/CBSi/util/Utils-min.js"]},"map":{"*":{"facebook":"https://connect.facebook.net/en_US/sdk.js","facebook-debug":"https://connect.facebook.net/en_US/all/debug.js","google":"https://apis.google.com/js/plusone.js","google-platform":"https://apis.google.com/js/client:platform.js","google-csa":"https://www.google.com/adsense/search/async-ads.js","google-javascript-api":"https://www.google.com/jsapi","google-client-api":"https://apis.google.com/js/api:client.js","gpt":"https://www.googletagservices.com/tag/js/gpt.js","recaptcha":"https://www.google.com/recaptcha/api.js?onload=loadRecaptcha&render=explicit","recaptcha_ajax":"https://www.google.com/recaptcha/api/js/recaptcha_ajax.js","twitter":"https://platform.twitter.com/widgets.js","mpx":"libs/tpPdk","tealium":"//tags.tiqcdn.com/utag/cbsi/cbssportssite/prod/utag.js","taboola":"https://cdn.taboola.com/libtrc/cbsinteractive-cbssports/loader.js","sharethrough":"https://native.sharethrough.com/assets/tag.js","newsroom":"https://c2.taboola.com/nr/cbsinteractive-cbssports/newsroom.js","adobe-pass":"https://sports.cbsimg.net/js/CBSi/app/VideoPlayer/AdobePass-min.js","video-utils":"https://sports.cbsimg.net/js/CBSi/util/Utils-min.js"}},"waitSeconds":300});