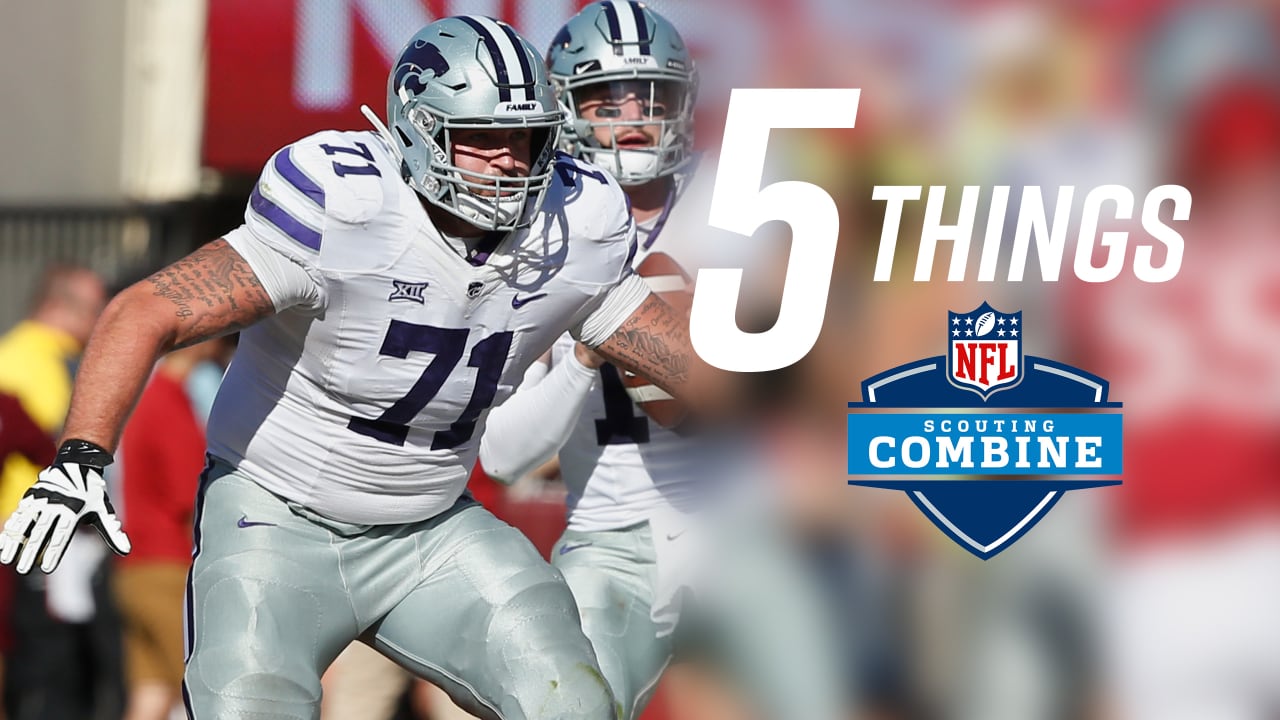 [ad_1]
INDIANAPOLIS – Potential candidates began to meet the media on Thursday during the NFL Combine Scouting, while press conferences for the league's coaches and general managers also came to an end.
Here are some highlights:
1. Some of the best offensives are also considered potential guards.
Kansas State's Dalton Risner is versatile, while Alabama's Jonah Williams and Oklahoma's Cody Ford also heard about the team wanting to move indoors.
The story of Risner is interesting because he has been playing at the center since he was five years old in his first year in Manhattan, Kansas, where he was honored by Freshman All-America. He then spent three years at the right attacker position, becoming a highly touted prospect.
"Every team pretty much asks me where she thinks I could integrate," Risner said. "I feel comfortable on the whole offensive line. At the Senior Bowl, I had the opportunity to play the left tackle, the center tackle and the right tackle. In Kansas State, I took a lot of guardians throughout the practice.
"My answer to all these questions is that I feel really comfortable where a coach needs me."
Williams and Ford have publicly expressed the desire to remain on the attack, but they will not rule out anything that will take them to the fastest pitch in the NFL.
Williams, who trains with Risner in California, is smaller than the 302-pound prototype. It also deals with the stigmatization of "short arms", measuring 33 5/8 inches, not quite the supposed ideal of 34 1/2 for the protectors of cards armored. But his resume at Alabama is impressive.
Ford is the biggest of the best strikers at 329 pounds, but has heard rumors about switching to the guard too. He is one of four starters on the starting line of the Sooners at this combine.
"Personally, I feel better off, but by talking to teams throughout the week, you can almost always use you everywhere," Ford said. "That's what we talked about and I'm fine with that."
2. The three Wisconsin offensive linemen could find a friendly bet on who will be selected first.
Attacking David Edwards and guards Michael Deiter and Beau Benzschawel did not put anything in play, but they might well react to the idea.
"We have not solved this problem yet, but maybe," said Benzschawel, a Wisconsin native who grew up as a fan of the Packers. "After the combine, maybe we'll get something."
Deiter added, "No, but it will be a little bragging right. But we could. It's a good idea. Maybe we should. "
Deiter already has the right to boast to his teammates like the one who scored a touchdown for the Badgers, catching a pass on a turn and making his way into the end zone.
"It's often happened, it's certainly something I like to say," said Deiter, jokingly because he grabbed the ball, but the game was officially a race, he was both a wide receiver and a back runner. "Few guys can say that. You can go see it – 2017 against Illinois. "
[ad_2]
Source link