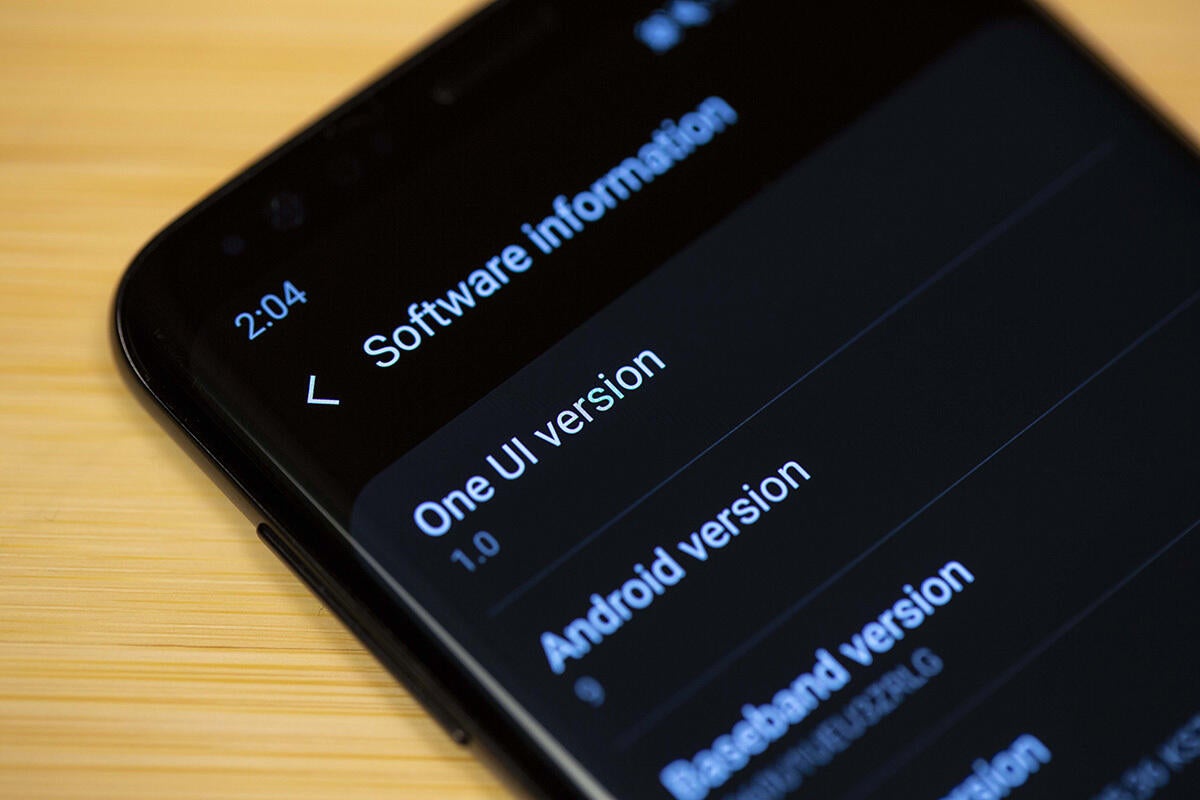 [ad_1]
Whether you call it TouchWiz or Samsung Experience, the interface of Galaxy phones has always had the feeling of fighting against Android rather than taking it in their arms. It's not just the presence of duplicate apps for everything Google makes, or even the proprietary app store that sells Galaxy branded Play Store apps. More than any other skin, Samsung phones have always claimed that Android was not really there, covering it with a thick layer of paint and ignoring many of the latest features.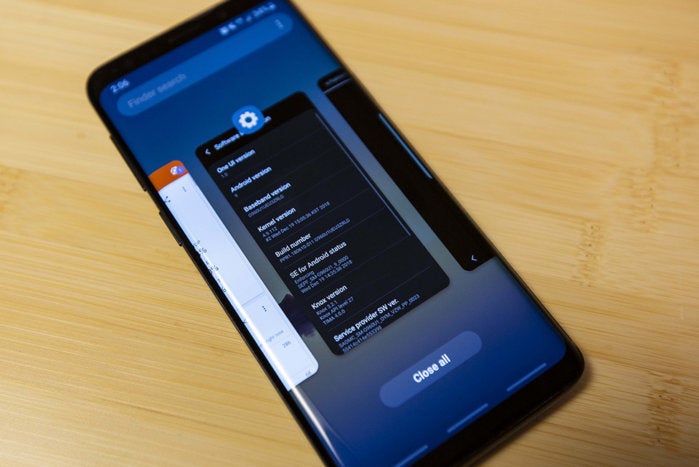 Whether out of fear or respect, Samsung has kept its superficial resistance. The brand's features and other modifications were for the most part superfluous and aesthetic. The Galaxy phones have suffered, with an interface that always seemed paved and heavy.
This has changed with One UI. The latest update of Samsung's operating system is still powered by Android 9 with the Samsung skin in the foreground, but it adds a new layer that does not look like any other Galaxy interface. It's no different to be different. It's different to be better.
A bold new look
When Samsung announced its Android Pie update at the company's developer conference in November, it was clear that it was not a normal refresh. Samsung has worked hard to refine and rethink the Galaxy user interface, known today as the Samsung experience, with an eye on folding and the 5G future.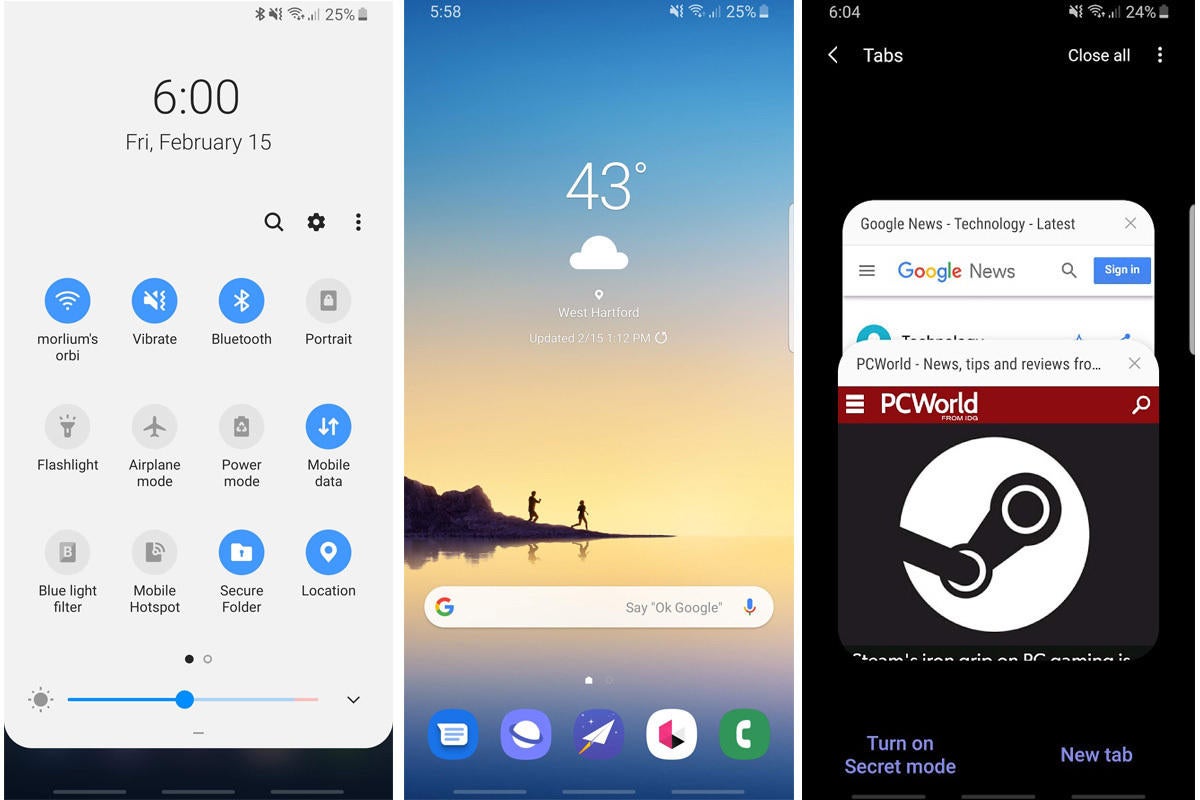 Obviously, there are new icons and application fonts, but the visual changes go far beyond aesthetic changes. According to Samsung, One UI was created so that its hardware and software "work together in perfect harmony". There is a well-defined Apple simpatico between the S9 curves and the new design language. A user interface is as light and fluid on the Galaxy S9 as Android 9 on the Pixel, and it will feel like home on the S10.
More specifically, One UI does not look like the Android 9 Pie you see on Pixel and OnePlus 6T phones. Looks like it was designed for Samsung phones. The suite of Galaxy apps has always had its own interface, but One UI introduces a whole new approach to presenting content and controls that take into account the intent. With One UI, Samsung has freed itself from the constraints of Android and has developed a smart, elegant and sophisticated language for its applications. I've been testing One UI on S9 for a few weeks and miss new Samsung apps when I switch to another device. The latest phones from Samsung have always been the most beautiful Android phones, but One UI on the S10 will finally bring an interface to the pitch.
Rethinking functionality
A user interface introduces two new areas of application interaction: content and control. The philosophy is simple but remarkably smooth, making it easier to access content with one hand without needing to access a shrunk mode. As a result, the interactions are faster and more enjoyable.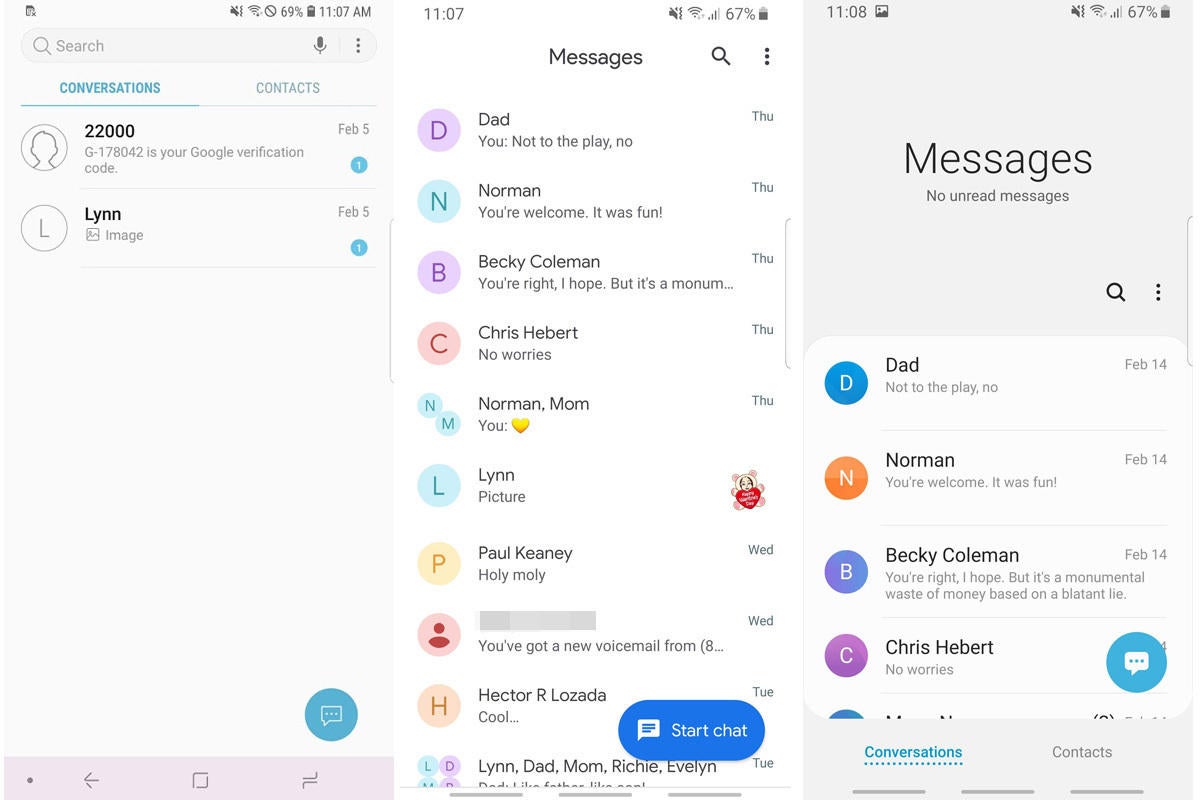 When you launch a Galaxy app, the content you need, such as recent messages or pop-up menus, is all lowered on the screen so that it is at the eye and thumb. Once you start typing and scrolling through the screen, everything fills up as usual, but One UI wisely puts the focus on the first touch. More often than not, your fingers will be placed where they should be as soon as an application is opened.
Navigation also reduces faucets. Google introduced gesture navigation in Pie, but Samsung's method is simpler and more natural. Instead of a home button, Samsung simply adds gestures to the existing system: swipe from the center up to go home, to the right to go back and to the left to see your apps recent. That's all. There is no new system to learn, no new muscle to train. After a day, I was already trying to do it on my other phones. The system will surely become more sophisticated as it evolves, but for the moment, it is smart and fast. With the supposedly super slim S10 tablets, gesture navigation will be incredibly fluid, like a piece of smart glass ready to meet your needs.
Dancing in the dark
But the main dish of a user interface is the night mode. Long-awaited feature of Android, Samsung's One UI version is fully cooked. There is even a button in the quick settings menu to activate it. Night mode in a single user interface fully exploits OLED displays by painting the notification panel with a stunning deep black brush and giving the entire system a refined, almost lustrous shine.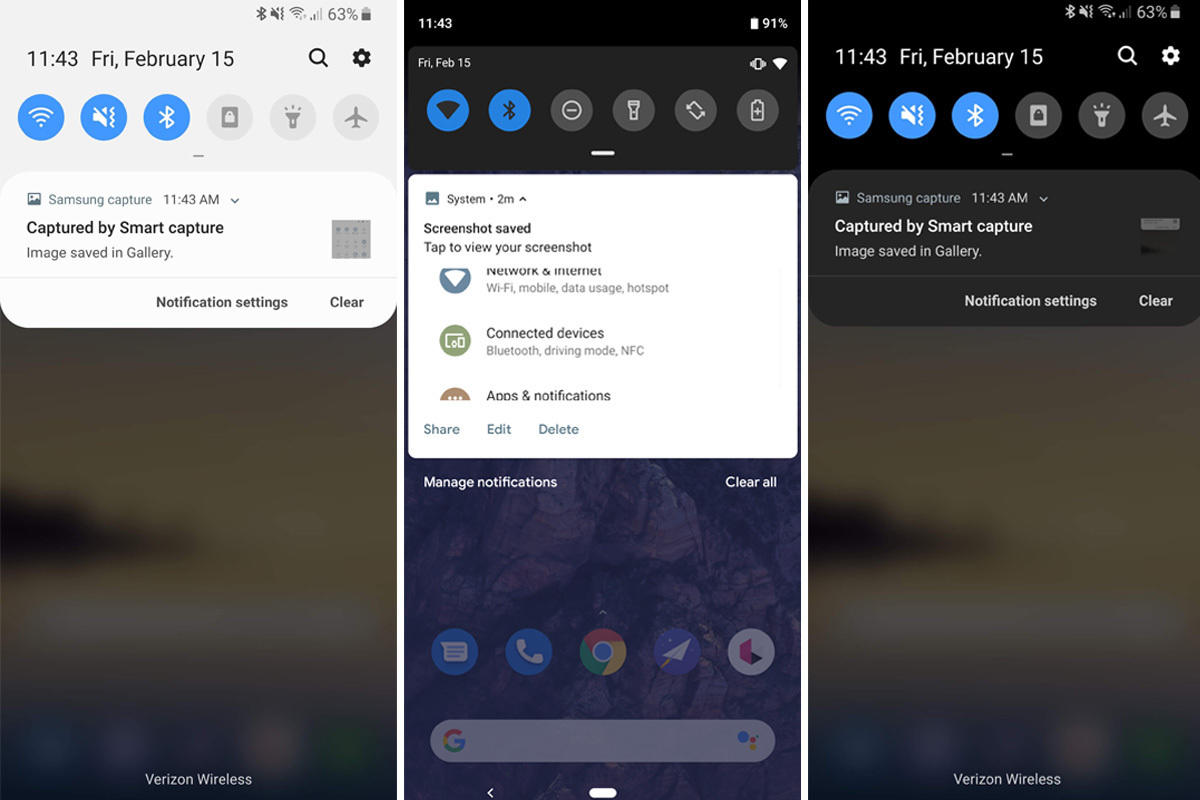 This is the first time I do not want to dump Samsung apps into a folder and forget about them. Each of them is gorgeous in dark mode. Even items like the notification panel have a new life. The bright blue quick setting icons appear on the dark background and even the calculator buttons are sharper. Honestly, I hope Google simply copies One UI for the supposed dark mode in Android Q because it could not be much better.
I can not believe I'm writing this, but One UI feels that Samsung is ahead of Android. Everything that made the Samsung experience was heavy and cluttered was removed and improved. This sounds like both a fresh start and a clean break from what Samsung considered the Android channels. By placing it on the S9 before the S10, Samsung lays the foundation for improvements that leverage hardware to create a seamless and elegant experience.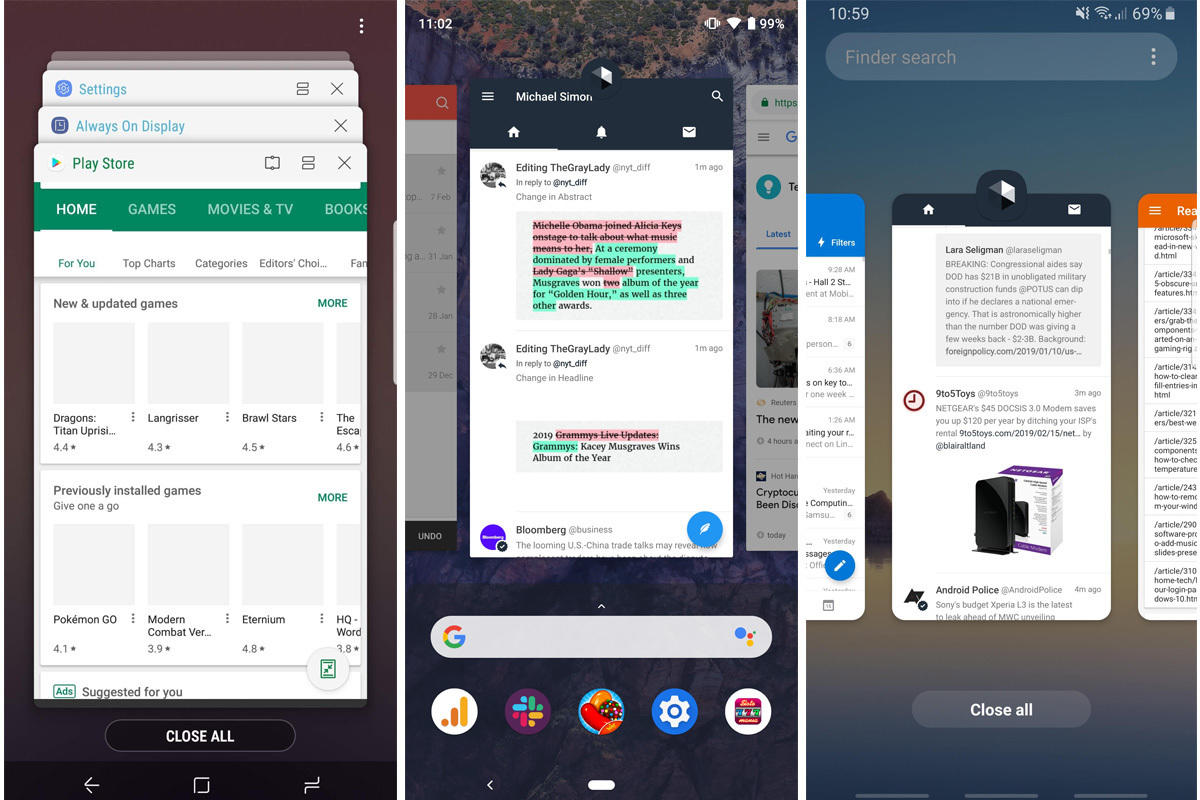 A user interface is not just for phones, either. The newly launched Samsung Galaxy Tab S5e tablet has integrated it. The Galaxy Watch Active, which is the subject of many rumors, should also be bundled with One UI, bringing a visual and functional harmony between Samsung's devices unparalleled in the Android ecosystem. We will all drool over the curves and outlines of the Galaxy S10, but that's what's on the screen that will really distinguish it.
To comment on this article and other PCWorld content, visit our Facebook page or our website.
Twitter
food.
[ad_2]
Source link