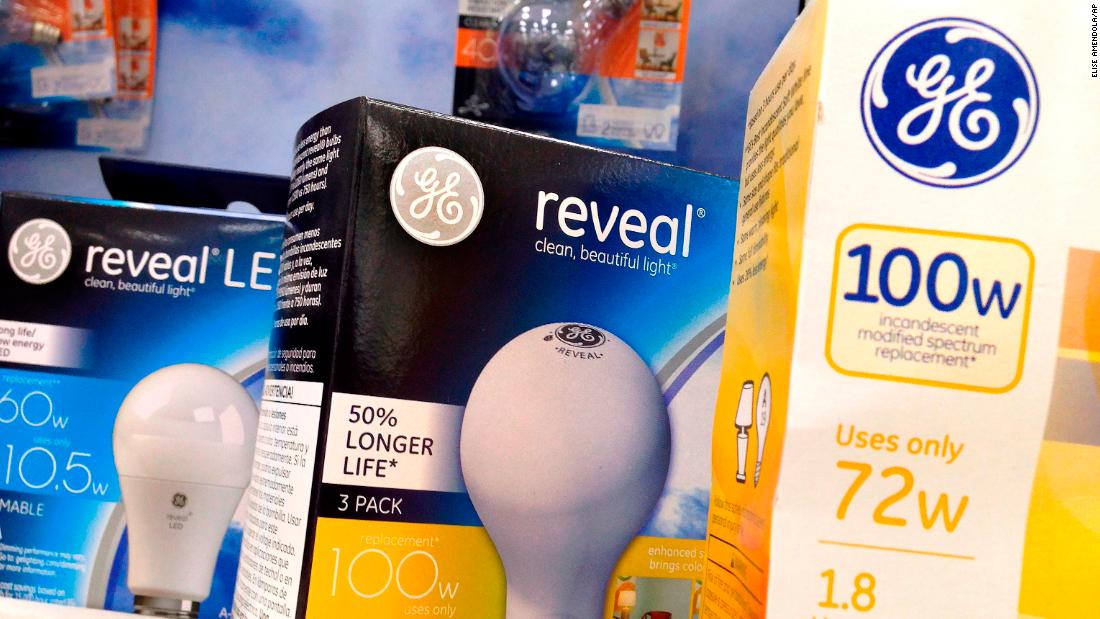 From General Electric
(

GE

)
The stock price has risen 67% since its fall to $ 6.45 in mid-December.
The staggering recovery reflects the feeling that the crisis phase at GE is finally over. CEO Larry Culp, who took the job in October, impressed investors by deciding urgently to mobilize cash that could be used to pay the mountain of debt he inherited.
"GE is making rapid progress in its transformation plan," CFRA analyst Jim Corridore wrote Monday.
"We are doing everything in our power to give GE a strong position," Culp wrote in its first annual letter to shareholders on Wednesday.
GE, which manufactures everything from light bulbs to jet engines, has already been criticized by analysts for buying high-priced companies and selling them much cheaper. This high buying and low selling story has come back to haunt GE. The stock price of the company has plummeted 75% between the end of 2016 and last year.
However, GE is suddenly recognized for its intelligent transactions.
No fire sale
Wall Street applauded GE's decision to sell some, but not all, of its health division. This is a change from GE's previous plan to bid farewell to the profitable and cash-rich business, probably through an IPO.
GE announced Monday that it was going to unload its BioPharma unit to
Danaher
(

DHR

)
, Former company of Culp. The sale generated $ 21.4 billion, or about seven times the annual income of the unit. This is a rich price and gives GE even more ways to clean up the balance sheet.
"GE thinks creatively and intelligently about how to restructure," wrote Corridore.
GE said the leeway created by the sale of BioPharma will allow the company to postpone an IPO of the profitable healthcare division.
For the time being, GE will retain the remaining activities, which consist of imaging equipment such as MRI machines and diagnostic products.
The agreement puts us "on a better foundation to consider the right option" for GE Healthcare "in time," wrote Culp.
In other words, no fire sale.
"By setting aside the IPO, GE retains a relatively high cash conversion activity in the portfolio, at least for now, and allows a more opportunistic exit," Cowen analyst Gautam Khanna writes.
Dismantle GE to raise funds
The sale of BioPharma is only the latest in a series of major changes announced by Culp since joining the CEO position.
Perhaps more importantly, GE has reduced its long-cherished dividend to one penny last year – a decision that will save $ 4 billion each year. Culp acknowledged in his shareholder letter that it was "a painful but necessary step".
GE is also accelerating its divorce from the oil and gas giant
Baker Hughes
(

BHGE

)
, a retirement that will bring about $ 4 billion more.
GE raised an additional $ 1.5 billion by selling a GE Capital portfolio of health equipment and loan leases.
This week, GE also completed the spin-offs of its century-old railway division
Wabtec
(

WAB

)
. The operation raised $ 2.9 billion in cash and provided GE with a 24.9% stake in the new company, which is already facing a massive strike.
GE still worth less than $ 100 billion
Of course, the recent rebound of GE hardly comforts its shareholders, who have suffered for a long time.
Once the most valuable company in America with a value of 400 billion dollars, the market capitalization of GE is only 93 billion dollars today.
The rebound of GE has undoubtedly been favored by the dynamism of the financial markets this year. Investors have invested in a wide range of risky assets, including
everything from crude oil and undesirable obligations to
Break
(

BREAK

)
and yes, GE.
Some think GE's return is exaggerated. Highligths.
"It's gone too far," JPMorgan Chase analyst C. Stephen Tusa, junior, told CNBC on Wednesday.
Tusa, who correctly criticized GE several years ago, warned that the company's energy and finance divisions were still facing serious problems that will take a long time to solve their problems. It has maintained its price target of USD 6 on GE, which implies a drop of over 40% from current levels.
"The math is the math," said Tusa.
GE will send more numbers to press on March 14th. It is at this time that Culp will hold a much-awaited conference call and give GE's perspective.
The 2019 numbers that GE will write in pencil will not be pretty. Power is always a mess. And GE Capital continues to empty the company of its cash.
But Wall Street bets that Culp managed to get GE out of the abyss.
Source link