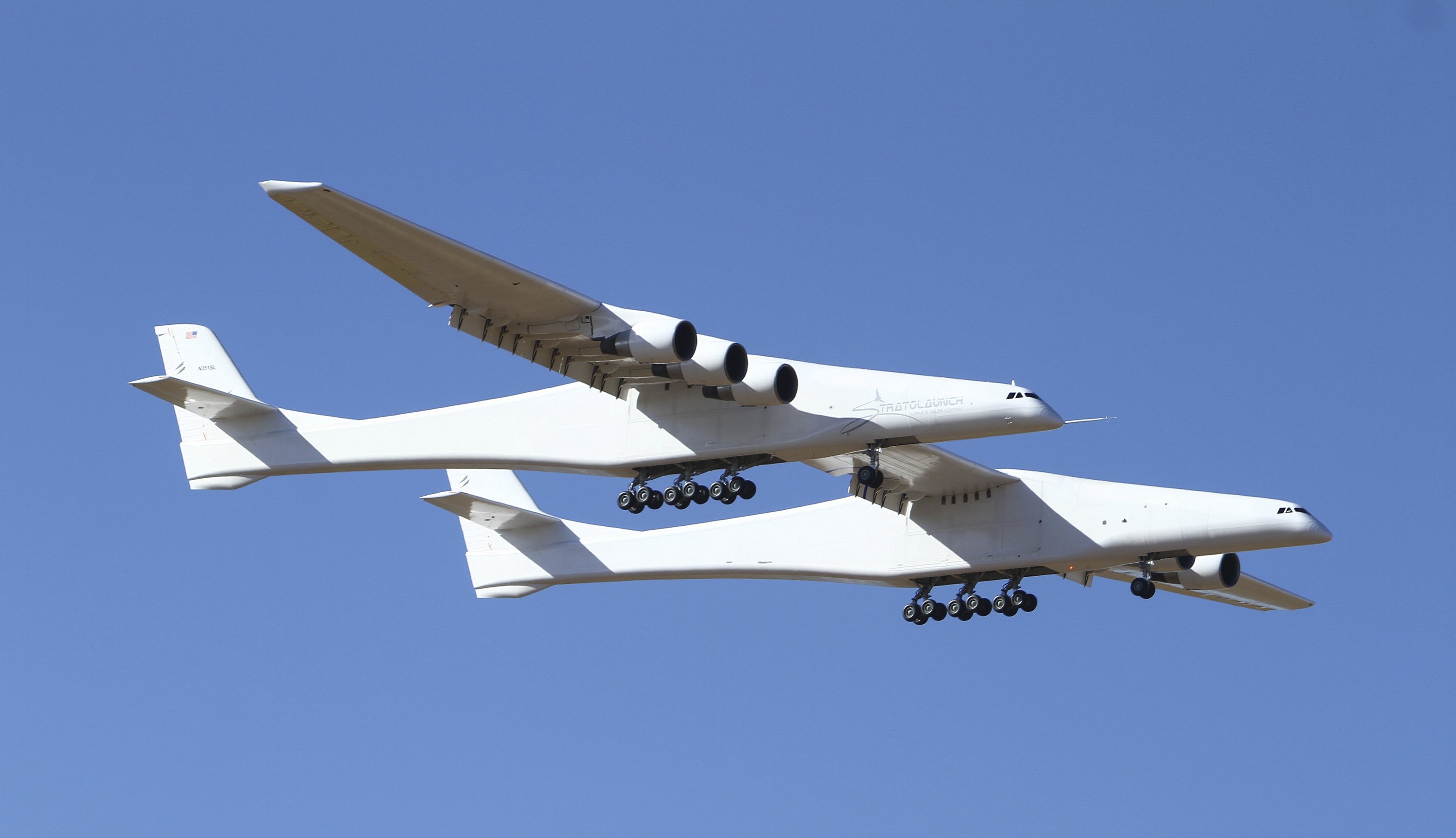 LOS ANGELES (AP) – A world-leading six-engine giant aircraft made its first flight after flying for about two hours on Saturday.
The double-fuselage Stratolaunch jet took off from Mojave Air and Space Harbor and climbed into the desert skies 112 kilometers north of Los Angeles.
Founded by the late billionaire Paul G. Allen, Stratolaunch aims to be a competitor in the small-launch satellite market.
The aircraft is designed to carry up to three rockets loaded with satellites both under the center of its huge wing, which spans 117 meters – a wingspan longer than any other plane.
At an altitude of 35,000 feet (10,668 meters), the rockets would be released, ignite their engines and launch into space.
The benefits of such airlift systems include the ability to use many airports and avoid the limitations of fixed launch sites that may be affected by weather, air traffic and shipping traffic on ocean channels.
Allen, co-founder of Microsoft, founded Stratolaunch Systems Corp. in 2011 after having emerged in the aerospace sector by financing the development of SpaceShipOne, launched on a trial and experimental basis, which became in 2004 the first privately built inhabited rocket.
After Allen's death in October 2018, Stratolaunch abandoned his plan to develop his own rocket engine type and a family of launchers. Instead, he focused on the giant aircraft and the launch of Northrop Grumman's famous Pegasus XL.
The Stratolaunch aircraft departed its Mojave hangar for the first time in May 2017 and conducted ground tests, including taxiing and take-off from a runway at a speed close to take-off.
Propelled by the same type of engines as the Boeing 747s, this aircraft is designed to take off at a maximum mass of 1.3 million pounds (589,676 kilograms). Its twin fuselages – a kind of aircraft equivalent of a catamaran – are 238 feet (72.5 meters) long.
The previous major leader was the Hercules H-4 Hercules Seaplane with eight engines from the Second World War, nicknamed the "Spruce Goose". Surviving in an aviation museum, it has a wingspan of about 97.5 meters but a length of just under 67 meters.
While Stratolaunch considers its aircraft as the largest in the world, other aircraft exceed it from start to finish. They include the Antonof AN 225 six-engined cargo plane, 84.5 feet long, and the Boeing 747-8, which measures just over 76 meters.
Source link