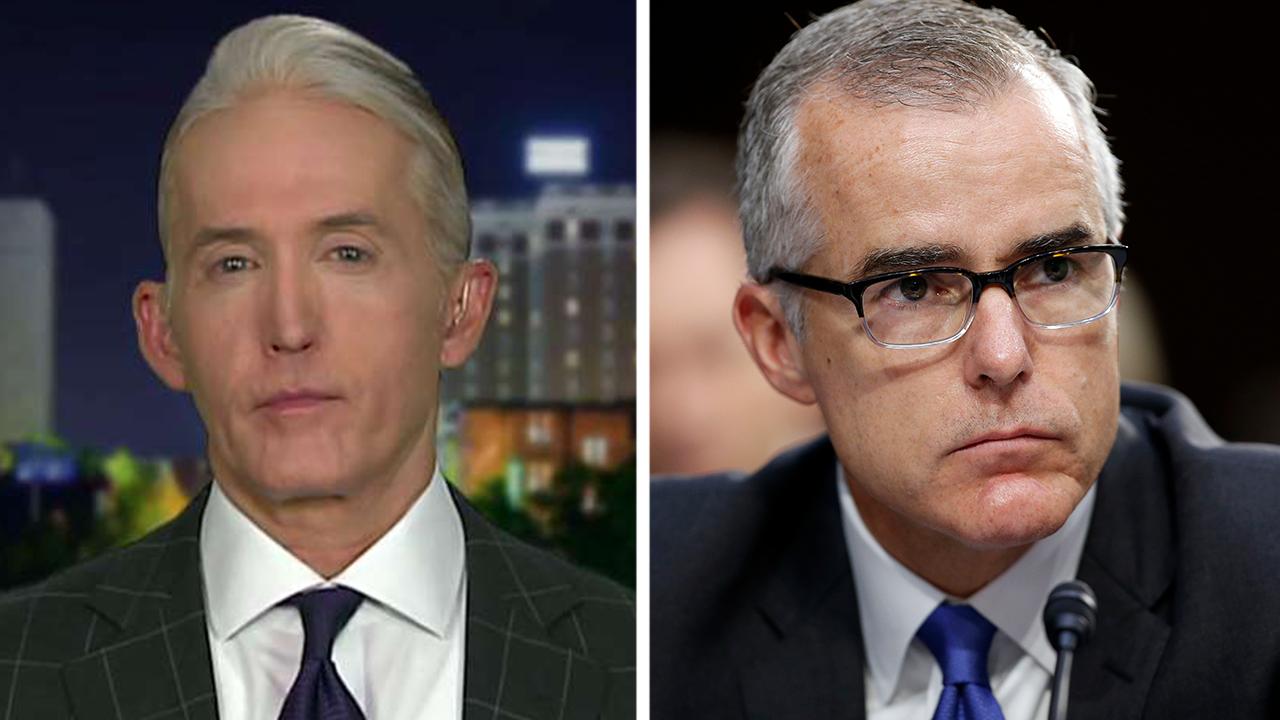 Trey Gowdy, a former congressman and contributor to Fox News, on Tuesday challenged the statement of former FBI interim director, Andrew McCabe, that congressional leaders were not opposed to the counter-intelligence investigation conducted by the office on President Trump's relations with Russia.
"The reason he does it this way is that [Rep. Devin Nunes, R-Calif.] and [former House Speaker Paul Ryan, R-Wis.] are not allowed to discuss anything said at a meeting of the "Gang of Eight" and McCabe knows it well, "said Gowdy in" The Story with Martha MacCallum. " "" He can therefore bring the charge and Devin and Paul can not refute it. "Nunes Chair of the House Intelligence Committee from 2015 to 2015.
McCabe, during an appearance on NBC's "Today's" broadcast Tuesday morning, said that no member of the "Gang of Eight", a bipartisan group of House leaders and the Senate, including Nunes and Ryan, did not oppose the investigation.
"I told Congress what we had done," McCabe told Savannah Guthrie.
"Anyone objected?" Guthrie asked.
"This is the most important part here, Savannah," McCabe replied. "Nobody objected. Not for legal reasons, not for constitutional reasons and not based on facts. "
DAN BONGINO: MCCABE FINDS THE STANDARD OF THE TROMPE PROBE & # 39; INARTICULABLE & # 39;
Gowdy, a former member of the House Judiciary Committee, said that he believed McCabe was not telling the truth and that Nunes and Ryan were unaware of a second investigation.
"Three investigations were conducted on a duly elected president. The Peter Strzok of July 2016, then McCabe launched a counterintelligence [probe] and if he tells the truth, he has opened a criminal investigation into the US president, "Gowdy told Martha MacCallum.
"I listened to Devin and Paul interview the [Justice Department] and the FBI for hours on several occasions about the same counter-intelligence investigation, we all knew it. I find it amazing that they know that there is a second one without saying a single word.
CLICK HERE TO GET THE FOX NEWS APP
Gowdy also addressed the dismissal of former FBI director James Comey in May 2017 and McCabe's belief that the president was trying to stop the investigation of Russia.
"If thinking that Jim Comey is not a good director of the FBI is tantamount to being an agent of Russia, just list all the people who are agents of Russia. [Senate Minority Leader] Chuck Schumer, [House Speaker] Nancy Pelosi, [Deputy Attorney General] Rod Rosenstein …, said Gowdy.
Martha MacCallum of Fox News contributed to this report.
Source link