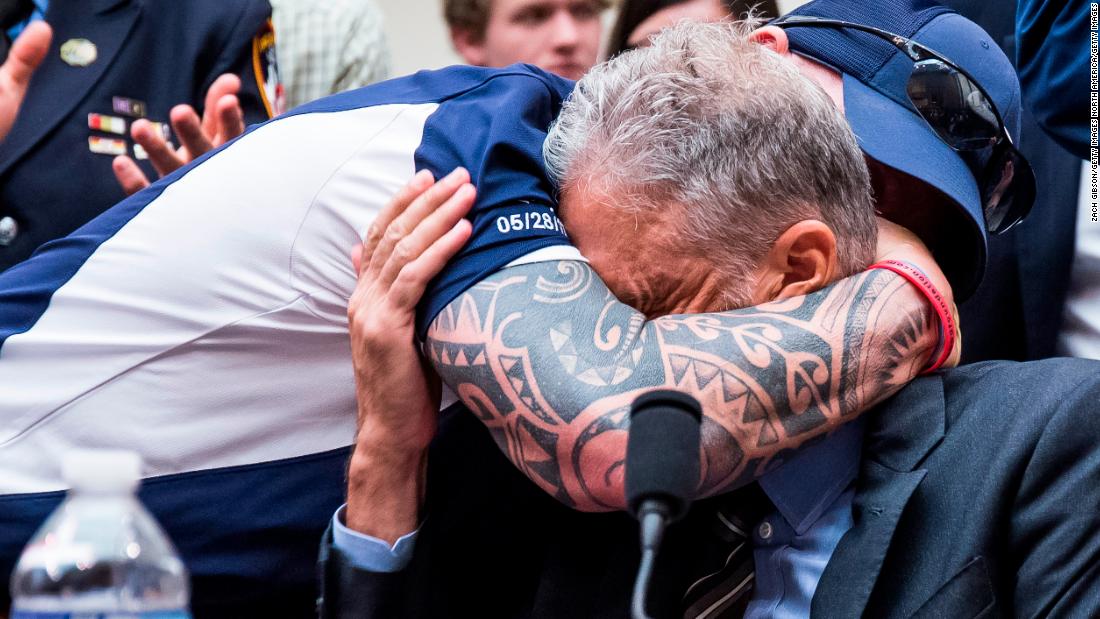 They carry lasting traces of their long hours of work in the pile of destruction that remained after the collapse of the World Trade Center nearly 18 years ago.
They breathed in a harmful air darkened by the debris of fallen buildings after the authorities assured them that they were safe.
They have now discovered – long after the broken heart of Lower Manhattan has been brought back to life – debilitating diseases and cancers spreading through their bodies.
Here are two of their stories:
He lost part of the left foot to gangrene after a zero-accident
John Feal and his team of demolition experts arrived at Ground Zero the day after the collapse of the towers.
"What everyone has seen we can deal with … but the smell is eternal," he said this week. "If I close my eyes and think about it, I feel it."
It keeps him awake at night.
"It smelled the devil," he says. "The devastating and destructive carnage.If I had a picture of this smell, it would be a picture of the devil."
Armed with machines, tools and their hands, the small army of civilians engulfed themselves in tons of twisted steel, rubble and debris.
On the fifth day, while there was only 30 minutes left of his 12-hour shift, an 8,000-pound steel plate was peeled off the pile and crushed his foot left.
Feal, 52, spent 11 weeks at the hospital. The doctors amputated the left foot after gangrene. He has undergone nearly 40 surgeries and countless hours of treatment. He was also diagnosed with post-traumatic stress disorder.
"I went there thinking that I could make a difference and I was hurt," he said. "My difference came later."
He founded the FealGood Foundation, which spearheaded the US government to support the September 11th Victims Compensation Fund. Their last call is part of a growing number of serious illnesses and deaths among first responders.
This week, Feal and other stakeholders appeared before Congress while Stewart was ashamed of lawmakers for not unanimously supporting an extension of the fund. Many members of a judicial committee of the House did not appear at the hearing, leaving the room virtually empty.
Luis Alvarez, a retired bomb army detective and a retired army veteran, was one of the first to intervene in Washington. The next day, he had his 69th chemotherapy for cancer he had after working hard at zero.
"I've been to many places around the world and I've done a lot of things, but I can tell you that I did not want to be anywhere except if I was there," said Alvarez to legislators.
He added, "Now the 9/11 diseases have taken a lot of us and we are all worried about our children, our spouses and our families and what happens if we are not here."
Feal praised the personal sacrifices that people like Alvarez make on their way to Washington on behalf of the new victims identified every day.
"They are looking for tens of thousands of people who have not yet received their prize," he said.
"Take them from their place of residence to New York or New Jersey, get off the I-95 and change their oxygen tanks or pause to take their medications." It's a burden to them psychically and mentally.These trips are brutal. "
More than 2,000 deaths have been attributed to diseases associated with September 11, said Feal. He attended more than 180 funerals.
"On average, we lose someone every 2.7 days," Feal said. "We can spend a week or a month without losing someone and then three people can die in two days, then five people die in four days."
There have been seven deaths in the last nine days.
Persistent suffering makes September 11, 2001 the "longest day in the history of days," he said.
"It's for those who have been directly affected, for those who lost their loved ones that day, for those who became ill and those who died of illness," he said.
"There are tens of thousands of people because of extended families and direct families – (for whom) this day will never end."
He is haunted by the sound of the alarms of the airbag of the firefighters trapped
Michael O. Connell was a 25-year-old probation firefighter on the morning of the attacks. He joined the department several months earlier after a stint at the NYPD.
He rushed from his home in Long Island to the Queens Fire Hall where he trained in the field. He quickly joined a fire brigade en route to Lower Manhattan. They learned on the way that the south tower had collapsed.
"A fellow firefighter turned to me and said," Do you know how many guys we just lost? " O & # 39; Connell told lawmakers in Washington this week. "The truth was that I did not have a clue."
This day was the first of many years spent digging – sometimes by hand – through piles of rubble.
Nearly two decades later, O. Connell, now 43, can not erase any lasting memory: the shrill sound of distress alarms attached to inflatable blocks worn by firefighters. The alarm is intended to help rescuers locate a user with a disability or who needs help.
"During the first minutes of our arrival and the countless hours that have passed, that's all we've heard," he said. "Our brothers were stuck under this pile of concrete and steel and we could not reach them."
"It's a difficult memory, but one that keeps me going," said O Connell about the haunting sound that's playing in his head at night.
"It reminds me that the men and women who gave their lives that day were disinterested, and I do my best to live my life to these standards."
Of the 2,753 people who perished at the World Trade Center site, 343 were New York City firefighters, 23 New York City police officers and 37 Port Authority officials. Attacks on the Pentagon killed 184 people and 40 people died when Flight 93 crashed near Shanksville, Pennsylvania, bringing to 2 977 the total number of people killed on 9/11.
At the fire station after hours of work at Ground Zero, O. Connell saw a print with the names of the dead.
"I have been given a list of hundreds of names of men who will not be able to return home with their children, their wives, their families," he told CNN. "And there were a few names I knew – guys who went to the academy with me, people I went to high school with."
It was not until January 1, 2007 that O Connell learned that he was sick of the time he spent on the job. His wife was six months pregnant with the first of their three children.
"I could not get up from bed and felt like someone came into my room that night and beat me with a baseball bat," he said. he declared. "My legs, ankles and feet were so swollen, it was very difficult to walk to the car to go to the doctor."
When he finally managed to see a doctor, the initial diagnosis was bleak: he seemed to be suffering from advanced lymphoma and probably did not have a lot of time.
"All I wanted to do was stay long enough to see the birth of my first child," he said.
The diagnosis was wrong. O & # 39; Connell later learned that he was suffering from a rare autoimmune disease called sarcoidosis. He considers himself lucky.
"I was one of the youngest and first firefighters to have been diagnosed with sarcoidosis," he said. "Hundreds of others have been diagnosed since, I spent the following months recovering and, with the appropriate treatments, I was able to get back on my feet."
He retired from the fire department as a lieutenant in 2009.
"As a firefighter or police officer like me, you have a pension," he said. "I was 32 years old when I retired, so over time, this pension decreases day by day as the cost of living goes up."
Nevertheless, he is more worried about respondents who simply learn that they are sick.
"We have to keep fighting," he said.
Source link