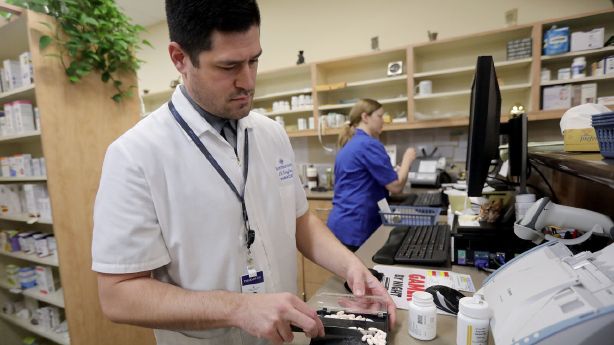 SALT LAKE CITY – A year and a half ago, Kelly Howard cried while reading the goal of Intermountain Healthcare to cut 40% opioid prescriptions in 2018.
"Finally noise on the subject," she remembered thinking about herself.
Howard's son, Billy Perkins, died in 2014 from an opioid overdose. Perkins, 26, had not received opioids at the time of his death, but rather bought the drugs from friends.
"I thought my son would never touch drugs or alcohol," she said. "But once on the roller coaster, he just could not get off."
She congratulated the hospital on Tuesday for almost achieving its goal and drew attention to the serious problem.
"Well done, Intermountain Healthcare," she says. "Congratulations to doctors and providers for their commitment to reducing the number of opioid prescriptions you have made."
Intermountain Healthcare has reduced by 3.8 million the number of opioid tablets prescribed to acute pain patients by 2018, the hospital said at a press conference.
Acute pain is defined as short-term pain that usually accompanies events such as fractures or surgery.
In August 2017, the hospital announced its ambitious goal of reducing opioid prescriptions by 40% by 2018. However, it missed its target, but still achieved a 30% reduction – one thing that we can be proud of, "said Lisa Nichols, Associate Vice President, Community Health.
"I think the discussion about the dangers of opioids is really open and that the conversation about addiction and the willingness of people to seek help has really changed," she said. "People are becoming much more aware and I think more sensitive."
She added that the hospital is now using it to reduce that number by 5% this year. According to the Department of Health, Utah is one of only nine states in the country to have observed a decrease in the number of opioid overdose deaths from 2016 to 2017.
Dr. David Hasleton, Chief Medical Officer at Intermountain Health, said that creating a dialogue between patients and physicians was essential to fighting the epidemic.
"It affects patients, it affects families," he said. "It's open the door they can now ask us questions.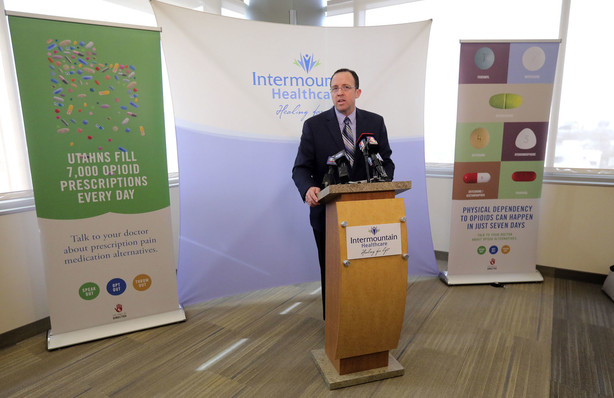 Another important element, he said, is the creation of a dialogue between doctors.
"It's up to us to take the lead to find the best way to do it," he said. "Treat patients appropriately, but really improve the health of the community and end this epidemic."
Howard said that her son had tried to get rid of the drug several times and that she did not know how long he had had addiction problems before talking to him about two years before his death.
"A lot of that concerns stigma, being embarrassed or ashamed or not knowing where to get resources," Nichols said.
Doug Thomas, Director of the Addiction and Mental Health Division of Utah, also spoke at the conference.
"The Addiction and Mental Health Division is committed to working on data-driven approaches that will reduce the impact of prescription drugs and their misuse in our communities," he said. he declared. "And find ways to increase the available treatment for those who have been affected by this."
---
It's up to us to take the lead to find out how to do better. Treat patients appropriately, but really improve the health of the community and end this epidemic.
-Dr. David Hasleton, Chief Medical Officer Intermountain Health
---
Thomas spoke of the success of the Use Only As Directed campaign, as well as the mission of Intermountain Healthcare to fight the epidemic.
"Thanks to this effort, more of our brothers and sisters, our mothers and fathers, as well as our friends and family, are alive today," he said.
Anna Fondario, program officer at the Utah Department of Health, highlighted the success of the Utah Opioid Overdose Prevention Coalition, led by Lieutenant Governor Spencer Cox .
"The opioid epidemic and its serious consequences are well known in Utah and a global effort from several agencies is needed to reduce overdose deaths," she said.
Addiction can happen to anyone, Howard said. Before her son became addicted to opiates, she said that he was a passionate reader, that he loved music and football and that he was a proud student of the University. from Utah.
"I do not want him to be forgotten," she says. "I do not want to forget any of those sons, daughters, family members or friends who were once very viable people who were leading a wonderful life, I do not think any of them are. chose to be so want to be remembered for him. "
×
pics
Related stories
Source link