What you need to know
Those who use public transportation around New York will spend more money after the MTA board approves higher fares and tolls on Wednesday

After the promise made in January not to raise prices despite the budget uncertainty, MTA reversed the trend and announced its intention to vote for a possible rate increase.

Overall, commuter train fares will increase by about 4%, not to exceed $ 15 per month. Tolls will also increase by 4%
It's official!
Those using public transportation around New York will spend more money after the MTA board approves higher fares and tolls on Wednesday.
After a promise in January not to raise rates despite the budget uncertainty, the MTA reversed the trend on Monday and announced its intention to vote on a possible rise in rates Wednesday. This possibility has become reality.
So what are the new tariffs implying?
MTA plans to vote on rate increase plan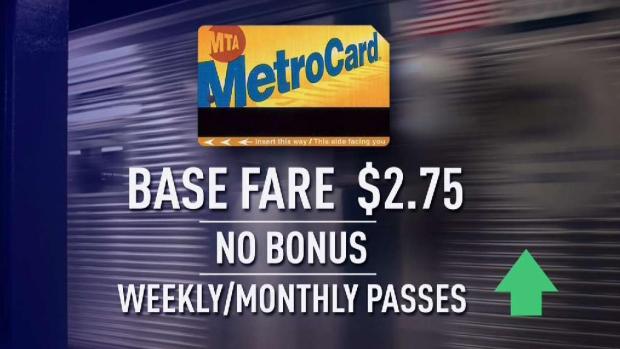 Motorists will have to pay more as tolls will increase by about 4% as of March 31st. Meanwhile, the EZ pass will increase from $ 5.76 to $ 6.12 and the cash toll will increase from $ 1.50 to $ 8.50.
However, commuters using public transit will benefit from a slight grace period before the MTA fare increases and the commuter rail will come into effect on April 21st.
The base rate of $ 2.75 from MetroCard will remain the same. However, a weekly MetroCard goes from $ 30 to $ 33. A monthly MetroCard will increase from $ 121 to $ 127. Meanwhile, the express bus fare will increase from $ 6.50 to $ 6.75.
Pedestrians race with the MTA bus to demonstrate slow service
Overall, commuter train fares will increase by about 4%, not to exceed $ 15 per month.
In addition, there is no rate increase for commuters who purchase monthly passes of $ 460 or more.
"This is painful for many people," said Fernando Ferrer, chairman of the MTA, when raising prices. "But it was not really an aggression."
The rate increase comes as rumors have revealed that the MTA's financial problems were so severe that the agency could reduce the project to add elevators in key stations from 50 to 36, which would have reassured the president of NYC Transit, Andy Byford, because he is still engaged. at the 50 stations planned.
Now that the MTA Board has approved an increase in rates and rates, it is still unclear how much the MTA will get from Albany for the complete modernization plan.