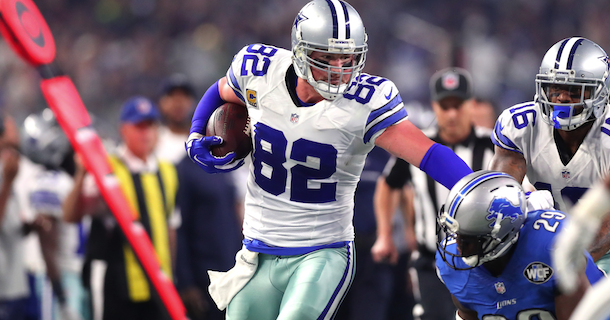 Jason Witten is back.
According to an official announcement by the Dallas Cowboys, the future member of the Hall of Fame ends his one-year stay with ESPN Monday Night Football to return to the team for his 15th season – rested one year of booth broadcast.
"The fire inside me to play and play this game burns too hard," said Witten, via DallasCowboys.com. "This team has a big group of young rising stars, and I want to help them compete in a championship, it was a total decision I made and I'm very comfortable with that."
And here is the legendary U-turn from his previous comments.
"There's nothing there," said Witten at the start of the off-season, via Joey Hayden of The Dallas Morning News. "Listen, I'm enjoying where I am, these guys are very hot, they do not have to change their playing and the way they're defending."
"They are fit and me too."
The 36-year-old called it a career in April 2018, taking his talents as the # 1 analyst for ESPN's Monday Night Football after the departure of Jon Gruden to the Oakland Raiders. Critics have not been excellent during Witten's rookie season in broadcast kiosks, but as is generally the case in the Cowboys legend, he does not give up when the road becomes rough. It's a man who missed only one game in a 15-year career in the NFL, and it took a broken jaw in his new year to do it. He was back a week later, playing with the same closed jaw.
That said, it's safe to assume that some harsh tweets will only push him to get better.
When asked if the rumors about Witten were true, the owner Jerry Jones reflected what the old tight end had to say.
"We do not have [attempted] at all, "said Jones, via Clarence Hill, Jr. Fort Worth Star-Telegram. "What you're seeing is probably persistent aspects of Jason saying I'll never stop playing, so you see it lasts."
And as for Garrett, who was Valentine's Day reported? His response to the report was much more succinct. When asked if he was approaching Witten for a possible return from his retirement, the Cowboys coach had only one thing to say in his Monday morning interview with 105.3FM the Fan.
"No."
We will probably never know what really happened here, but it would seem that there have been conversations at one point because Witten will be playing for the Cowboys in 2019.