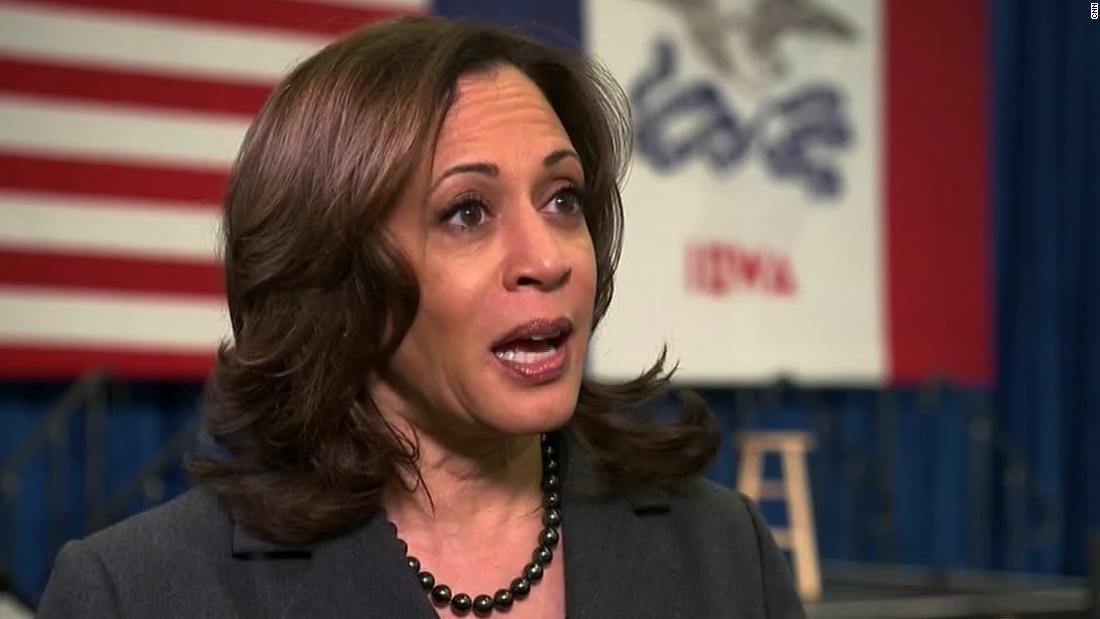 Misty Rebik, CNN host KFile, spoke to an audience of the Live Party political party that broadcast a podcast on Iowa politics about a CNN KFile story in which he explained the public support of Mr. Harris to an urban policy promulgated by the mayor of the time, Gavin Newsom, which reported young undocumented immigrants. arrested by local police at ICE. The decision revoked an earlier policy of non-declaration.
In his response, Harris said that reporting undocumented migrant minors arrested before they were convicted of a crime was an "unintended consequence" of the policy that it did not have. did not support. However, it was actually the intent of the policy.
"Could you explain to us how, from that moment on, you supported for some reason this policy which essentially consisted of transferring undocumented persons to ICE before their current conviction – somehow what has changed about it? and how did you come to these changes? "the interrogator asked Harris.
Harris replied, "It ended up being an unintended consequence of politics and I did not support this consequence of this policy, and this policy has changed since then, because it was not there. I'm going to say that, and I'm very attached to that, and I still have it, which is my case, I'm a prosecutor and I want to know that a person who is a victim of child rape or child sexual abuse or violent violent crime to know that this victim will be able to run in the middle of the street and signal to a police officer and enjoy the protection and security without having to To worry that if she does, she will be expelled. "
San Francisco was a shrine town since 1989, which meant that the police were not required to give information to federal immigration authorities about interactions with undocumented residents of the city. The city's policy was amended in 1992 to remove the protections afforded to adult suspects, but this protection has remained unchanged for minors arrested.
Newsom changed this policy in 2008 after the arrest of a 21-year-old undocumented man for the murder of three members of a San Francisco family. This man had been arrested when he was a teenager at the age of 17 and had been found guilty of attempted robbery and assault, but he was never reported to the authorities. federal immigration. After the change of Newsom, the city began reporting to ICE undocumented minors arrested who were suspected of committing a crime, whether they were actually convicted of a crime or not.
Harris's comments misinterpreted his history on politics. Reporting to ICE undocumented minors arrested was not an "unintended consequence" of politics, but of politics. Since then, both Newsom and Harris have stated that they support the policy as a measure to protect San Francisco's general status as a sanctuary city, but the policy itself was promulgated by order of the mayor .
Newsom acknowledged during its successful run to governor of California in 2018 that the policy could have been handled differently.
"They were people charged … but not convicted." Some people were eventually exonerated and found trapped, "he told The Sacramento Bee last year. "I'm just going to say this to my critics: good game." In retrospect, there were things we could have done differently, I'm very honest about it. "
A spokesman for Harris did not comment on the senator's remarks when he was contacted by KFile of CNN, but reiterated that the policy should have been treated differently.
"As Governor Newsom has said, the original policy was to protect San Francisco's sanctuary status, which Senator Harris has always supported and defended," Harris spokesman Ian Sams said in a statement. a statement. "We said that this policy should have been done differently, but as a senator, Harris focuses on protecting dreamers, fighting the president's attempts to build a vanity project on the southern border, by exerting more monitoring on ICE, reforming our immigration system to citizenship and reunification of families separated by this administration.It will be her priorities if she were to be elected president. "
Harris' assertion that the policy has since been modified "because it was not the purpose of this policy" is also inaccurate.
Although Harris was right in saying that the policy had been changed since then, this was a result of a change in administration. When Newsom stepped down as mayor in 2011, his successor changed the city's policy so that the police only report unaccompanied unaccompanied immigrant minors who were arrested at ICE; and again in 2013, when San Francisco issued another order prohibiting the reporting of anyone arrested to ICE, except in limited circumstances.
The council of city supervisors actively insisted when Harris and Newsom were at the city office to change the policy banning the reporting of undocumented immigrant youth to ICE, unless they were found guilty of 39, a crime. Harris and Newsom opposed these efforts. Harris said in a speech that the draft law on the supervisory board violated the federal law on immigration.
When the Commission passed a law amending the policy, Newsom vetoed it. The Council overrode its veto and passed the law without its signature. Newsom finally implemented its initial policy despite the Commission's legislation.
Source link