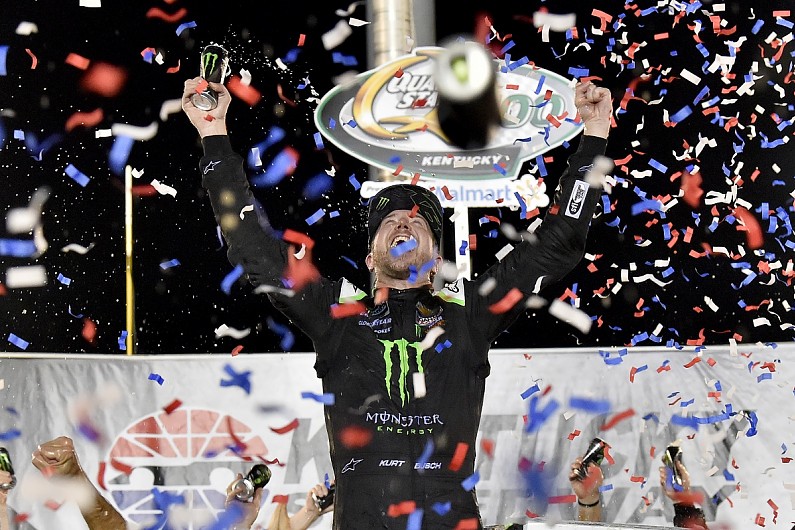 Chip Ganassi Racing's Busch, Kurt Busch, won his first victory of the 2019 NASCAR Cup Cup season, defeating his brother Kyle Busch during a thrilling extra time in Kentucky.
Penske's Joey Logano appeared to be on the winning road after defeating second-tier winner Kyle Busch (Joe Gibbs Racing) to take the lead for the first time in the race. 20 of the remaining 267 laps.
But a rear tire rash right on Darrell Wallace Junior's Chevrolet with five laps left a last restart and put the race in overtime.
Logano was joined in first place for the final recovery by Kyle Busch. Both drivers had two new tires on their last stations, but the winner of the first stage, Kurt Busch – starting outside the second row – had opted for four.
With a tire advantage, he bypassed the Logano Ford and embarked on a battle with his brother Kyle.
Both drivers spent most of the last lap side by side. Contact was established, causing the right rear tire to rub on Kurt Busch's Chevrolet.
But Kyle was unable to restrain his brother. Kurt dominated the outside of turn 4 and won a drag race to win the race and secure his place in the playoffs.
The victory came a week after the rain-cut Daytona run, during which Kurt Busch was misled by what turned out to be a red flag ending the race for lightning, called a trick after giving way head to head.
Erik Jones had briefly triumphed for Kentucky in a three-way match against Busch after a good start in the final round before finishing behind JGR teammate Kyle Busch in third.
Kyle Larson climbed the ladder throughout the final stage to finish fourth, despite the start of the race in 19th place and his anonymity in the first two stages.
Denny Hamlin, from JGR, recovered from a pitlane shortage for an uncontrolled tire in a stage two to finish fifth, helped by a timely free pass at the end of the stage to return in the main round.
Clint Bowyer finished sixth, despite a recovery after being surprised by a puncture at the back right of Chase Elliott that triggered a caution in the middle of the first phase.
SHR's Bowyer was one of the few riders to make the opposition prior to the incident and lost an important position on the track.
But he finally managed to get back to the front of the pack – by choosing not to pit-stop at the end of the stages – taking the lead in the first trade in the last leg before falling back because of a fast end of race.
William Byron had gone ahead with a similar strategy to that of Bowyer. The Hendrick Motorsports driver gave up the race after being seen inflicting a penalty for resuming the start while he was in first place with Bowyer, and took 18th place.
Result
| Pos | Driver | Team | Car |
| --- | --- | --- | --- |
| 1 | Kurt Busch | Chip Ganassi Racing | Chevrolet |
| 2 | Kyle Busch | Joe Gibbs Racing | Toyota |
| 3 | Erik Jones | Joe Gibbs Racing | Toyota |
| 4 | Kyle Larson | Chip Ganassi Racing | Chevrolet |
| 5 | Denny Hamlin | Joe Gibbs Racing | Toyota |
| 6 | Clint Bowyer | Stewart-Haas Racing | Ford |
| 7 | Joey Logano | Penske Team | Ford |
| 8 | Daniel Suarez | Stewart-Haas Racing | Ford |
| 9 | Ryan Newman | Roush Fenway Racing | Ford |
| ten | Chris Buescher | JTG Daugherty Racing | Chevrolet |
| 11 | Paul Ménard | Wood Brothers Racing | Ford |
| 12 | Ricky Stenhouse Jr. | Roush Fenway Racing | Ford |
| 13 | Ryan Blaney | Penske Team | Ford |
| 14 | Aric Almirola | Stewart-Haas Racing | Ford |
| 15 | Chase Elliott | Hendrick Motorsports | Chevrolet |
| 16 | Matt DiBenedetto | Leavine Family Racing | Toyota |
| 17 | Alex Bowman | Hendrick Motorsports | Chevrolet |
| 18 | William Byron | Hendrick Motorsports | Chevrolet |
| 19 | Martin Truex Jr. | Joe Gibbs Racing | Toyota |
| 20 | Brad Keselowski | Penske Team | Ford |
| 21 | Ryan Preece | JTG Daugherty Racing | Chevrolet |
| 22 | Kevin Harvick | Stewart-Haas Racing | Ford |
| 23 | Darrell Wallace Jr. | Richard Petty Motorsports | Chevrolet |
| 24 | Daniel Hemric | Richard Childress Racing | Chevrolet |
| 25 | Michael McDowell | Motor sports ranked first | Ford |
| 26 | Ty Dillon | Germain Racing | Chevrolet |
| 27 | Matt Tifft | Motor sports ranked first | Ford |
| 28 | Corey LaJoie | Go FAS Racing | Ford |
| 29 | David Ragan | Motor sports ranked first | Ford |
| 30 | Jimmie Johnson | Hendrick Motorsports | Chevrolet |
| 31 | Ross Chastain | Premium Motorsports | Chevrolet |
| 32 | Landon Cassill | StarCom Racing | Chevrolet |
| 33 | Bayley Currey | Petty Ware Racing | Ford |
| 34 | Quin Houff | Spire Motorsports | Chevrolet |
| 35 | Austin Dillon | Richard Childress Racing | Chevrolet |
| 36 | B.J. McLeod | Rick Ware Racing | Chevrolet |
Source link