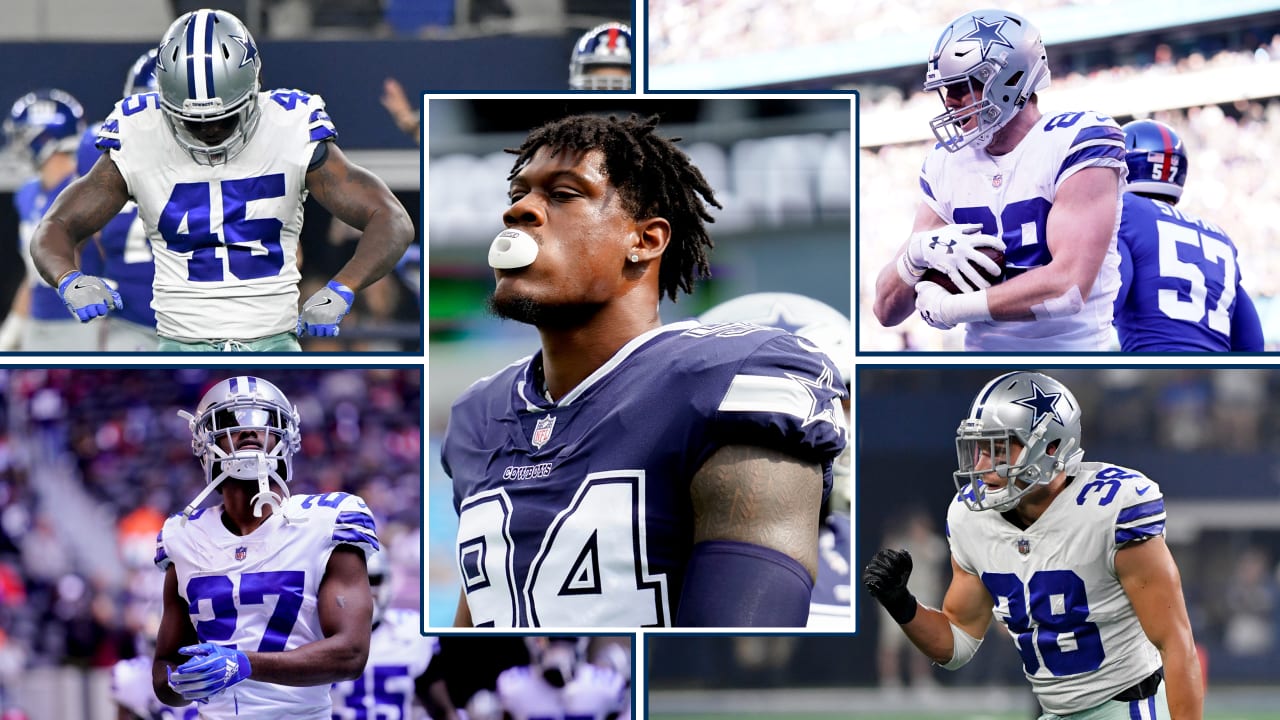 INDIANAPOLIS – First, a disclaimer: it is only the end of February. There are still two months left before the Cowboys play the clock with the 58th pick of the April NFL Draft. Another two full weeks before release.
Alignment needs will emerge as we move through the off season. But for the moment, let's identify some of the positions the Cowboys might be trying to tackle in one way or another. Cowboys chief of operations Stephen Jones discussed five potential needs for Tuesday's NFL Scouts in Indianapolis:
You can make it a placeholder for each month of February. Defensive coordinator Rod Marinelli likes to play against eight linemen on match day and injuries / suspensions limited the depth of Dallas last season.
The indefinite suspension of Randy Gregory in the NFL only exacerbates this problem.
The Cowboys are confident of being able to reach a long-term deal with Pro Bowl defender DeMarcus Lawrence, but Gregory is ranked second in the Team Bag (6) in his first season after a suspension of one year.
Initially, Maliek Collins enters the final year of his contract and David Irving is a free agent.
"In our mind, you can never have enough defensive line depth, especially the way Rod likes to play them," Jones said. "He likes that they play with their hair on fire. I think you can never have enough defensive linemen. "
The Cowboys have a mix of youth and experience here, but not a lot of depth.
"You obviously have Xavier (Woods) with whom we are delighted – young, promising," said Jones. "Of course, Jeff (Heath) is doing a great job keeping the security going, but it's a little thin after that. Kavon (Frazier) was a last-minute pick who was a good player on the special teams and who can certainly play the lowest position. But I think we have to look at this position. "
Their only other backup, Darian Thompson, should be a free agent.
Jason Witten's retirement left the young and lean Cowboys last May. Now, they have the opportunity to improve depth and competition through free competition and / or draft.
Each of their three young tight ends has talent. Blake Jarwin recorded 23 of his 27 captures after Geoff Swaim fractured his wrist in November. Dalton Schultz's production is gradually improving. Rico Gathers showed an improvement in his transition from basketball. But adding another option for the Dak Prescott quarter seems like a real possibility.
"Swaim will be a free agent and we will be young after that," Jones said. "We must also keep an eye on that."
Beyond All-Pro Ezekiel Elliott, the staff is uncertain. Rod Smith and defender Jamize Olawale should be free agents.
Elliott, a two-time NFL race champion, led the league's attempt at 384 and was fifth best by half (77) last season. Its use will probably not do much, but the Cowboys must ensure the depth behind their best player.
"Saving is something that makes sense if we see a young man in the rough," Jones said. "I do not know if it would be early. But I think as we move forward in the project, if we see a return that we really like, we will certainly look at that. "
This one is a little delicate because it requires foresight. On paper, the 2019 Cowboys have no problem in the corner. In a year, the numbers could be different.
"I think we have one of the best corner staff in the league in terms of depth," Jones said. "When Jourdan Lewis does not play a lot, I think that says a lot."
Indeed, it is a good young group consisting of Chidobe Awuzie, Anthony Brown and Lewis, the former third-round player who played less than 20% of the defense.
Brown is a free agent after 2019. The same goes for Jones, even though he is part of the Cowboys Pro Bowlers group that could be expanded at some point.
A bit like security, where Heath and Frazier are free agents next year, the Cowboys might be able to add some insurance in the project this year if the value is there.
"We love this position, but all of these guys will quickly sign a contract," Jones said.
Source link