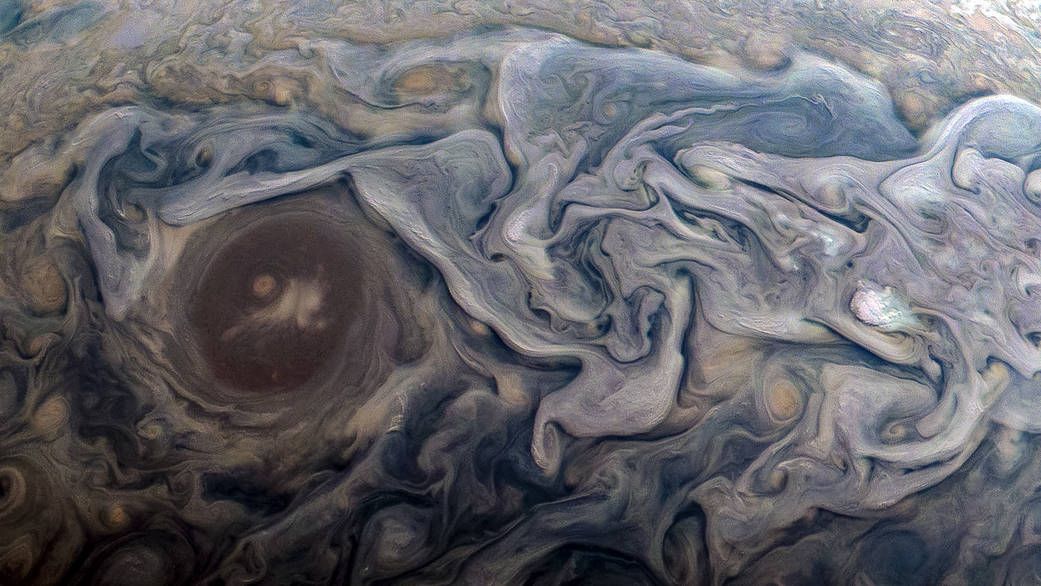 [ad_1]
The jets of the Earth have nothing on Jupiter's, as shown by a superb image recently published by NASA's Juno mission, which revolves around the gas giant since 2016.
The picture shows a region called Jet N6, in the northern hemisphere of the the atmosphere of the planet. On the left, a large circular storm; on the right, undulating clouds extend across the jet stream band.
The Juno spacecraft captured this image on February 12, during its 18th flight over the planet, a maneuver known as perijove. The spacecraft was about 13,000 kilometers above the clouds at that time.
Juno is an unusual mission of NASA. Although the probe carries a camera on board, there is no specialized imaging team to analyze and process what this camera sees.
Instead, the instrument, called JunoCam, has attracted a global audience team of experienced hobbyists that help define camera features and convert common snapshots into highly sophisticated processes, artistic images. This picture is only an example of their work.
The Juno mission is halfway to the Jupiter mission, where it flies over the gas giant's clouds about once every 53 days. Once the machine has completed its studies, the probe will self-destruct by to throw oneself into the same atmosphere he spent so long photographing to avoid contaminating the potentially habitable moons nearby.
Email Meghan Bartels to [email protected] or follow her @meghanbartels. follow us on Twitter @Spacedotcom and on Facebook.
[ad_2]
Source link