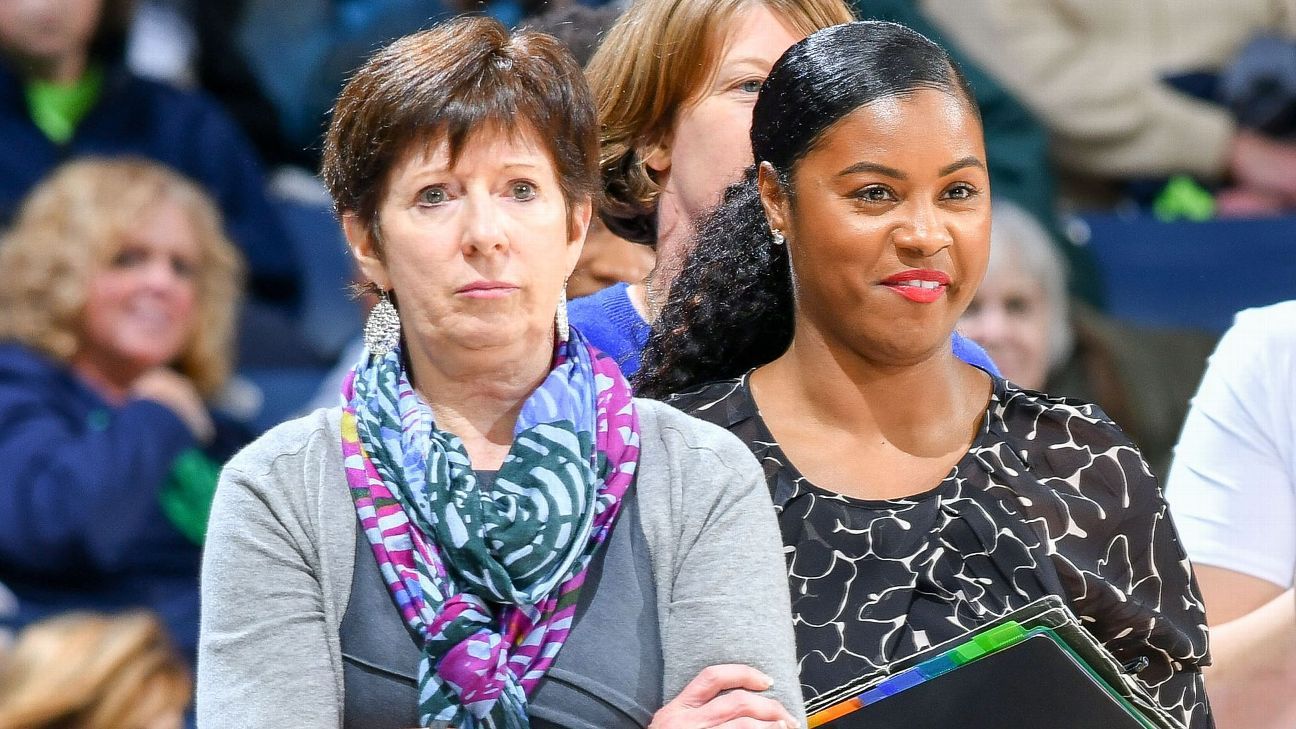 [ad_1]
TAMPA, Florida – Muffet McGraw, Notre Dame women's basketball coach, said Thursday at the Women's Final that she was a strong voice for women's issues.
"We do not have enough female role models," McGraw said. "We do not have enough visible women leaders, we do not have enough women in power."
"All of these millions of girls who play sports across the country, we teach them great things about life skills, but would not it be great to teach them how to look after women?" The way forward for you 50% of the women in power in the country At the present time, less than 5% of the CEOs of Fortune 500 companies are at the rendezvous. "
McGraw, in his 32nd season at Notre Dame, is making his ninth trip to the Final Four with the Irish. Notre Dame won the national championship last year and in 2001. Pat Summitt, of Tennessee, has long been the preeminent voice among coaches, not only in basketball, but also in university athletics.
Summitt left his Tennessee head coach position in 2012 and died in 2016 following an early, Alzheimer's type dementia. McGraw has more input into the role that Summitt used to play regarding how to inspire women's leadership in all professions.
"I am tired of the novelty of the first female governor of this state, the first female African-American mayor of this city," McGraw said. "When will this become the norm rather than the exception, how do these young women look up and see someone who looks like them, preparing them for the future? "
McGraw has had male assistant coaches before, but she said she made the decision in recent years to have an all-female staff and talked to the media about it. It highlights the fact that women do not have the same opportunities to find a job in men's basketball.
"When you look at men's basketball, 99% of jobs go to men," McGraw said. "Why 100% or 99% of the jobs in women's basketball would not be awarded to women? It's maybe because we only have 10% of female sport directors in Division I People are hiring people who look like them, that's the problem. "
McGraw has said in the past that she would like to see more women have opportunities in men's basketball. But there has not been much progress in this regard. As for why she's been talking so passionately in recent years, Ms. McGraw said she thought the time was right.
"I think women across the country over the last few years have just said," Enough, "she said." The time is up. Time is up. It's our turn. If that happens, we have to do something about it. You see women parading in record proportions all over the country. Women are coming out and are more active politically.
"I've never watched CNN so much in the last couple of years, we have the Equal Pay Act, and women earn 77 cents a dollar, and it's just white women." women of color are far behind, I do not mean white women as coaches, we also need more diversity in our game. "
[ad_2]
Source link