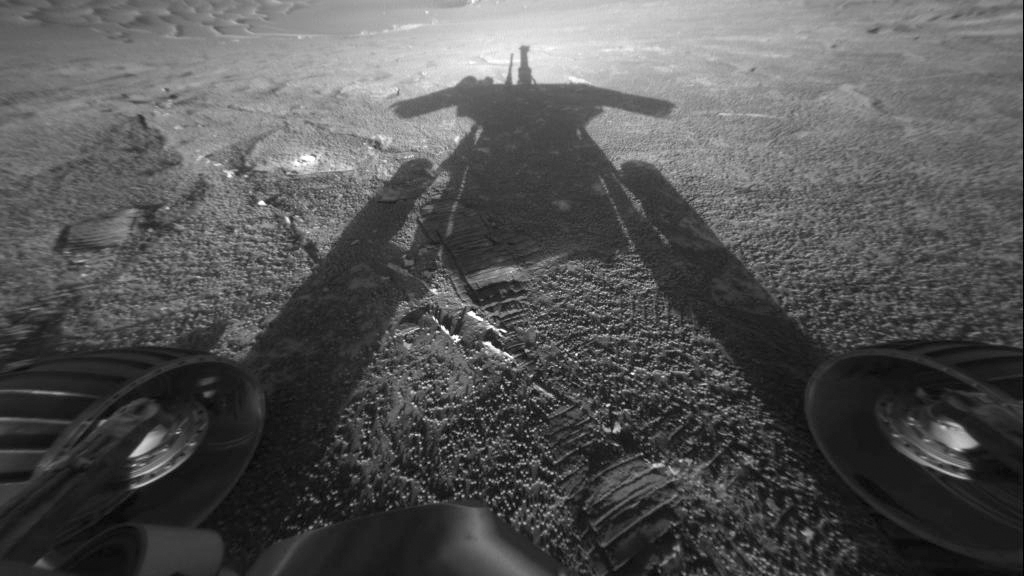 [ad_1]
NASA's Mars Opportunity rover was designed to operate for only 90 days, but lasted 15 years. NASA officially declared it dead Wednesday and its last message to scientists before it darkens eight months ago is holding the attention.
The rover spent about 15 years sending out bursts of data, not words, but according to science journalist Jacob Margolis, NASA scientists said the latest message from Opportunity had been translated as "My battery is weak and it is getting dark. "
The last message received was essentially: "My battery is low and it's getting dark." They hoped that the wind season would eliminate dust from the solar panels (if that was the problem). Since then, they have told him over and over again that they knew it … 3 /

– Jacob Margolis (@JacobMargolis) February 12, 2019
The solar-powered rover was finally sentenced to a violent dust storm.
The flight controllers repeatedly tried to make contact and sent out a final round of recovery orders Tuesday night as well as a final waking song, "I'll Be Seeing You," by Billie Holiday, as part of a dark exercise that made the team members cry. the eyes. There was no answer of space, only silence.
Thomas Zurbuchen, head of NASA's science missions, announced the news of a funeral at the space agency's reaction propulsion laboratory in Pasadena, California, announcing the demise of "our great opportunity."
"It's a tough day," said project leader John Callas, in an auditorium gathering hundreds of current and former members of the team that oversaw Opportunity and its identical twin, Spirit, who has since died. long time. "Even though it's a machine and we say goodbye, it's still very hard and very poignant, but we had to do it.We got to this point."
NASA has been trying to wake Opportunity every day with different songs. Billie Holiday did not just think she could get her out of sleep.
NASA has released its "Opportunity, Wake Up!" playlist on Spotify. It contained Wham's "Wake Me Before You Go" titles, "The Beatles' Here Comes the Sun," "Life On Mars?" by David Bowie, Electric Light Orchestra's Telephone Line, Gloria Gaynor's "I Will Survive" and Tom Petty's "I Wont not Down".
Click here to view the entire message "Opportunity, Wake Up!" playlist
Opportunity was exploring Mars' valley of perseverance, when the most violent dust storm in recent decades was hit and contact was lost. The storm was so intense that it darkened the sky for several months, thus preventing sunlight reaching the solar panels of the rover.
When the sky finally cleared, Opportunity remained silent; her internal clock was perhaps so confused that she did not know when to sleep or get up to receive orders. The flight controllers have sent more than 1,000 recovery orders, to no avail.
Associated Press contributed to this report.
(Copyright © 2019 WLS-TV, All Rights Reserved.)
[ad_2]
Source link