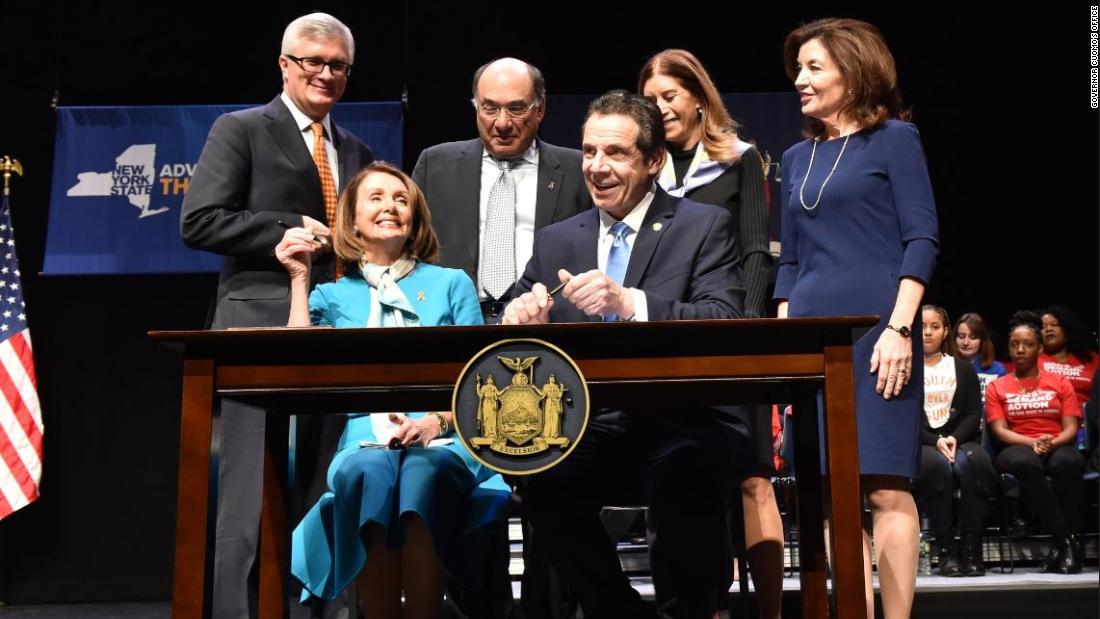 [ad_1]
The bill, also known as the Extreme Risk Protection Orders Act, allows a court to temporarily prohibit a person from buying or owning a firearm if she considers that this represents a threat to oneself or others.
"This problem of gun violence is an epidemic of national health in our country," Pelosi said when signing the bill on Monday. "Mr. President, if you want to talk about emergencies, it's an emergency."
Under the new law, police officers, family members or household members, or school personnel, such as a teacher, a director or an adviser, can all ask a judge to make a temporary order to prevent a person from buying or owning a firearm "on the discovery that there is a probable cause to believe [that person] is likely to behave in a manner that causes serious harm to himself or to others ", according to the text of the bill.
"We hold the teachers accountable – not by giving them firearms, which is the president's idea.I mean, how ridiculous a concept?" Cuomo said Monday. "No. Arm and empower the teacher with the law."
The law is expected to come into force in the state of New York in about six months. New York judges will consider various factors to determine whether someone's behavior is a "red flag", such as as if the person has substance abuse problems or has threatened violence against herself or others.
If a judge grants a temporary protection order against extreme risks, a hearing will be held within three to six days to determine whether a final protection order against extreme risks is required, says the law.
Pelosi pointed out that the law was not meant to stigmatize people with various health problems, such as mental illnesses.
"Ninety-nine percent of those diagnosed are safe and law-abiding people in our country," said Pelosi. "We just want to identify … to save lives."
Numerous similar firearms protection bills have been proposed in several states of the country after the shooting at a school in February 2018 in Parkland, Florida. Before the shootings killed 17, such laws were in effect only in five states: Connecticut (promulgated in 1999), Indiana (2005), California (2014), Washington (2016) and Oregon (2017).
[ad_2]
Source link