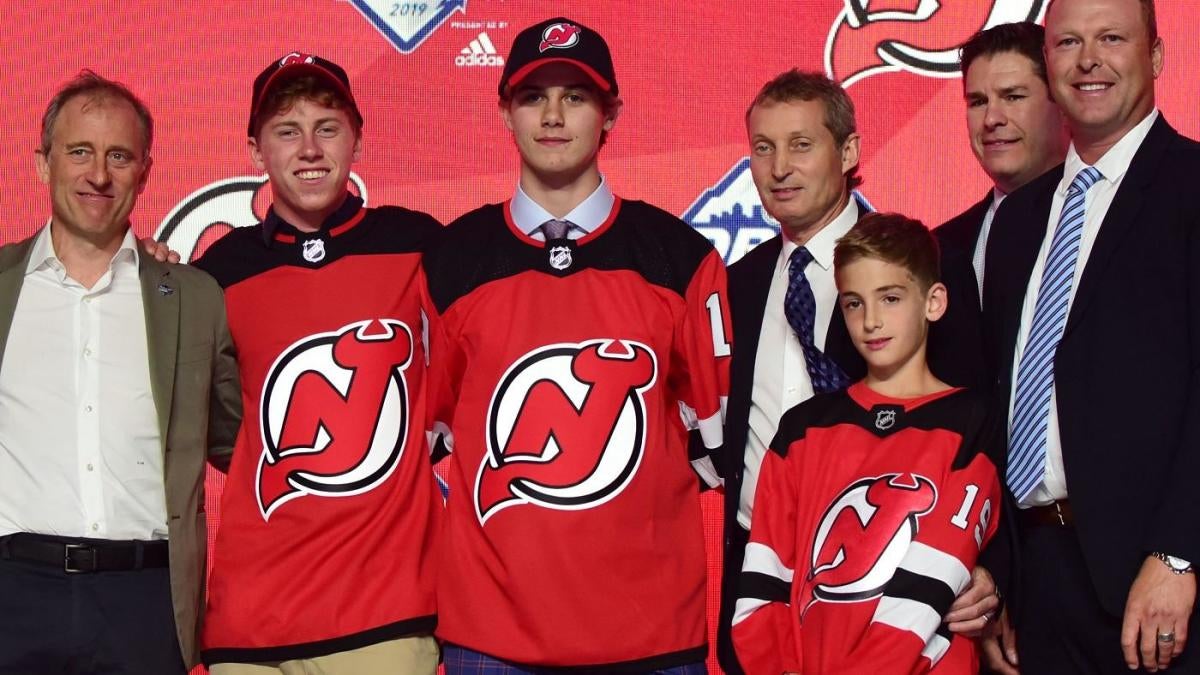 The 2019 NHL Draft continues Saturday with the second and final day of the event. Days two to seven will be held on Day 2, which means the teams still have a lot of work to do and many players are still waiting to hear their names.
The first round of Friday went a bit to the pound. The New Jersey Devils welcomed Jack Hughes into their organization with No. 1 overall selection. Hughes is an 18-year-old American striker who has been the most excited prospect in years. He comes from a family rooted in sport – including his older brother, Quinn, who was selected in the first round of the Vancouver Canucks. last year.
After Hughes, Finnish winger Kaapo Kakko, considered the next best player in the repechage, went to the New York Rangers in second place, prompting which could be a rekindling of the Rangers-Devils rivalry.
The opening round has been an incredible showcase for USA Hockey, especially the US National Team Development Program. Not only did Jack Hughes become the eighth American player to be selected first overall, but the USNTDP team recorded a record eight players in the first round, including seven in the top 15.
You can see some winners and losers from this first round here.
Stay tuned with CBS Sports on Saturday to follow the action while the event ends with the last six rounds.
How to watch
Date: Saturday, June 22
Time: Tours 2-7, 1 pm ET
TV: NHL Network
Current: fuboTV (try for free)
1st round of selection of the NHL 2019
2nd round
No. 32 Senators – C Shane Pinto, Tri-City (USHL)
No. 33 Kings – RW Arthur Kaliyev, Hamilton, OHL
Flyers # 34 (From Devils to Predators) – RW Bobby Brink, Sioux City (USHL)
No. 35 Red Wings – Antti Tuomisto, Porin Assat Jr. (Finland)
Hurricanes 36 (Sabers) – G Pyotr Kochetkov, Ryazan (Russia)
No. 37 Senators (Rangers to Hurricanes) – G Mads Sogaard, Medicine Hat (WHL)
Oilers # 38 – C Raphael Lavoie, Halifax (QMJHL)
Ducks No. 39 – D Jackson Lacombe, Shattuck-St. Mary & # 39; s Prep (USA)
No. 40 Canucks – LW ​​Nils Hoglander, Rogle (Sweden)
Golden Knights # 41 (from Sharks to Flyers) – D Kaedan Korczak, Kelowna (WHL)
No. 42 Wild – LW ​​Vladislav Firstov, Waterloo (USHL)
# 43 Blackhawks – D Alex Vlasic, NTDP (USA)
Hurricanes No. 44 (From Senators to Panthers) – C Jamieson Rees, Sarnia (OHL)
No. 45 Predators (Coyotes) – LW ​​Egor Afanasyev, Muskegon (USHL)
No. 46 Canadians – D Jayden Struble, St. Sebastian's School (United States)
Avalanche No. 47 – D Drew Helleson, NTDP (USA)
No. 48 Sharks (of the Gold Knights) – D Artemi Kniazev, Chicoutimi (QMJHL)
Rangers # 49 – D Matthew Robertson, Edmonton (WHL)
N ° 50 Kings (Blue Jackets to Canadians) – LW ​​Samuel Fagemo, Frolunda (Sweden)
No. 51 Jets – Simon Lundmark, Linkoping Jr. (Sweden)
N ° 52 Panthers (Penguins) – D Vladislav Kolyachonok, Flint (OHL)
No. 53 Maple Leafs – LW ​​Nicholas Robertson, Peterborough (OHL)
Red Wings # 54 (Islanders) – LW ​​Robert Mastrosimone, Chicago (USHL)
No. 55 sharks (from predators to devils) – LW ​​Dillon Hamaliuk, Seattle (WHL)
Capitals No. 56 – RW Brett Leason, Prince Albert (WHL)
Islanders No. 57 (Flames) – Samuel Bolduc, Blainbille-Boisbriand (QMJHL)
No. 58 Rangers (Lightning) – C Karl Henriksson, Frolunda Jr. (Sweden)
No. 59 Wild (Hurricanes) – G Hunter Jones, Peterborough (OHL)
Red Wings No. 60 (Sharks) – D Albert Johansson, Farjestad Jr. (Sweden)
Devils # 61 (Bruins) – D Nikita Okhotyuk, Ottawa (OHL)
No. 62 Blues – C Nikita Alexandrov, Charlottetown (QMJHL)
Tour 3
Avalanche No. 63 (Senators) – C Matthew Stienburg, St. Andrews College (Canada)
Canadians No. 64 (Kings) – D Mattias Norlinder, Modo Jr. (Sweden)
No. 65 Predators (From the Devil Flyers) – LW ​​Alexander Campbell, Victoria (BCHL)
Red Wings No. 66 – RW Albin Grewe, Djurgarden Jr. (Sweden)
No. 67 Sabers – G Erik Portillo, Frolunda Jr. (Sweden)
No. 68 Rangers – D Zachary Jones, Tri-City (USHL)
No. 69 Panthers (Oilers) – D John Ludvig, Portland (WHL)
No. 70 Devils (ducks) – D Daniil Misyul, Yaroslavl 2 (Russia)
N ° 71 Lightning (Canucks) – G Hugo Alnefelt, HV 71 Jr. (Sweden)
Flyers # 72 – Ronald Attard, Tri-City (USHL)
Hurricanes No. 73 (Wild) – RW Patrik Puistola, Tappara Jr. (Finland)
Penguins # 74 (Coyotes to Blackhawks) – RW Nathan Legare, Baie-Comeau (QMJHL)
No. 75 Wild (Predators to the Panthers) – LW ​​Adam Beckman, Spokane (WHL)
Coyotes No. 76 – C John Farinacci, Dexter School (United States)
Canadians No. 77 – D Gianni Fairbrother, Everett (Western League)
Avalanche # 78 – RW Alex Beaucage, Rouyn-Noranda (QMJHL)
Gold Knights No. 79 – LW ​​Pavel Dorofeyev, Magnitogorsk (Russia)
No. 80 Devils (from Stars) – RW Graeme Clarke, Ottawa (OHL)
Panthers # 81 (Blue Jackets) – RW Cole Schwindt, Mississauga (OHL)
Devils # 82 (Golden Knights to Jets) – D Michael Vukojevic, Kitchener (OHL)
Hurricanes No. 83 (Senators with Penguins) – D Anttoni Honka, Jukurit (Finland)
Maple Leafs # 84 – D Mikko Kokkonen, Jukurit (Finland)
No. 85 Oilers (Islanders) – G Ilya Konovalov, Yaroslavl (Russia)
Gold Knights No. 86 (Predators) – D Layton Ahac, Prince George (BCHL)
No. 87 Kings (capitals) – G Lukas Parik, Liberec Jr. (Czech)
No. 88 Flames – C Ilya Nikolaev, Yaroslavl 2 (Russia)
No. 89 Lightning – RW Maxim Cajkovic, Saint John (QMJHL)
No. 90 Hurricanes – D Domenick Fensore, NTDP (United States)
N ° 91 Capitals (devils to sharks) – C Aliaksei Protas, Prince Albert (WHL)
No. 92 Bruins – LW ​​Olson Quinn, Okotoks (AJHL)
No. 93 Blues – Colten Ellis G, Rimouski (QMJHL)
Tower 4
N ° 94 Senators – C Viktor Lodin, Orebro (Sweden)
No 95 Kings – Jordan Spence, Moncton (QMJHL)
No. 96 Devils – RW Tyce Thompson, Providence (USA)
Ethan Phillips, No. 97, C, Sioux Falls (USHL)
Coyotes No. 98 (Penguins to Sabers) – LW ​​Matias Maccelli, Dubuque (USHL)
Hurricanes # 99 (Wild to Rangers) – D Cade Webber, Rivers Academy (USA)
Oilers No. 100 – RW Matej Blumel, Waterloo (USHL)
No. 101 Ducks – D Henry Thrun, NTDP (USA)
No. 102 Sabers (Canucks) – RW Aaron Huglen, Roseau (USA)
Flyers No 103 – D Mason Millman, Saginaw (OHL)
Blue Jackets # 104 (from Panthers to Wild) – D Eric Hjorth, Linkoping Jr. (Sweden)
No. 105 Blackhawks – LW ​​Michael Teply, Benatky N.J. (Czech Republic)
# 106 Panthers – Carter Carter, Victoria (BCHL)
No. 107 Coyotes – RW Alexandr Darin, Yaroslavl 2 (Russia)
No. 108 Sharks (Canadians) – C Yegor Spiridonov, Magnitogorsk 2 (Russia)
No. 109 Predators (from the Avalanche) – Marc Del Gaizo D, UMass (USA)
Gold Knights No. 110 – C Ryder Donovan, Duluth East (USA)
No. 111 stars – D Samuel Sjolund, AIK Jr. (Sweden)
Rangers # 112 (Blue Jackets) – D Hunter Skinner, Lincoln (USHL)
No. 113 Jets – C Henri Nikkanen, Jukurit Jr. (Finland)
No. 114 Blue Jackets (Panthers to Penguins) – LW ​​Dmitri Voronkov, Bars Kazan (Russia)
115 Maple Leafs – C Mikhail Abramov, Victoriaville (QMJHL)
No. 116 Flames (Islanders) – LW ​​Lucas Feuk, Sodertalje Jr. (Sweden)
No. 117 Predators – D Semyon Chystyakov, UFA 2 (Russia)
No. 118 Devils (Capitals) – Case Mccarthy D, NTDP (USA)
No. 119 Kings (Flames) – D Kim Nousiainen, Kalpa Jr. (Finland)
No. 120 Lightning – Maxwell Crozier, Sioux Falls (USHL)
Hurricanes No. 121 – RW Tuukka Tieksola, Karpat Jr. (Finland)
No. 122 Canucks (Sabers to Sharks) – LW ​​Ethan Keppen, Flint (OHL)
No. 123 Blackhawks (Bruins) – C Antti Saarela, Lukko (Finland)
No. 124 Maple Leafs (Blues) – C Nicholas Abruzzese, Chicago (USHL)
Round 5
Senators # 125 – C Mark Kastelic, Calgary (WHL)
Canadians No. 126 (Kings) – D Jacob Leguerrier, Sault Ste. Marie (OHL)
# 127 Devils – G Cole Brady, Janesville (NAHL)
No. 128 Red Wings – Cooper Moore, Brunswick Prep (United States)
Devils n ° 129 (capitals to Sabers) – RW Arseny Gritsyuk, OMSK 2 (Russia)
No. 130 Rangers – RW Leevi Aaltonen, Kalpa Jr. (Finland)
No. 131 Canadians (Oilers) – LW ​​Rhett Pitlick, Chaska (USA)
Ducks No. 132 – C Trevor Janicke, Central Illinois (USHL)
No. 133 Canucks – C Carson Focht, Calgary (WHL)
# 134 Jets (Flyers) – C Harrison Blaisdell, Chilliwack (BCHL)
Gold Knights No. 135 (Wild) – G Isaiah Saville, Tri-City (USA)
Panthers # 136 (Canadiens to Blackhawks) – RW Henrik Rybinksi, Seattle (WHL)
No. 137 Panthers – C Owen Lindmark, NTDP (USA)
Canadians No. 138 (Coyotes) – G Frederik Nissen Dichow, Vojens (Denmark)
# 139 (Canadian) Gold Knights – LW ​​Marcus Kallionkieli, Sioux City (USHL)
Avalanche No. 140 – RW Sasha Mutala, Tri-City (WHL)
Gold Knights No. 141 – Mason Primeau C, North Bay (OHL)
N ° 142 stars – LW ​​Nicholas Porco, Saginaw (OHL)
N ° 143 Sabers (from Red Wings to Blue Jackets) – LW ​​Filip Cederqvist, Vaxjo (Sweden)
# 144 Jets – G Logan Neaton, Prince George (BCHL)
Penguins No. 145 – RW Judd Caulfield, NTDP (USA)
No. 146 Maple Leafs – D Michael Koster, Chaska (USA)
No. 147 Islanders – C Reece Newkirk, Portland (WHL)
No. 148 Predators – G Ethan Haider (NAHL)
No. 149 Wild (Capital Cities) – C Matvey Guskov, London (OHL)
No. 150 Flames – C Joshua Nodler, Fargo (USHL)
No. 151 Coyotes (penguins, passing by lightning) – RW Aku Raty, Karpat Jr. (Finland)
No. 152 Hurricanes – RW Kirill Slepets, Yaroslavl 2 (Russia)
No. 153 Capitals (Sharks) – D Martin Has, Tappara Jr. (Finland)
No. 154 Bruins – D Roman Bychkov, Yaroslavl 2 (Russia)
No. 155 Blues – Keean Washkurak C, Mississauga (OHL)