New York social media users visited Twitter on Saturday night in the midst of a power outage that left much of downtown Manhattan in the dark.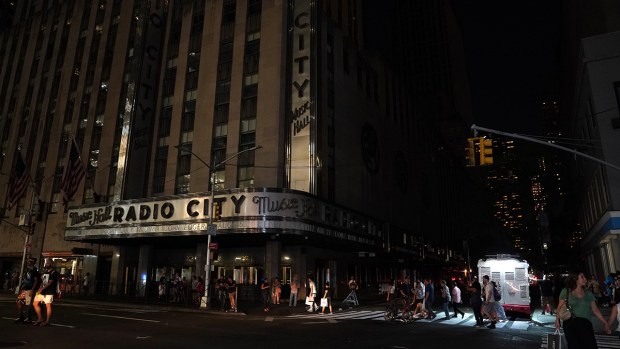 Power failure in New York: Pictures of the power outage
Subway passengers stuck in trains at Radio City without light, people used the hashtag #nycblackout to share information and images.
But as crowds in Times Square were driven out of Broadway theaters because of the power outage, some cast members did not let the technical problems ruin their performance. Well-known musical comedy actors "Come From Away", "Waitress" and "Hadestown" have joined bands of people on the streets for an impromptu setting.
Impromptu performance #broadwayblackout@wecomefromawaypic.twitter.com/PfHYZeFJ6v

– Chad Kimball (@ chadkimball1) July 14, 2019
Very pleasant. Casting @hadestown sing to the disappointed public of the #Blackout. pic.twitter.com/zIHuozHIGu

– Angela Pinsky (@AngelaPinsky) July 13, 2019
The cast of @WaitressMusical entertaining theatergoers stranded outside during the New York power outage. (via @meganrgaffney) #Blackout#NYCBlackoutpic.twitter.com/vLLnAcKV8D

– Dave Quinn (@NineDaves) July 14, 2019
Others have been broadcasting newscasts in the dark or have attempted to direct traffic to New York.
(Upper West Side, Manhattan) Major Blackout in Columbus Circle – Developing: Many Broadway buildings are off, from 55th to 59th Street, after the fire of a nearby transformer Updates here : https://t.co/QFCq6IlWeQ#CitizenApp#ProtectTheWorldpic.twitter.com/cnpNwARqgr

– Citizen NYC (@CitizenApp_NYC) July 13, 2019

And with the Broadway shows canceled due to a power outage, the streets are filling up.#nyc#nycpoweroutage#nycblackoutpic.twitter.com/cg95c2Ty7N

– FrancescoMarciuliano (@fmarciuliano) July 14, 2019

Scenes of 30 Rock during the #nycblackout. The elevators do not work. Fortunately, I was only on the 4th and I was able to take the stairs. pic.twitter.com/ZUPLEvaqIh

– Julian Alberto Hernandez (@julianahernz) July 14, 2019
Add Hell's Kitchen to #Blackout listing. Here you see a man helping to direct traffic on 43rd and 10th Avenue @ConEdison#NYCblackoutpic.twitter.com/wZGY6uhrZf

– Ethan Harp (@EthanHarpNews) July 13, 2019
The lights of Radio City are turned off because of the power outage#Blackout#nycblackoutpic.twitter.com/deE8EgoYi0

– an unnamed guy (@joedeangelus) July 13, 2019

CBS WEEKEND NEWS IN BLACKOUT @CBSEveningNews@CBSNews#nycblackout#Blackout#cbsnewspic.twitter.com/BrUipDaLBY

– Henry Callander (@henry_callander) July 13, 2019
More of the #NYCblackout#Blackout from the kitchen of hell. Uneven but functional cell service, empty stores. A guy from a departing wine store (which would probably be an incredibly profitable night if his cash register worked). pic.twitter.com/wAVwwaRuIi

– Ethan Harp (@EthanHarpNews) July 13, 2019
Umm, all the giant monitors went out to Times Square #NYCpic.twitter.com/xbOEyzaChk

– Christian (@ clovos25) July 13, 2019
Here's how we've been on TV since @NBCNightlyNews of 30 Rock in the middle of a power outage in parts of downtown Manhattan. Backup generators in a small studio. #Blackoutpic.twitter.com/e833iLygJh

– Kate Snow (@tvkatesnow) July 13, 2019
We are responding to the many blackouts that have occurred in West Manhattan. We will share more information as and when they arrive. Thank you.

– Con Edison (@ConEdison) July 13, 2019
#NYCblackout Around Broadway Hear stories of people stuck in elevators in some buildings. #nyc#Blackout#njmornings@ News12NJpic.twitter.com/8MLc5a2hum

– Carissa Lawson (@CarissaLawson) July 13, 2019
BLACKOUT FROZEN !!!
Apparently, it's the whole city. Sound on!#Blackout# frozen# big way#nycblackout#broadwayblackout @ Frozen – The musical https://t.co/tqGo15sWpQ

– Leeds Hill (@leedshill) July 13, 2019


stuck in a subway train without electricity #Blackout#nycpic.twitter.com/ac6H35yzwJ

– tiffani davis ♡ (@tiffdavs) July 13, 2019
Finally off the train .. but now I'm stuck in Chelsea ??? #nycblackoutpic.twitter.com/4hzwZCE0Db

– Dana Bishop (@danafbishop) July 13, 2019

The 45th street of Manhattan is a sea of ​​people right now #nycblackoutpic.twitter.com/ulbgu0dMBw

– Liam Stack (@liamstack) July 14, 2019


66 st is completely black. pic.twitter.com/lTke20jepN

– Bombay Saphfire (@bombaysaphfire) July 13, 2019
I climb the stairs at 59 St. a little terrifying tbh. An electricity failure is in progress. pic.twitter.com/ZE2Fu30IWz

– Bombay Saphfire (@bombaysaphfire) July 13, 2019
Impromptu performance #broadwayblackout@wecomefromawaypic.twitter.com/PfHYZeFJ6v

– Chad Kimball (@ chadkimball1) July 14, 2019

A power failure in New York, but that could not stop the choirs and the Millennium orchestras, creating a makeshift scene right in front of Carnegie Hall. #nycblackoutpic.twitter.com/fPQJzvTS1t

– Ravi Agrawal (@RaviReports) July 14, 2019