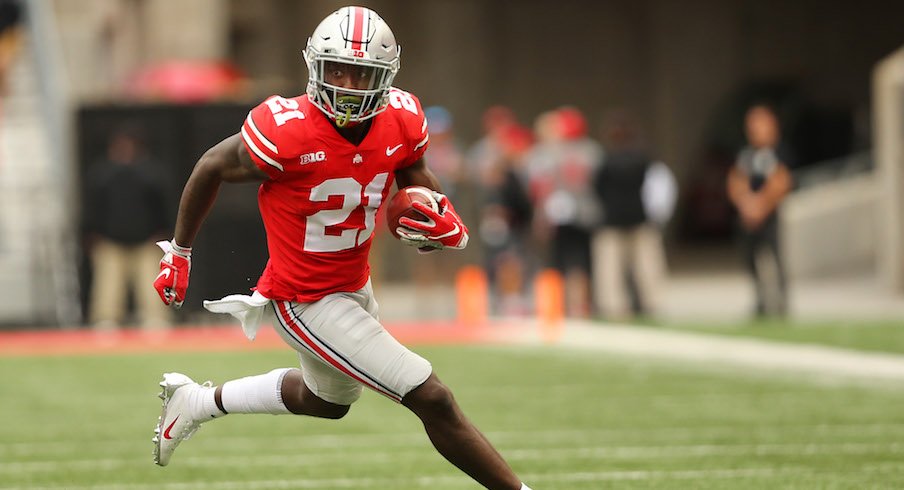 A trio of players at the Ohio State's offensive received the honors of the first team, the Big Ten, on Wednesday, when the conference revealed its awards for the entire conference and its teams for the offensive side of the ball.
Quarterback Dwayne Haskins, of Ohio State, also named offensive player of the Big Ten Wednesday and quarterback of the year, was joined by wide receiver Parris Campbell and the right tackle Isaiah Prince, who earned the honors of the first team, the Big Ten on Wednesday.
Haskins has just completed a record regular season for Ohio State, in which he completed 314 of 455 pass attempts for a completion rate of 69%, 4,081 passing yards and 42 touchdowns – all Ohio records – with just seven interceptions, with 127 yards rushing and four touchdowns. He also broke previous Big Ten records with 3,985 yards recorded by Curtis Painter of Purdue in 2006 and 39 hit by Drew Brees of Purdue in 1998.
Campbell, a selection of the third All-Big Ten team in 2017, wins the first media team honors this season after finishing third in the regular season in the Big Ten reception (72), fourth in receiving (903) and second receiving touchdowns (11). Prince, third-year star and main captain of the Ohio State offensive line, is also part of the first team this year, chosen by the media and coaches after being selected for the third team by both voting groups in 2017 .
These three players join defensive tackle Dre 'Mont Jones, who was announced as a selection of the first All-Big Ten team when the Big Ten announced his special honored and defensive teams Tuesday in the team All-Big Ten this year.
Several other offensive players from the Ohio State were also recognized Wednesday by All-Big Ten. Ohio State Center, Michael Jordan, was awarded second team, All-Big Ten, by coaches and media, while running back JK Dobbins was a second selection coaches. Broad receiver K. J. Hill and right guard Demetrius Knox were both selected by the press. Offensive Mike Weber, wide receiver Terry McLaurin, left tackle Thayer Munford and left-back Malcolm Pridgeon have all been honored.
The table below lists the complete list of Ohio State All-Big Ten winners for the 2018 season.
Ten 2018 Laureates from the Ohio State


| Player | Position | Honor |
| --- | --- | --- |
| DWAYNE HASKINS | QB | FIRST TEAM, YEAR OFFENSIVE PLAYER, YEAR DISTRICT |
| ISAIAH PRINCE | RT | FIRST TEAM |
| PARRIS CAMPBELL | WR | FIRST TEAM |
| DRE & # 39; MONT JONES | DT | FIRST TEAM |
| MICHAEL JORDAN | C | Second team |
| JORDAN FULLER | S | Second team |
| DRUE CHRISMAN | P | Second team |
| J.K. DOBBINS | RB | Second team |
| CHASE YOUNG | OF | Second team |
| K.J. COLLINE | WR | THIRD TEAM |
| DEMETRIUS KNOX | RG | THIRD TEAM |
| MIKE WEBER | RB | HONORABLE MENTION |
| TERRY MCLAURIN | WR | HONORABLE MENTION |
| THAYER MUNFORD | LT | HONORABLE MENTION |
| MALCOLM PRIDGEON | LG | HONORABLE MENTION |
| JONATHON COOPER | OF | HONORABLE MENTION |
| NICK BOSA | OF | HONORABLE MENTION |
| ROBERT LANDERS | DT | HONORABLE MENTION |
| TUF BORLAND | KG | HONORABLE MENTION |
| MALIK HARRISON | KG | HONORABLE MENTION |
| PETE WERNER | KG | HONORABLE MENTION |
| DAMON ARNETTE | CB | HONORABLE MENTION |
| KENDALL SHEFFIELD | CB | HONORABLE MENTION |
| JEFFREY OKUDAH | CB | HONORABLE MENTION |
Source link