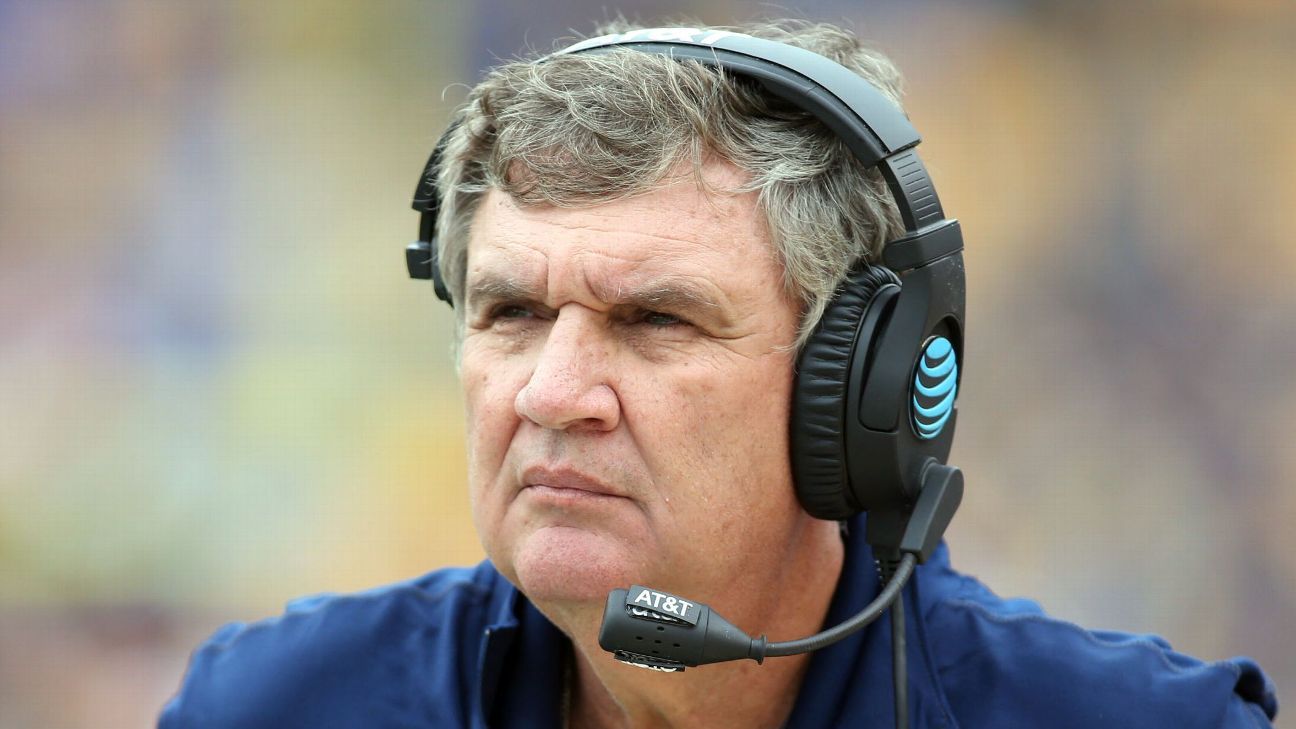 [ad_1]

Georgia Tech coach Paul Johnson, whose career in 189th ranked fourth in active coaching, will retire after this season, school announced Wednesday.
"After 40 years of training, it's time to take a break," said Johnson, who ends his eleventh season with the Yellow Jackets, in a statement. "My family has sacrificed a lot over the years, I want to watch my daughter play [as a professional opera singer] and do things with my wife that we never had the chance to do.
"It's been a great race for 11 years here on the boards, I'm proud of what we've accomplished and look forward to having the chance to coach this team one last time in our Cup match. World next month. "
Johnson, 61, is fourth at Georgia Tech with a mark of 82-59 and has a career coach record of 189-98 in 22 seasons. He guided the Yellow Jackets to the ACC Championship in 2009 and finished first or second in the Coastal Division in seven of his 11 seasons.
The Yellow Jackets beat Georgia 45-21 last Saturday to finish 7-5. They are waiting for a bowl assignment, which would be Johnson's ninth at Georgia Tech.
Among his active coaches, Brian Kelly (231), Nick Saban (230) and Bill Snyder (215) are the 189 victories of his career. Johnson was also a head coach at Marine and Georgia Southern, where he won two FCS National Championships.
"Coach Johnson has announced that he will be stepping down from our coaching position," said Georgia Tech Sports Director Todd Stansbury in a statement. "Not only is he the most winning head coach of Georgia Tech for over 50 years, but he is also an incredible mentor for the young men of our football program and has contributed to the innumerable development student-athletes who have had great success after graduation. "
Johnson is one of the few university football coaches to handle an option-centric offensive with his flexing gap. He used the same system at Navy before holding the Georgia Tech position.
The Yellow Jackets are driving the country fast this season and are in the top 10 in the nation by hurrying each of the last 10 years. Since 2008, Georgia Tech has averaged 301.9 rushing yards per game – second in FBS behind the Navy (308.0).
The Yellow Jackets racked up 5,222 yards more than any other major conference team during Johnson's tenure. They also averaged just 13.0 assists per game – only the Army (9.5), the Navy (10.0) and the Air Force (12.9) attempted to do less. of passes during the same period.
According to sources, Los Angeles Chargers offensive coordinator Ken Whisenhunt, who played at Georgia Tech, should be one of the best candidates to succeed Johnson. Clemson offensive co-coordinator, Tony Elliott, Alabama's offensive line coach and former tech player, Brent Key, and army coach, Jeff Monken , which also handles the triple option, could also be part of it.
Adam Rittenberg and Mark Schlabach of ESPN contributed to this report.
[ad_2]

Source link