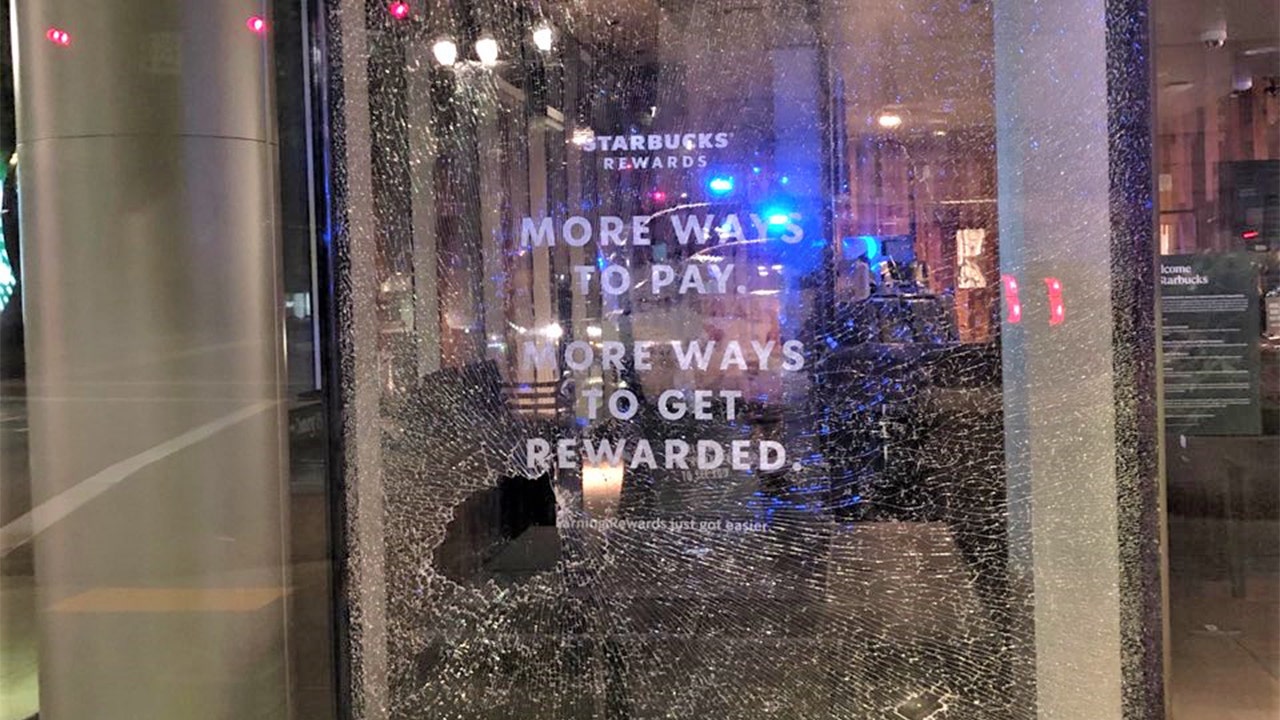 The Portland protests on May 1 turned into a riot overnight when around 100 people held "stand-alone protests" near an ICE site and police made at least six arrests , including for an individual who allegedly threatened police officers with a knife.
Police took to Twitter to post several photos of the damage to stores in the area. Three Starbucks have had their windows smashed and one Hilton in the city has been marked with graffiti. Police also released what appeared to be an instruction booklet on how to make a slingshot with a sling and hammer.
KATU reported that the group arrived at the Federal Courthouse, where the riot was declared.
AT LEAST 14 ARRESTED IN SEATTLE AFTER MAY PROTESTS
The report says targeted arrests were made and around 11 p.m. the group disbanded. The station reported that a separate group clashed with federal officials stationed in the city's immigration and customs building. The confrontation would have led officers to fire pepper bullets.
Several protests took place on May 1 around Portland that remained peaceful, the Portland Police Department said in a statement, but one turned into a riot and downtown businesses. were damaged.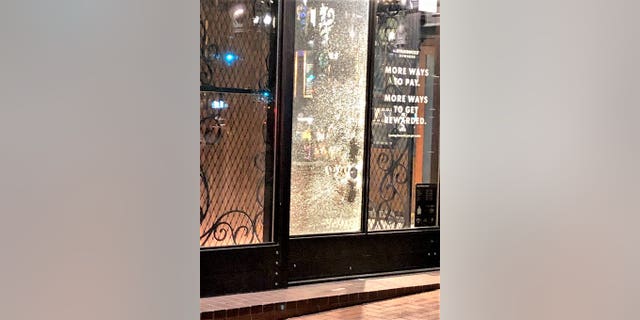 "We appreciate those who pledged their First Amendment rights this afternoon in a peaceful manner. Once again, under cover of darkness, several dozen people decided to damage and destroy several businesses in our downtown area, which caused a riot, "Portland Police Chief Chuck Lovell said in a statement. "The situation became extremely dangerous when a man brandished a knife at officers while the officers were just doing their job. The officers appear to have exercised restraint and professionalism and safely apprehended this suspect. I am proud of all of our employees who have worked to further minimize damage and stop some of the criminals involved. "
Between 9 p.m. and 10 p.m. local time on Sunday, a group of about 30 people gathered near the Immigration and Customs Control Facility (ICE) and another group of about 80 to 100 people gathered in Shemanski Park. Both events had been billed as "stand-alone protests," according to the Portland Police Office, which the department said are "similar to previous events where participants engaged in criminal behavior, including arson, assaults, vandalism and theft ".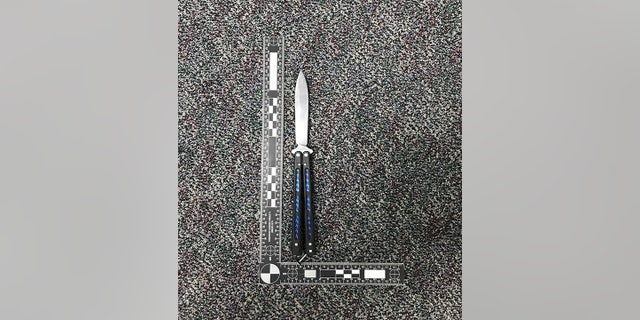 A number of shields were brought to the park, indicating members of the group intended to engage in criminal acts, police said. The group marched towards the town hall and began to vandalism by smashing the windows and spray painting the building. An illegal gathering was declared and police used a loudspeaker to order the crowd to disperse.
A riot was declared as individuals ignored dispersal orders and continued to smash business windows. Police said several people used umbrellas to prevent officers from seeing criminal acts.
By 11:30 p.m., the group near the ICE facility had grown to between 50 and 60 people and, as officers made a targeted arrest, a man in the crowd tried to cross the line of officers, the police said. police department. . He allegedly searched his pocket and pulled a butterfly-type knife at police officers about six feet away. Officers used ammunition and the man backed up, then walked away.
Jeremiah Day, 22, of Portland, was arrested for threatening officers with a butterfly knife. Day is said to have eluded police for about two blocks after being found by officers on bikes and still had the knife in his hand when arrested. No officer was injured.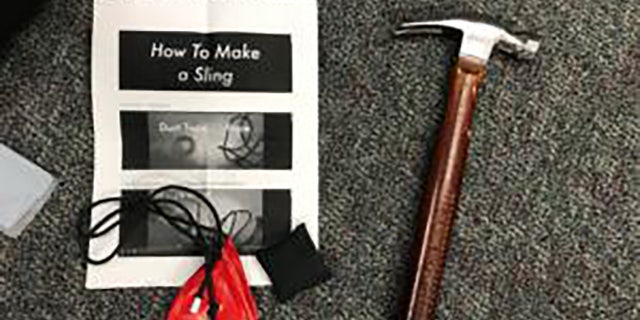 Officers made several other targeted arrests.
Phoebe Loomis, 36, of Portland, was charged with second degree criminal mischief, and a helmet, gloves, metal tool, bear spray and gas mask were seized. Quang Ngyen, 20, of Kent, Wash., Has been charged with first degree criminal mischief and second degree disorderly conduct. A hammer, a slingshot, and instructions on how to fire a slingshot were seized. Krystopher Donnelly, 27, of Portland, was arrested on a warrant for riot, first degree criminal mischief and resisting arrest. Darren Stephens, 36, of Portland, has been arrested on a second degree criminal mischief warrant.
CLICK HERE TO GET THE FOX NEWS APP
Officers earlier had intervened in an altercation at Southwest 4th Avenue and Southwest Columbia Street, where one person was arrested and a baseball bat seized. Police said video of the incident posted online did not capture the whole event "or the part where the crimes were committed".
Michael Isaacs, 26, of Portland, has been charged with second degree threatening and disorderly conduct. Several items, including a baseball bat, bulletproof vest, knife and flare, were seized, police said.
Source link