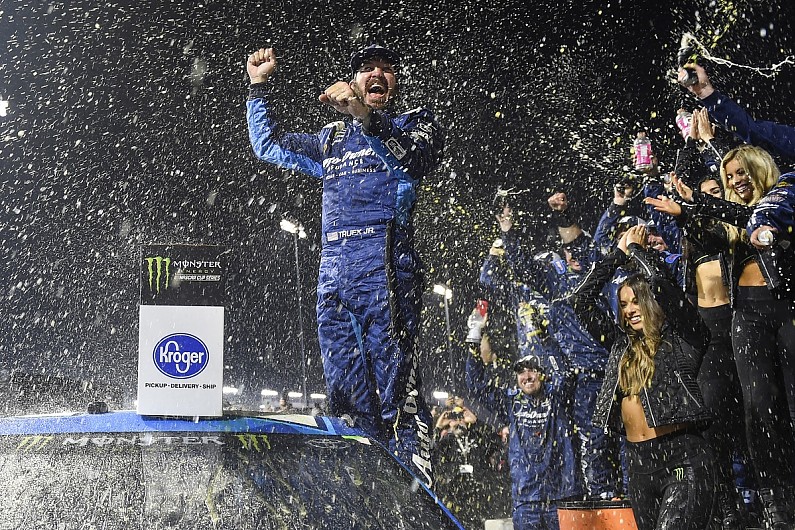 Martin Truex Jr dominated the final shots with Joey Logano and Clint Bowyer to finally win his first short track victory in the NASCAR Cup Series in Richmond.
The result was also a first victory for the 2017 champion, Truex, since joining Joe Gibbs Racing at the end of last season after the closure of the Furniture Row team with which he won the title.
Truex had not won a short track race in previous 80 attempts, but had led more short track laps than any other driver without a win.
Truex had to resist Bowyer during the 70 laps and, although Bowyer's Ford had much better results in circulation, Truex was able to stay in the lead while Bowyer fainted in the final laps of the race. .
The winner of the second stage, Logano, signed a late challenge for Bowyer and managed to get by with three laps to go. The Stewart-Haas rider overloaded his tires and grazed a wall in the last 15 laps.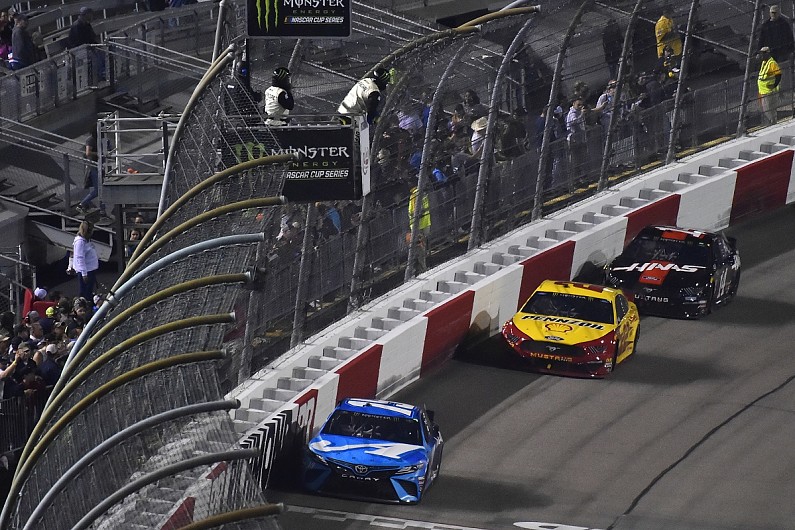 Polesitter Kevin Harvick was fourth ahead of Denny Hamlin, the biggest finisher among those who started at the back of the field after failing the pre-race technical check. Austin Dillon posted his best result of the season in sixth position.
Brad Keselowski finished seventh despite a 31-400 lead. With his tight brakes, he was unable to keep pace with the race leaders in the final stage.
Keselowski was still able to restrain Kyle Busch. The points leader won the first leg and led 101 laps, but was hit with a speeding penalty in the pits during a caution period during the second leg.
It only took 80 laps to get back into the top 10, but despite a fast car, he could not make his way through the traffic to get his head back.
Ryan Newman finished ninth, with Paul Menard 10th. The Wood Brothers Racing rider had a solid race, placing in the top 10 for most of the night.
Jimmie Johnson, who will run the Boston Marathon on Monday, is ranked 12th, beating teammates Hendrick, William Byron and Erik Jones, who lost a starting spot on the front row because of his failure during the season. inspection before race.
Daniel Suarez, another victim of differences before the race, had a solid race, going from 33rd to 10th in just 90 laps. He was in the top 10 for most of the night, but a speeding penalty in phase 3 of the green flag pit stop cycle put an end to his hopes for success.
In addition to the end-of-stage warnings and the competition warning on lap 40 attributed to the rain at night, there were two yellows.
The first was caused by Kyle Larson who hit the Turn 1 wall at turn 128 after the fall of his left rear tire.
The second came when Michael McDowell had a similar shot in the same spot, though caused by the deflation of his right rear tire.
Race result
| Pos | Driver | Team | Car | Towers | gap |
| --- | --- | --- | --- | --- | --- |
| 1 | Martin Truex Jr. | Joe Gibbs Racing | Toyota | 400 | 3h00m16.s |
| 2 | Joey Logano | Penske Team | Ford | 400 | 0,178s |
| 3 | Clint Bowyer | Stewart-Haas Racing | Ford | 400 | 0.521s |
| 4 | Kevin Harvick | Stewart-Haas Racing | Ford | 400 | 0.932s |
| 5 | Denny Hamlin | Joe Gibbs Racing | Toyota | 400 | 3.826s |
| 6 | Austin Dillon | Richard Childress Racing | Chevrolet | 400 | 8.144s |
| 7 | Brad Keselowski | Penske Team | Ford | 400 | 10.985s |
| 8 | Kyle Busch | Joe Gibbs Racing | Toyota | 400 | 11.392s |
| 9 | Ryan Newman | Roush Fenway Racing | Ford | 400 | 11.499s |
| ten | Paul Ménard | Wood Brothers Racing | Ford | 400 | 17.062s |
| 11 | Kurt Busch | Chip Ganassi Racing | Chevrolet | 400 | 21.373s |
| 12 | Jimmie Johnson | Hendrick Motorsports | Chevrolet | 400 | 21.783s |
| 13 | William Byron | Hendrick Motorsports | Chevrolet | 400 | 22.312s |
| 14 | Erik Jones | Joe Gibbs Racing | Toyota | 400 | 22.648s |
| 15 | Chase Elliott | Hendrick Motorsports | Chevrolet | 400 | 23.231s |
| 16 | Ricky Stenhouse Jr. | Roush Fenway Racing | Ford | 400 | 24.001s |
| 17 | Alex Bowman | Hendrick Motorsports | Chevrolet | 399 | 1 turn |
| 18 | Daniel Suarez | Stewart-Haas Racing | Ford | 399 | 1 turn |
| 19 | Daniel Hemric | Richard Childress Racing | Chevrolet | 399 | 1 turn |
| 20 | Ryan Preece | JTG Daugherty Racing | Chevrolet | 399 | 1 turn |
| 21 | Ty Dillon | Germain Racing | Chevrolet | 398 | 2 tours |
| 22 | Chris Buescher | JTG Daugherty Racing | Chevrolet | 398 | 2 tours |
| 23 | Aric Almirola | Stewart-Haas Racing | Ford | 398 | 2 tours |
| 24 | Matt DiBenedetto | Leavine Family Racing | Toyota | 398 | 2 tours |
| 25 | Ryan Blaney | Penske Team | Ford | 398 | 2 tours |
| 26 | Corey LaJoie | Go FAS Racing | Ford | 396 | 4 tours |
| 27 | Darrell Wallace Jr. | Richard Petty Motorsports | Chevrolet | 396 | 4 tours |
| 28 | David Ragan | Motor sports ranked first | Ford | 396 | 4 tours |
| 29 | Matt Tifft | Motor sports ranked first | Ford | 395 | 5 tours |
| 30 | Ross Chastain | Premium Motorsports | Chevrolet | 394 | 6 tours |
| 31 | Jeb Burton | Petty Ware Racing | Chevrolet | 392 | 8 rounds |
| 32 | Bayley Currey | Rick Ware Racing | Chevrolet | 392 | 8 rounds |
| 33 | Joey Gase | MBM Motorsports | Toyota | 387 | 13 rounds |
| 34 | Quin Houff | Spire Motorsports | Chevrolet | 386 | 14 tours |
| 35 | Landon Cassill | StarCom Racing | Chevrolet | 322 | 78 rounds |
| 36 | Michael McDowell | Motor sports ranked first | Ford | 240 | Accident |
| 37 | Kyle Larson | Chip Ganassi Racing | Chevrolet | 125 | Accident |
Driver ranking

| Pos | Driver | Points |
| --- | --- | --- |
| 1 | Kyle Busch | 400 |
| 2 | Joey Logano | 380 |
| 3 | Denny Hamlin | 366 |
| 4 | Kevin Harvick | 349 |
| 5 | Brad Keselowski | 313 |
| 6 | Martin Truex Jr. | 311 |
| 7 | Kurt Busch | 287 |
| 8 | Clint Bowyer | 280 |
| 9 | Ryan Blaney | 277 |
| ten | Chase Elliott | 267 |
| 11 | Aric Almirola | 260 |
| 12 | Daniel Suarez | 235 |
| 13 | Jimmie Johnson | 234 |
| 14 | Austin Dillon | 216 |
| 15 | Ryan Newman | 216 |
| 16 | Paul Ménard | 213 |
| 17 | Erik Jones | 212 |
| 18 | Ricky Stenhouse Jr. | 208 |
| 19 | Kyle Larson | 204 |
| 20 | William Byron | 198 |
| 21 | Alex Bowman | 186 |
| 22 | Ty Dillon | 172 |
| 23 | Chris Buescher | 167 |
| 24 | Matt DiBenedetto | 142 |
| 25 | Ryan Preece | 126 |
| 26 | Darrell Wallace Jr. | 110 |
| 27 | David Ragan | 109 |
| 28 | Daniel Hemric | 97 |
| 29 | Michael McDowell | 94 |
| 30 | Corey LaJoie | 81 |
| 31 | Matt Tifft | 80 |
| 32 | Landon Cassill | 62 |
| 33 | Jamie McMurray | 19 |
| 34 | Cody Ware | 18 |
| 35 | Quin Houff | 15 |
| 36 | Reed Sorenson | 7 |
| 37 | Casey Mears | 1 |
| 38 | Ross Chastain | 0 |
| 39 | Parker Kligerman | 0 |
| 40 | B.J. McLeod | 0 |
| 41 | Brendan Gaughan | 0 |
| 42 | Tyler Reddick | 0 |
| 43 | Bayley Currey | 0 |
| 44 | Jeb Burton | 0 |
| 45 | Garrett Smithley | 0 |
| 46 | D.J. Kennington | 0 |
| 47 | Joey Gase | 0 |
| 48 | Timmy Hill | 0 |
| 49 | Gray Gaulding | 0 |
| 50 | Ryan Truex | 0 |
Source link