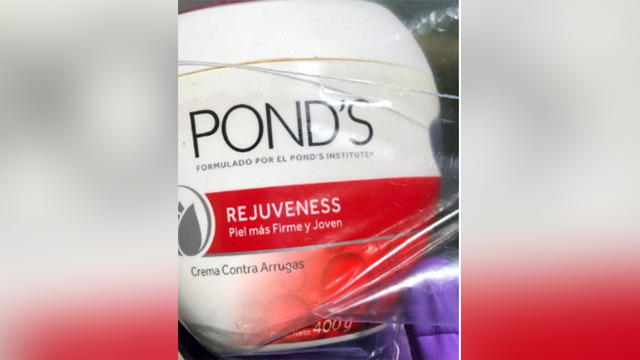 Photo: Sacramento Department of Health

SACRAMENTO, Calif. – A woman in Sacramento was hospitalized after using a methylmercury-contaminated Mexican skin cream, county officials said.
The 47-year-old woman arrived at the hospital with high levels of mercury in her blood. Health officials said she had been in the emergency room with numbness in her hands and face, difficulty walking, and speech difficulties, which had worsened for several weeks.
She was able to respond to verbal commands at first, but she is now in a semi-comatose state.
County officials in Sacramento said the woman had bought the skin cream at a pharmacy in the state of Jalisco, Mexico. The cream labeled Pond & # 39; s is used by people as a skin lightener and to remove stains and wrinkles.
Officials said the mercury was added after the purchase and not by the pond manufacturer.
"Sacramento County Public Health is urging the community to immediately stop using similar skin creams imported from Mexico because of the risk of methylmercury contamination," said the County Public Health Officer. Sacramento, Olivia Kasirye. "Methylmercury is extremely dangerous for adults and children."
Also: more cases of pulmonary problems related to the vape in Texas
This is the first reported case of methylmercury intoxication of this type related to a skin cream in the United States, health officials said.
State and county health authorities are trying to test methylmercury in similar creams in the Sacramento area.
Methylmercury can enter the nervous system and cause serious illness, especially in pregnant and lactating women and children.
Signs and symptoms are as follows:
Difficulty concentrating, memory loss
Nervousness, irritability, anxiety
Depression, insomnia
Headache
Weight loss, fatigue
Tremor, numbness or tingling in the hands, feet or around the lips
Children exposed for a long time:
Hands and pink feet
Skin peeling
Excessive or thirsty saliva, gum disease
Irritability, lack of appetite
Bad muscle tone, leg cramps
Hypertension, rash
Those who use skin creams imported from Mexico are asked to stop using them immediately, to put the cream in a closed Ziploc bag, to report it to a doctor and to have the blood and urine analyzed for detect the presence of mercury.
In the past nine years, health officials have reported that there have been more than 60 intoxications related to foreign-made, unlabeled or homemade skin creams containing the less toxic form of mercury. , mercury chloride or calomel.
For free medical advice in English or other languages, call California Poison Control at 1-800-222-1222.
Source link