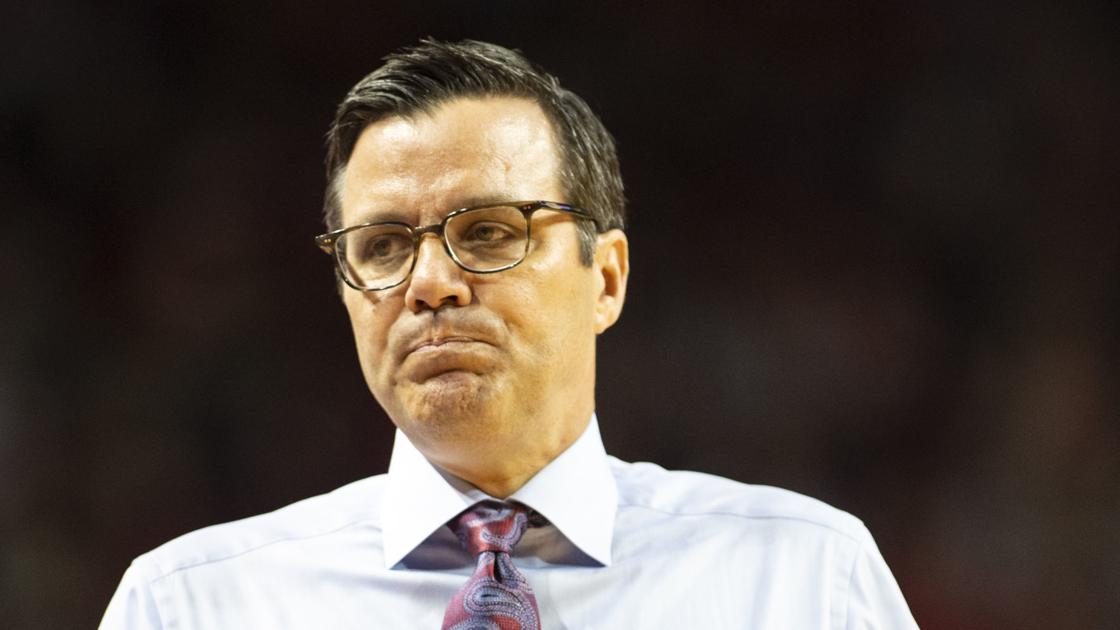 If you see the nature of this result happening, you are a basketball genius.
Certainly, these weird computer formulas that try to help us make sense of the academic game emphasize that Penn State is better than its track record.
PSU hit Nebraska 95-71 in front of thousands of empty seats and a handful of fans Tuesday night in State College, Pennsylvania.
For the Huskers, it's a loss that challenges logic in many ways.
1. At the present time, I do not see the interest of Tim Miles, Nebraska's seventh-year head coach. The result and the appalling performance of his team speaks volumes.
Penn State (10-16, 3-12 Big Ten) produced his biggest total of scores of the season. But say this for Miles: It's a great podcast.
In a conversation Sunday night with Jeff Goodman of WatchStadium.com, Miles was sincere about life on the hot seat of coaches.
"I understand why people are calling for your work and things like that … What I'm trying to do is stay on my path," he said.
Miles also spoke of only receiving a one-year contract extension from Nebraska's sporting director, Bill Moos, in the spring.
"You feel that you are warned," said the coach, citing the resulting recruitment difficulties.
Moos may have noticed the breakup in Happy Valley.
"If they see me, they'll still pay me … I'm still a millionaire," Miles told Goodman. "Then I have it for me."
Bad time for these comments.
2. The positive analysis of FS1, former Lincoln Southeast star, has been a positive point. He noted that Penn State "looked well prepared during warm ups". The home team was engaged at both ends of the ground. Bahe said it was a sign that the Nittany Lions are worshiping their head coach, Pat Chambers.
Meanwhile, Miles' apologists will put him in a bad night. Hey, it happens. How else could they explain this mess? Nebraska fans were hoping the Huskers (15-12, 5-11) had developed a sense of confidence and momentum as a result of their two consecutive wins in Tuesday's game (after seven straight defeats). Um, scratch this notion – at least the dynamic part.
In fact, I had begun to convince myself that Miles' crew was about to be jostled at the end of the season. Hit me hard in the nose if I start to mumble something about Nebraska, which could create some setbacks in the run-up against the remaining four nationally ranked teams (Purdue, Michigan, State of Michigan and Iowa) remaining in the calendar.
The fact is that I can imagine that Nebraska beats Purdue in 15th place Saturday at the Pinnacle Bank Arena (3pm, BTN). Such a win would only annoy many Husker fans who were convinced, even before Tuesday's defeat, that it was time to change jobs.
A Nebraska home win that would bother many Husker fans? Yes, we have reached this point.
Wonderful, just wonderful.
3. Miles told Nebraska's star presenter, Kent Pavelka, in a pre-game radio interview, that the # 1 key for his team was a quick start. Here is! Penn State took a 13-4 lead and – understand it – was never seriously threatened thereafter.
After entering the nation's three-point shooting team, ranked 307th (32%), the Nittany Lions managed to score 11 of 22 distance (50%).
Nebraska entered the week hoping to play in the Great Dance. One would think that the Huskers would play an emergency team that would try to win the victory of Quad I and perhaps save the position of head coach. Instead, they played with all the urgency of a retired couple during a two week vacation in the Caribbean.
"There is a path to the NCAA tournament," Miles told Goodman. "We just have to believe it."
Good luck with this song and dance after this performance. Maybe just stick to podcasts.