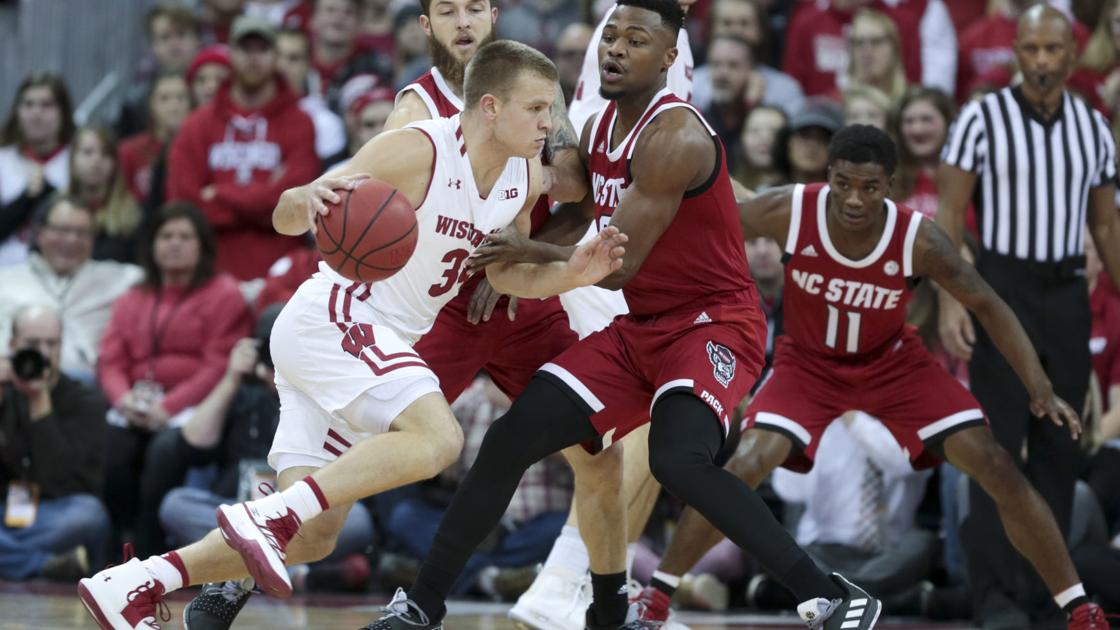 The tone was set at the start of last season when the University of Wisconsin men's basketball team lost a series of tight games in part because their opponents had veteran goalies who played an important role in the games. tight.
Now, it's the Badgers who have experience and insight behind the scenes at critical times.
That was certainly the case on Tuesday night at the Kohl Center, where the number 22 UW caught up with its 12-point deficit in the second half to beat North Carolina State 79-75 at the ACC / Big Ten Challenge.
One of the heroes was D'Mitrik Trice, the vanguard, who finished with 18 points, six assists and three flights in 34 minutes. His biggest contribution was a last-minute late-game jumper, while the Badgers had a one-point lead.
And then there was second-class guard Brad Davison, who made two free throws to seal the win and finished with 12 points. He also fired four counts, including one on possession after Trice's big shot.
"We are a much more experienced team than last year," Trice said after the Badgers improved to 6-1 in the lead-up to their Big Ten debut at No. 14 in the US. Iowa, Friday night. "You can just see the calm on these guys: never too high, never too low up, just a bit of that same-keel mentality."
The Wisconsin Badgers men's basketball team defeated the Northpack State Wolfpack of North Carolina, 79-75, as part of the …
It takes a village to double digit against a good team, and the Badgers have had a lot of players who have done their part against the Wolfpack (6-1).
Senior center Ethan Happ overcame a tough first half to finish with 19 points, 11 rebounds and four blocks.
The sophomore Aleem Ford, in his fourth game back since returning from a left knee injury, toppled four points to 3 points and finished with 12 points in 21 minutes.
Kobe King, Ford, rookie wing Kobe King, second-year guard, Trevor Anderson, and junior guard, Brevin Pritzl, combined for 26 points on the bench for UW. All four fired on UW's return.
"It was just a team win," said Happ. "It was not (counting) on ​​one or two guys. I do not know if that's what would have happened last year in a game like this. I think we're a lot more balanced this year than we were last year and that's what really helped us this season. "
The Badgers fired 62.1% of the pack in the second half and earned 11 points out of 21 in total from 3 points. They needed all the offensive they could to overcome the state of North Carolina, which had 21 points for junior guard Markell Johnson and 18 points for junior guard C.J. Bryce.
The smaller Wolfpack outperformed the 32-30 Badgers in the paint and finished with a 36-30 edge on the boards. They practically made UW shoot in the second half, holding the Badgers as far as possible before Trice and Co. finally broke through.
"It was like it was a February conference match," said North Carolina state coach Kevin Keatts. "It was a good game. Unfortunately, we found ourselves on the stick side."
UW scored a goal or two several times in the second half, but Johnson, Bryce or Torin Dorn (14 points) went out of their way to help the Wolfpack restore their cushion.
Trice tied after a free kick with 1 minute and 20 seconds and Happ managed to give one to give UW the advantage.
After a misfire from Johnson, UW took a little time and tried to set up a high-ball screen with Happ and Trice at the top of the key. This ended in nothing and Trice was left in a no-man's land with the stopwatch at the end of the series.
But Trice remains composed, reached one of his hot spots just inside the bow and buried a pull-up to give the Badgers a 76-73 lead with 23.6. seconds to do.
"There was about five seconds when I looked up, and I knew that it was enough time to perform one of the movements I'd like to do, namely the draw. in a dribble, "said Trice. "And he got stuck."
Davison beat Johnson on the left wing and shot a charge with 17.9 seconds left, the third by Davison in the second half.
"I just keep playing the defense that I usually play," said Davison. "Calls are one thing you can not control, but you can control the effort and be in the right place."
After a Trice free kick, Johnson scored a goal to reduce UW's lead to 77-75 in 11.6 seconds.
After a timeout, Davison took the pass and was the victim of a foul. He calmly made both free throws to seal what UW coach Greg Gard called "winning".
"I think this group has embraced that," Gard said. "They understood, as we grew last year, what needed to be done to dig a little further, and they embodied it.
"You will often be in situations where things do not go as planned and do not go as you wish. … But having the courage to keep fighting and rallying is a good trait to have.
Source link