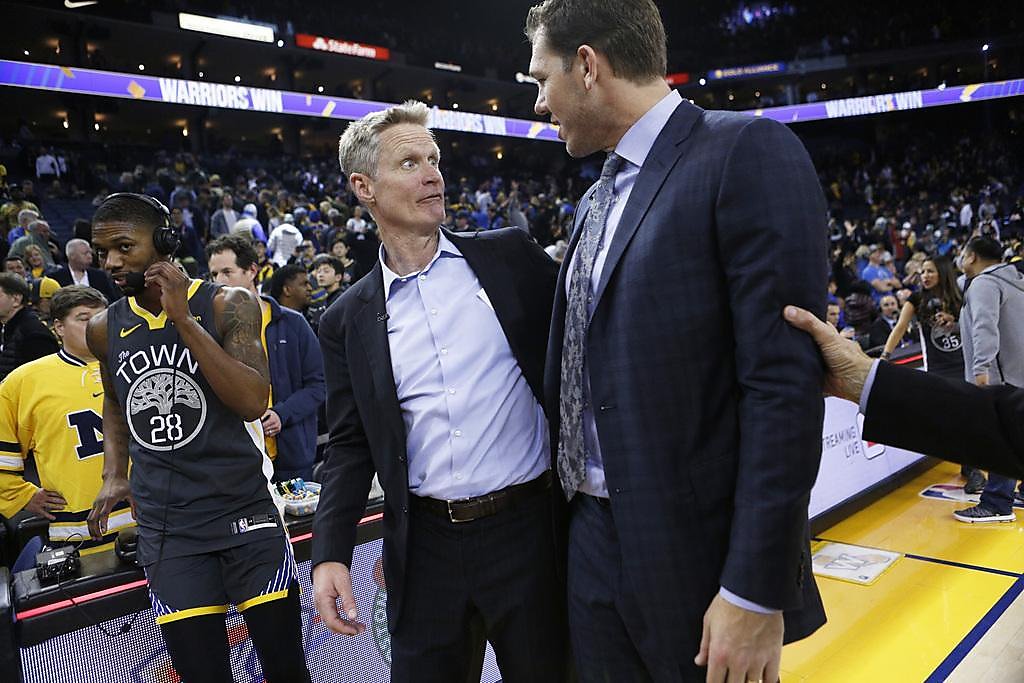 Photo: Santiago Mejia / The Chronicle

Golden State Warriors head coach Steve Kerr spoke of Los Angeles Lakers head coach Luke Walton's dismissal on Friday, saying the Lakers were "losing the # 39, one of the best humans in the NBA "in Walton.
Kerr was questioned about Walton's dismissal, announced Friday by Lakers general manager Rob Pelinka after the Warriors' training in Oakland. Walton was fired after coaching the team to three losing seasons.
"In the NBA, you depend 100% on your situation, the strength of your organization, the dynamics, the unit, everything must be in order," Kerr said. "Because if it's not the case, as we've seen with the Lakers, there will be losses and the coach is usually first."
"They lose one of the best human beings in the NBA – they lose a guy who knows the game as well as anyone I've ever met." They lose somebody the players believe in, the players want to play for. "
Walton and Kerr have a lot in common. Both played at University Basketball at the University of Arizona. They were both NBA – Kerr dynastic franchise players with the Chicago Bulls and San Antonio Spurs and Walton with the Los Angeles Lakers.
And then there was the Walton concert just before he took office as head coach of the Lakers – assistant coach of the Warriors under Kerr. The season leading up to Walton's takeover of the Lakers actually took over as the Warriors head coach while Kerr rehabilitated. During Walton's tenure as acting coach of Golden State, he led the Dubs to a start of 24-0 and a 39-4 record before Kerr returned to the team.
So, Kerr, Walton and the Warriors have a story, and the Dub chief did not hide how his former assistant coach had been fired and how he had thanked him for organizing the Warriors .
"I feel for Luke," Kerr said. "And I feel lucky to be able to count on a set of circumstances in which great people stabilize our organization every day, and I'm fortunate to be in this position and to be surrounded by these people." people because this does not happen often in the NBA. "
Source link