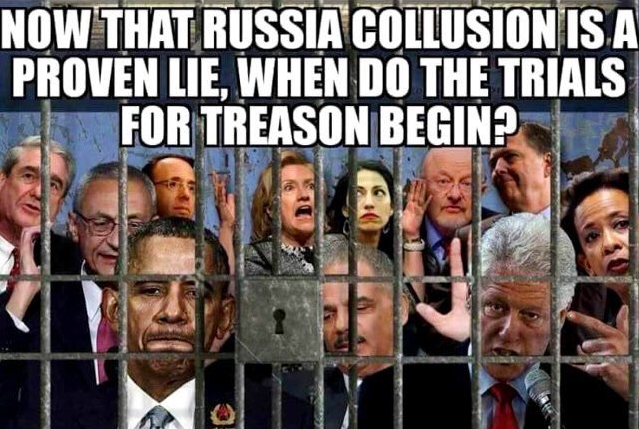 [ad_1]

Donald Trump has retweeted a simulated image of a series of personalities that the president considers to be enemies behind bars, including his Deputy Attorney General, Rod Rosenstein.
The tweet, which was published by an account called The Trump Train, also includes Barack Obama, Bill and Hillary Clinton and Robert Mueller, with the caption: "Now that collusion with Russia is a proven lie, when are the trials for treason? "
A few minutes earlier, Mr. Trump published on the social media platform an attack on mainstream media and Mr. Mueller's investigation into a possible collusion of the Trump campaign with Russia.
"While the loathsome Fake News is doing everything in its power not to tell it this way, at least three major players have suggested that the Angry Mueller Muem of Dems group incites witnesses to lie about facts and that They will get redress – "he writes. .
"This is our Joseph McCarthy era!"
The president also retweeted three messages from the account supporting Trump, which attacked illegal immigrants, CNN and the General Motors car company.
A particularly inflammatory tweet, Mr Trump said: "The illegal ones can get up to $ 3,874 a month as part of the federal assistance program." Our social security checks rise on average at $ 1,200 per month.
"RT if you agree: if you were not born in the United States, you should receive $ 0 assistance."
It is unclear where the clandestine immigrants who received thousands of dollars of federal support came from, but it could come from a widely denied claim that refugees would receive the payment in Canada.
The tweet's sharing by the president also suggests that he believes that only people born in the United States should receive financial assistance from the government.
Mr Trump then retweeted two month – old messages accusing Clinton, his Democratic opponent in the 2016 presidential election, of racism.
A right-wing activist said in a tweet: "Hillary said," All Blacks are alike, "incredibly racist thing to say Hillary!
The message was accompanied by a video in which Ms. Clinton mocked an interviewer for confusing former Attorney General Eric Holder and Senator Cory Booker, who are both black. The comment was widely reported at the time.
The White House has been contacted for a comment.
[ad_2]

Source link