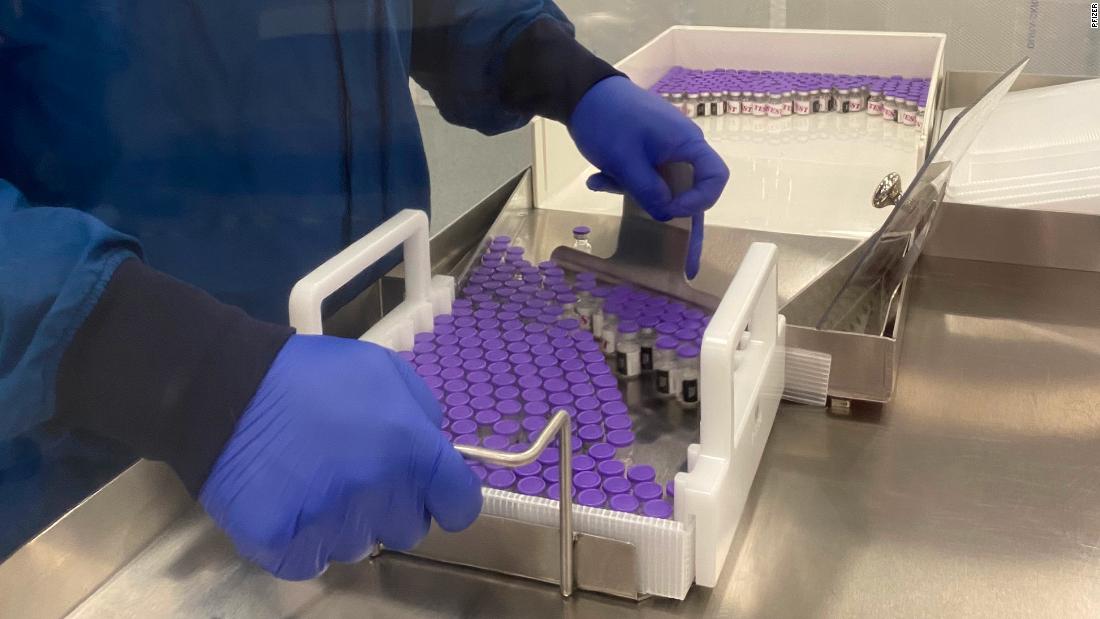 "Our plan is to be able to ship the vaccines to the vaccination sites within 24 hours of approval, so I might expect the second day after approval, December 11 or 12, hopefully. first people will be vaccinated across the United States, in all states, in all areas where state departments of health have told us where to deliver the vaccine, "Slaoui told CNN's Jake Tapper on Sunday. 'State of the Union'.
Pfizer submitted an emergency use authorization request to the United States Food and Drug Administration for its Covid-19 vaccine candidate on Friday, and an FDA vaccine advisory committee is expected to meet on December 10. .
Slaoui said that means that, if cleared, the vaccine could be rolled out the next day.
Slaoui also said that, based on the plans, the amount of the population that needs to be vaccinated for life to get back to normal is expected to occur in May.
Slaoui told Tapper that with the level of efficacy that has been demonstrated in the Pfizer and Moderna vaccines, "about 70% of the vaccinated population would provide true herd immunity, which is likely to occur somewhere in the world. month of May, or something like that based on our plans. "
Following Slaoui's comments on Sunday, Dr Anthony Fauci, the country's top infectious disease specialist, told CBS's Margaret Brennan on "Face The Nation" that while he "fully agrees[s]"With Slaoui that there could be collective immunity by May, a majority of the country should be vaccinated.
"If you have a very effective vaccine and only 40 to 50% of people are vaccinated, you won't get the herd immunity you need," Fauci said. "What we need is to get as many people vaccinated as possible."
A new Gallup poll found that 58% of Americans said they would get vaccinated against the coronavirus if there was an FDA-approved vaccine available now at no cost.
Fauci explained on Sunday that "we want to be very transparent" and stressed that people understand the independent process that led to the point of the FDA, as well as independent advisory committees, claiming that vaccines are safe and effective with clearance. emergency use and ultimately a license.
"When the American public hears this, you have to be assured that this is the case and if you vaccinate an overwhelming majority of people with a very effective vaccine, we can reasonably quickly get into herd immunity which would be a protective blanket for the country, "Fauci said.
Slaoui said earlier on Sunday that he was eager to see the level of negative perception of vaccines decline and people's acceptance increase, as this will be essential in helping.
"Most people need to be vaccinated before they can resume normal life," he said.
Last week, however, Fauci offered a more conservative timeline, telling CNN's Jake Tapper on "State of the Union" last week that he believed the nation might begin to return to relative normalcy. here April or July 2021 and saying that he thought it would be possible to achieve by the second or third quarter of next year.
"So if we get the overwhelming majority of people taking the vaccine, and you have an effective vaccine on the one hand, and a high degree of taking the vaccine on the other hand, we could start to bring things down to a relatively normal level – we're entering the second and third quarters of the year, where people can start to think about doing things that were too dangerous just a few months ago, "Fauci said at the time.
Fauci warned that vaccines must come, that they must be deployed and that fundamental public health measures cannot be abandoned.
Experts have said that initially there will not be enough vaccine for everyone. The highest priority groups, which include health workers, the elderly, and people with underlying medical conditions, will receive the vaccine first.
Slaoui added Sunday that while the vaccine is under consideration for emergency use by the FDA, the United States Centers for Disease Control and Prevention and its Advisory Committee on Immunization Practices will review data on vaccines and advise all states regarding populations. should be given priority for vaccine distribution.
Then, Saloui said, it will be up to states to determine how the vaccine is distributed locally.
"Each state will decide independently, taking into account the guidelines, who to vaccinate," he added.
"Thus, some states may make different decisions depending on their population and situation," Slaoui added, stressing again that those most at risk, frontline workers and health workers will be among the first. to receive a vaccine in the coming months.
This story was updated with comments from Dr.Anthony Fauci on CBS Sunday.
Source link