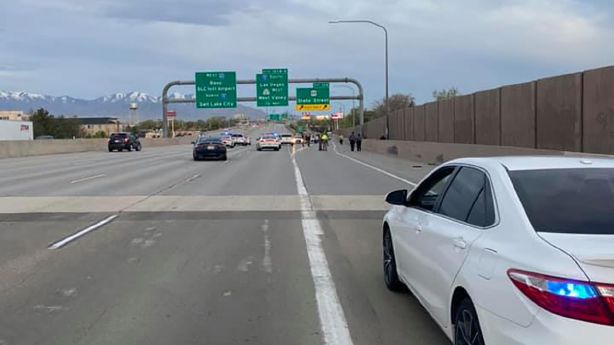 SALT LAKE CITY – Westbound I-80 in Salt Lake City has reopened after authorities previously closed the 700 East freeway due to a police investigation.
South Salt Lake Police spokeswoman Danielle Croyle said an altercation resulted in gunfire in South Salt Lake around 3 a.m. A woman had been injured.
Shortly after, a single car crash was reported on I-80 near State Street. The Utah Highway Patrol responded and found a deceased woman, Croyle said. The victim appeared to have been shot and wounded. A man who was also in the car left the scene. Police located him and question him, officials said.
The traffic incident is said to be linked to the shooting.
All westbound lanes of traffic were closed between 700 East and State Street, but have since reopened. The State Street exit remains closed, according to the Utah Department of Transportation.
The highway is expected to reopen around 11 a.m., UDOT said.
South Salt Lake and Utah Highway Patrol lead to both one suspicious death and one car crash …

Posted by the South Salt Lake Police Department on Saturday, May 1, 2021
This is in the process of developing news and will be updated as more information becomes available.
Get traffic updates on the KSL traffic page and udottraffic.utah.gov.
Contributing: Mark Jackson, KSL NewsRadio; Stuart Johnson, KSL TV
×
Pictures
Other stories that might interest you