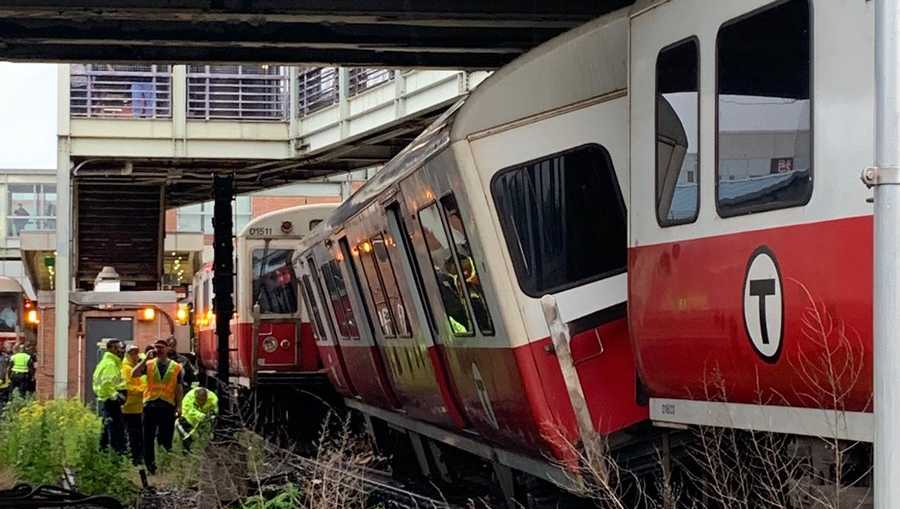 The MBTA is still asking Red Line customers to provide additional time for the Monday morning commute after the train derailment last week near the JFK / UMass station. The transport authority stated that passengers using the Braintree / Quincy red line branch would have more The MBTA said the teams were working day and night to repair signals and track infrastructure damaged Tuesday by the derailment of a Red Line train to the JFK / UMass approach. The service resumed on all tracks after a series of successful tests on Saturday, but transport authorities said the trains would continue to operate at limited speeds. "We are pleased to be able to resume direct service to the Braintree branch, but we still have a lot of work to do. do, "said Steve Poftak, CEO of MBTA, in a statement. "Salvage operations are continuing with a full service objective, but users should allow extra time for their journeys because turnouts must be manually operated until the end of repairs." The transportation company also that countdowns had been activated at most Red Line stations. The MBTA will continue to monitor the accuracy of clock forecasts and some stations may only have one side. Customers coming from the South Shore will also have the opportunity to take additional commuter train trains on Monday. and Tuesday. The service will be available through a CharlieCard or CharlieTicket instead of the fare system typically used by these trains. The South Shore Commuter Train Service for South Station is accessible on the Kingston, Middleboro and Greenbush lines during Monday morning commutes. Additional trains leave Braintree Station at 6:00 am: 8:00 pm, 8:00 am and 9:30 am During the Monday night commute, Greenbush trains stop at JFK / UMass and Quincy Center but not Braintree. Additional trains departing from South Station leave at 15:00, 16:30 and 18:00. and 7:20 pm, Ashmont users can use their CharlieCard or CharlieTicket to take the Fairmount suburban network, which has several stations near Ashmont, including Talbot Avenue, Morton Street, Blue Hill Avenue, Fairmount and Readville. who wish to travel to and from the Cambridge and Somerville areas can take the Fitchburg line by showing their CharlieCard or CharlieTicket card between Porter Station and North Station.Poftak and Deputy General Manager Jeff Gonneville will make another update at Monday's Financial Control and Management Committee meeting, which starts at 11 am
BOSTON –
The MBTA is still asking Red Line customers to schedule an extra ride Monday morning after the train derailment last week near the JFK / UMass station.
Transit authorities said users of the red line branch connected to Braintree / Quincy would no longer have to change trains at JFK / UMass.
The MBTA said its teams were working day and night to repair signals and track infrastructure damaged Tuesday by the derailment of a Red Line train as it approached JFK / UMass.
The service resumed on all the tracks passing through the station after a series of successful tests Saturday, but the transit administration said the trains would continue to run at limited speeds.
"We are pleased to be able to resume direct service at the Braintree branch, but we still have a lot of work to do," Steve Poftak, CEO of MBTA, said in a statement. "Recovery operations continue with the full service objective, but runners must provide extra time for their daily commutes, as turnouts must be manually operated until the end of repairs."
Transport authorities also indicated that countdowns had been activated at most Red Line stations. The MBTA will continue to monitor the accuracy of clock forecasts and some stations may only have one side.
Customers coming from the South Shore will also have the opportunity to take other suburban trains on Monday and Tuesday. The service will be accessible via a CharlieCard or CharlieTicket card instead of the fare system normally used by these trains.
South Shore Limited commuter train service to South Station is accessible on the Kingston, Middleboro and Greenbush lines during Monday morning commutes.
Additional trains leave Braintree Station at 6:20, 8am and 9:30 am.
During the Monday night commute, Greenbush trains stop at JFK / UMass and Quincy Center stations but not at Braintree.
Additional trains departing from the Gare du Sud leave at 15h, 16h30 and 18h. and 19:20
Ashmont customers can use their CharlieCard or CharlieTicket to take the Fairmount suburban rail network, which has several train stations near Ashmont, including Talbot Avenue, Morton Street, and Blue Hill Avenue, Fairmount and Readville.
Riders wishing to travel to and from the Cambridge and Somerville areas may use the Fitchburg Line to show their CharlieCard or CharlieTicket between Porter Station and North Station.
Poftak and his deputy chief executive, Jeff Gonneville, will make another update at Monday's meeting of the Financial Control and Management Committee, which will begin at 11 am.
Alert me