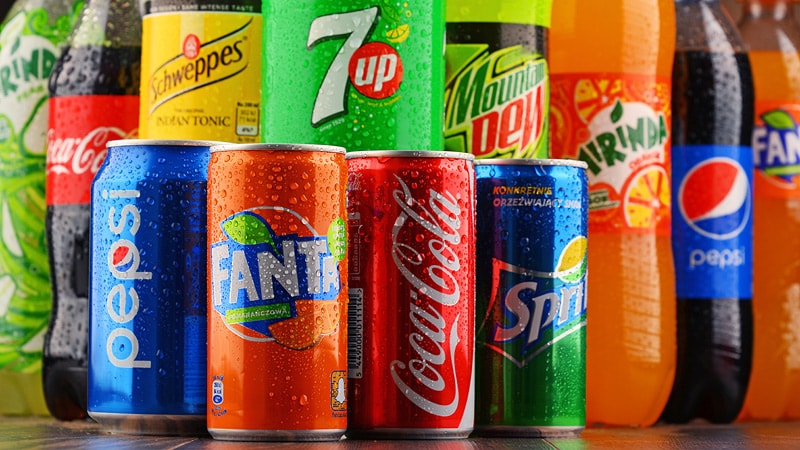 The consumption of sugary drinks, including fruit juice, was positively associated with overall cancer risk and breast cancer risk in a large prospective study conducted in France.
Although the study is observational and therefore can not establish the cause, the researchers suggest that "sugar-sweetened beverages, which are widely consumed in Western countries, could represent a modifiable risk factor for cancer prevention."
The research was published online on July 10 in the BMJ
Nutrition experts who responded to the findings said the trial was well-designed and that adding ammunition to public health policies, such as imposing taxes, discourages overconsumption of sugary drinks. .
An expert, however, questioned some of the findings and said that the main message of the study should be the fact that the consumption of artificially sweetened (dietary) beverages was not associated with a risk of Cancer.
Study of> 100,000 French adults
The French authors, led by Eloi Chazelas, of the Center for Epidemiological and Statistical Research at the Paris Cité Sorbonne, say that "sweet drinks are convincingly associated with the risk of obesity, which is in turn recognized as a factor. risk for many cancers ".
They sought to determine whether there was a link between the consumption of sugary drinks and cancer – and they found a positive association.
The team analyzed data from the NutriNet-Santé cohort study of 101,257 healthy French adults (21% men, 79% women, mean age, 42 years).
Participants completed at least two 24-hour online validated dietary questionnaires designed to measure the usual intake of 3,300 different foods and beverages.
The team was particularly interested in the daily consumption of sweetened beverages (sugary drinks and 100% fruit juice) and sweetened (dietetic) beverages. They found that men drank a little more sugary drinks than women (average daily consumption, 90.3 ml against 74.6 ml).
Participants were followed for an average of 5 years and a maximum of 9 years (2009-2018).
During this period, 2193 cases of cancer occurred. The cases were validated by medical records and linked to national databases on health insurance.
This total includes 693 breast cancers, 291 prostate cancers and 166 colorectal cancers. The average age at diagnosis of cancer was 59 years old.
Positive association
The team calculated from these results that a 100 ml / day increase in sugar beverage consumption was associated with an 18% increase in overall cancer risk (sub-distribution risk ratio). [HR] for an increase of 100 ml / day, 1.18; 95% confidence interval, 1.10 – 1.27; P <0.001).
Graham Wheeler, PhD, senior statistician at Cancer Research UK and University College London, comments on these results: "The average daily intake of sugary drinks was about 93 ml for all participants. 100 ml increase in daily intake of sugary drinks Participants were followed on average for about 5 years and 22 participants out of 1,000 developed a form of cancer.
"This means that if 1,000 similar participants increased their daily consumption of 100ml sweetened beverages, we would expect the number of cancer cases to increase from 22 to 26 per 1,000 people over a five-year period. This assumes a real causal link between the consumption of sugary drinks and cancer, which requires further research.
"The authors rightly point out that other large prospective studies will be needed to confirm their results," he said.
French researchers note that there was also a positive association for breast cancer, with an increased risk of 22% (HR, 1.22; P = 0.004).
This link was stronger for breast cancer before menopause (P = 0.02) than for postmenopausal breast cancer (P = 0.07), but the median intake of sugary drinks was lower in postmenopausal women (88.2 mL / day) compared to premenopausal women (43.2 mL / day), notes the team.
There was no association with prostate and colorectal cancers, but there were fewer cases of these cancers.
Sugary drinks included 100% fruit juice. Considered separately, fruit juice consumption was associated with a higher overall cancer risk, along with other sugary drinks.
Many confounding factors have been taken into account, but the limitations remain
In contrast, consumption of artificially sweetened (dietary) drinks was not associated with an increased risk of cancer. However, the authors recommend interpreting this result with caution, as the consumption of these drinks was low.
"It's an observational study, so the causality of the observed associations can not be established and residual confusion can not be totally ruled out," they point out.
While acknowledging the limitations of their study, they also note that they adjusted to account for a large number of confounders and performed many sensitivity analyzes, and that none of those It did not substantially change the results, which remained statistically significant and stable.
In addition, mechanistic data corroborate these epidemiological findings, they comment. Sugary drinks contribute to obesity, but they can also increase visceral fat, blood sugar and inflammatory markers, all known cancer risk factors.
In conclusion, they state: "These data confirm the relevance of the existing nutritional recommendations to limit the consumption of sugar-sweetened beverages, including 100% fruit juice, as well as policy measures, such as tax restrictions and marketing restrictions targeting sugary drinks, likely to contribute to the reduction of the incidence of cancer ".
Reactions to the study
Several nutrition experts have published their reactions to this study on the UK Science Media Center website.
This is a "great study of good quality." The authors are aware of the confounding factors, they are aware of the limitations of their dietary measurement techniques and the results have been well reported, "commented Amelia Lake, PhD, Reader in nutrition for public health, Teesside. University, Middlesbrough, United Kingdom.
The research adds "to the overall importance of the current desire to reduce our sugar consumption" and highlights why "controls over the marketing of high-sugar products are so important not only in terms of obesity, but also probably cancer prevention. " she added.
Catherine Collins, Dt.P., FBDA, dietician of the National Health Service of the United Kingdom, suggested that one of the strengths of this French study is the way in which details about the diet were collected.
Participants recorded 3 days of online dietary records every 2 years, which represents "a more robust dietary assessment than a 24-hour period" What did you eat yesterday? "approach of many similar research groups," she observed.
Nevertheless, any self-declaration of food intake is limited in that it relies on the honesty and accuracy of the participants. "
But are the results biologically plausible?
Collins also questioned the plausibility of the results.
"Their findings suggest a 30% increase in the" all cancers "diagnosis among those who consume the most sugary drinks compared to those who consume the least," she noted.
"Subjects consuming mid-way sweet drinks had no significant increase in the risk of breast cancer or any other cancer.
"How much sugar in drinks was associated with this increased risk?" The lowest-consuming group consumed about 3 g (about half a teaspoon) of sugar from their daily beverages, and those in the highest group consumed an average of 19 g / day – four teaspoons of sugar.
"The risk seemed to increase around 10 g of sugar per day from drinks," she said. "7 g of sugar from the lowest to the third quartile, equivalent to 1.5 teaspoons of sugar, or 28 kcal extra per day, could they really improve the risk of cancer, especially in the absence of 39, obesity within the group?
"I find biological plausibility difficult, since there was no significant difference between groups with respect to body weight or the incidence of diabetes, which is often cited as a risk Overall, the number of calories from beverages in beverages ranged from almost 0% to almost 4% of total calories, well within acceptable intake limits associated with healthy eating recommendations. "
She added, "The highest consumption of sugar from beverages was in the young adult group, similar to other research groups around the world.The increased risk of breast cancer in this younger group is alarming. But may represent other factors For example, the percentage of pre-menopausal women using oral contraceptives increased with the increase in sugar intake. Screening for breast cancer before and after menopause Was not addressed, but could have contributed to an early and definitive diagnosis rate higher in women. Start screening before the symptoms become apparent – unlike other cancers where symptoms first appear, This leads to further investigation, and these clinical situations are not addressed in the document, "said Collins.
"People in the group with higher consumption of sugary drinks had higher caloric intake, higher salt intake, and fewer calories from alcohol, all of which suggest dietary differences including drinking. sweet could be an indirect marker and not a cause of association, "she said. added.
Main message should focus on diet drinks
Collins concluded his comments by turning to one of the discoveries not highlighted by French researchers.
"The message to remember is the absence of cancer risk related to the use of dietary drinks containing artificial sweeteners," she said.
"For too long, the nutritional myth that sweeteners were a health risk has remained in popular culture, and all currently used sweeteners have been subjected to rigorous safety testing before being accepted for human consumption. This study showed no impact of sweetened beverages with a cancer risk, adding to the body of knowledge from lab work to human studies that confirm it.
"The addition of sugar in hot or cold drinks does not add any real nutritional benefit and contributes to the total calorie load," she concluded.
The NutriNet-Health study was funded by several French public institutions, as detailed in the article. The authors, Lake and Collins have revealed no relevant financial relationship. Wheeler received a fee from Novametrics Consulting Ltd.
BMJ. Posted online July 10, 2019. Full text
To learn more about Medscape Oncology, follow us on Twitter: @MedscapeOnc