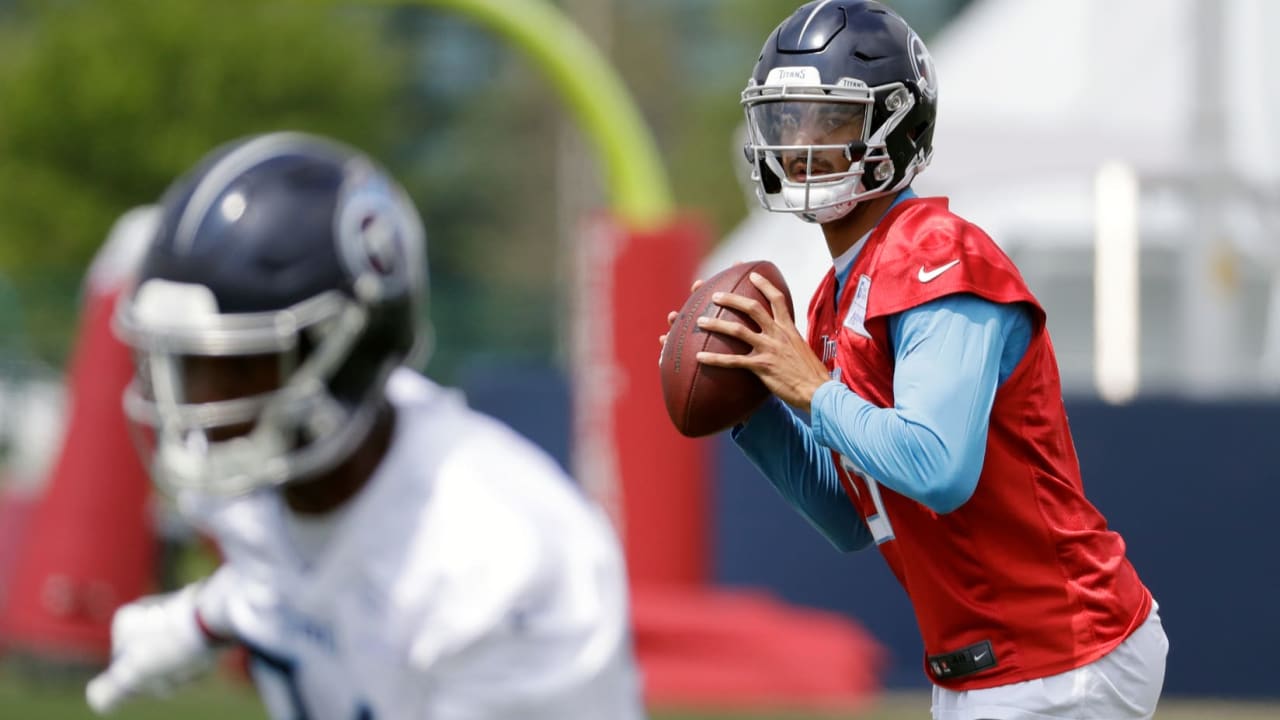 [ad_1]
NASHVILLE – The Titans start the first of the 10 days of activities organized by the teams on Monday at Saint Thomas Sports Park.
Titans Online takes a look at six things to watch as the team gets underway during the off-season work (Monday's session is closed, so the first live reports will be released from Tuesday's work ):
QB
Marcus Mariota took part in off-season sessions with his teammates, but he will face defense for the first time this week, working with new weapons around him, including adjunct of free-agent Adam Humphries. We will also have our first look at quarterback Ryan Tannehill, who joined the team in March after already playing with the Dolphins. The chemistry session for both QB is in progress.
Arthur Smith
Former tight ends coach Arthur Smith is now the team's new offensive coordinator. During the recruit camp, the media was lucky to see Smith working, and he bounced back from one group of positions to the other. Smith spent time with his players in the classroom during the off-season program, but now he's really going to start his offensive while working against the defense.
A J. Brown vs. veterinarians
Recipient A.J. Brown, the team's choice in the second round, was impressive right out of the rookie camp. But he will face the best competition he has ever faced in training this week as he aligns his veteran defenders. How is he going to get out? That's one of the things I'm going to watch.
New Look O-line
The Titans have said goodbye to their two starting guards in 2018, and their replacements are now at work. Guard Rodger Saffold, formerly Rams, will occupy one of the guard positions, but who will win the competition for the other? And could there be other adjustments? Like Brown, rookie guard Nate Davis will have to adapt to the NFL competition while Kevin Pamphile, Corey Levin and Aaron Stinnie will try to settle inside.
Jumping second year
A lot of eye will be on the recruits at the start. But I will keep an eye on second-year players such as linebackers Harold Landry, Rashaan Evans and Sharif Finch, as well as security Dane Cruikshank, defensive lineman Matt Dickerson and Stinnie, among others. The team is counting on each one of them to make a bigger jump in 2019. Landry has played in his rookie season, and he should be doing even bigger by playing alongside veteran Cameron Wake and others.
Who is retained?
First-round pick Jeffery Simmons, of course, will not participate in OTAs as he is recovering from an ACL injury. But he will not be the only one to be retained early in the OTA, as players recover from injuries suffered last season. In addition to Simmons, Delanie Walker and Jonnu Smith are also healing. Several other players, including tackle Jack Conklin and lineman Jurrell Casey, finished last season in the injured reserve, and others had procedures in the off season. So who will work on the side and who will be in the middle of the action?
[ad_2]
Source link