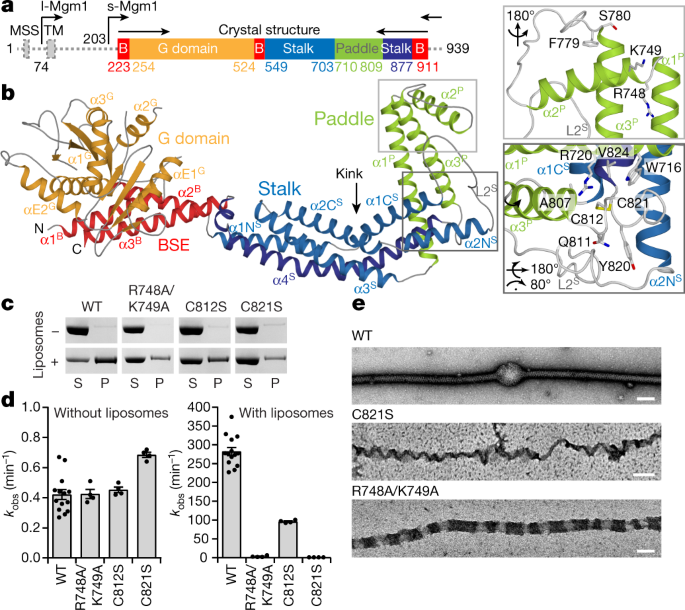 1.
Nunnari, J. & Suomalainen, A. Mitochondria: in disease and health. Cell 1481145-1159 (2012).
2
Youle, R. J. and van der Bliek, A. M. Fission, fusion and mitochondrial stress. Science 3371062-1065 (2012).
3
van der Laan, M., Horvath, S.E. & Pfanner, N. Mitochondrial contact site and system of organization of the cristes. Curr. Opin. Biol cell. 41, 33-42 (2016).
4
Pernas, L. & Scorrano, L. Mito-morphosis: mitochondrial fusion, fission and remodeling of ridges as key mediators of cellular function. Annu. Rev. Physiol. 78505-531 (2016).
5
Wai, T. & Langer, T. Mitochondrial dynamics and metabolic regulation. Endocrinol Trends. Metab. 27, 105-117 (2016).
6
Jones, B.A. & Fangman, W.L. Maintaining mitochondrial DNA in yeast requires a protein containing a region related to the GTP dynamin binding domain. Genes Dev. 6380-389 (1992).
7.
Alexander, C. et al. OPA1, encoding a dynamin-linked GTPase, is mutated into autosomal dominant optical atrophy linked to chromosome 3q28. Nat. Broom. 26211-215 (2000).
8
Delettre, C. et al. The OPA1 nuclear gene, encoding a mitochondrial dynamin-linked protein, is mutated in dominant optic atrophy. Nat. Broom. 26207-210 (2000).
9
Wong, E.D. et al. Dynamin-bound GTPase, Mgm1p, is an intermembrane spatial protein necessary to maintain mitochondria competent for fusion. J. Cell Biol. 151, 341-352 (2000).
ten.
Meeusen, S. et al. Mitochondrial fusion of the inner membrane and crista maintenance require Dynamin-bound GTPase Mgm1. Cell 127, 383-395 (2006).
11
Cipolat, S., Martins de Brito, O., Dal Zilio, B. and Scorrano, L. OPA1 require mitofusin 1 to promote mitochondrial fusion. Proc. Natl Acad. Sci. United States 10115927-15932 (2004).
12
Ishihara, N., Y. Fujita, Oka, T. and Mihara, K. Regulation of mitochondrial morphology by proteolytic cleavage of OPA1. EMBO J. 25, 2966-2977 (2006).
13
Meeusen, S., McCaffery, J.M. and Nunnari, J. Revealed mitochondrial fusion intermediates in vitro. Science 3051747-1752 (2004).
14
Frezza, C. et al. OPA1 controls the remodeling of apoptotic ridges independently of mitochondrial fusion. Cell 126177-189 (2006).
15
Yamaguchi, R. et al. Opa1-mediated aperture opening is dependent on Bax / Bak and BH3, required for apoptosis and independent of Bak oligomerization. Mol. Cell 31557-569 (2008).
16
Anand, R. et al. Protease i-AAA YME1L and OMA1 cleave OPA1 to balance fusion and mitochondrial fission. J. Cell Biol. 204919-929 (2014).
17
Faelber, K. et al. Crystal structure of dynamin without nucleotide. Nature 477556-560 (2011).
18
Ford, M.G., Jenni, S. & Nunnari, J. The crystalline structure of dynamin. Nature 477561-566 (2011).
19
Chappie, J.S., S. Acharya, M. Leonard, Schmid, S.L. and Dyda, F. Dimerization of the F. domain controls the activity of GTP stimulated by dynamin assembly. Nature 465435-440 (2010).
20
Ingerman, E. et al. Dnm1 forms spirals whose structure is adapted to the size of the mitochondria. J. Cell Biol. 170, 1021-1027 (2005).
21
Ban, T., Heymann, JA, Song, Z., Hinshaw, JE, and Chan, DC Alleles of OPA1 disease causing dominant optic atrophy have GTP and membrane tubular hydrolysis defects stimulated by cardiolipin. Hum. Mol. Broom. 19, 2113-2122 (2010).
22
Kong, L. et al. Cryo-EM of dynamin polymer assembled on a lipid membrane. Nature 560258-262 (2018).
23
Reubold, T.F. et al. Crystal structure of dynamin tetramer. Nature 525404-408 (2015).
24
Chiaruttini, N. et al. The relaxation of the ESCRT-III spiral springs loaded causes deformation of the membrane. Cell 163, 866-879 (2015).
25
Gao, S. et al. The structure of the myxovirus resistance protein has revealed intra- and intermolecular domain interactions necessary for antiviral function. Immunity 35514-525 (2011).
26
Frohlich, C. et al. Structural information on oligomerization and mitochondrial remodeling of dynamin-like protein 1. EMBO J 32, 1280-1292 (2013).
27
Kalia, R. et al. Structural basis of mitochondrial receptor binding and constriction by DRP1. Nature 558401-405 (2018).
28
Chappie, J. S. et al. A pseudo-atomic model of the dynamin polymer identifies a shock effect dependent on hydrolysis. Cell 147209-222 (2011).
29
Roux, A., Uyhazi, K., Frost, A. and De Camilli, P. The torsion of P. GTP-dependent dynamin involves constriction and tension in membrane fission. Nature 441, 528-531 (2006).
30
Antonny, B. et al. Membrane fission by dynamin: what we know and what we need to know. EMBO J. 352270-2224 (2016).
31.
Dubbed, S. Preparation of selenomethionyl proteins for phase determination. Enzymol methods. 276523-530 (1997).
32
Kabsch, W. XDS. Acta Cryst. re 66, 125-132 (2010).
33
Sparta, K. M., Krug, M., Heinemann, U., Mueller, U. & Weiss, M. S. Xdsapp2.0. J. Appl. Crystallogr. 491085-1092 (2016).
34
Terwilliger, T. C. et al. Decision-making in a structural solution using Bayesian estimates of map quality: the PHENIX AutoSol wizard. Acta Crystallogr. re 65, 582-601 (2009).
35
Emsley, P. & Cowtan, K. Coot: Modeling tools for molecular graphics. Acta Crystallogr. re 602126-2132 (2004).
36
Echols, N. et al. Graphical tools for macromolecular crystallography in PHENIX. J. Appl. Crystallogr. 45, 581-586 (2012).
37
Krissinel, E. & Henrick, K. Inference of macromolecular assemblages from a crystalline state. J. Mol. Biol. 372774-797 (2007).
38
Winn, M.D. et al. Overview of the CCP4 suite and current developments. Acta Crystallogr. re 67235-242 (2011).
39
Sievers, F. and Higgins, D. G. Clustal, Omega. Curr. Protoc. Bioinform. 48, 1.25.1-1.25.33 (2014).
40
Schuck, P. Granulometric analysis of macromolecules by ultracentrifugation of sedimentation rate and lamm equation modeling. Biophys. J. 781606-1619 (2000).
41
Longtine, M.S. et al. Additional modules for the versatile and economical removal and modification of PCR-based genes in Saccharomyces cerevisiae. Yeast 14953-961 (1998).
42
Yofe, I. & Schuldiner, M. Primers-4-Yeast: A Complete Web Tool for Primer Planning for Saccharomyces cerevisiae. Yeast 31, 77-80 (2014).
43
Sikorski, R. S. & Hieter, P. A system of shuttle vectors and yeast host strains designed for efficient manipulation of Saccharomyces cerevisiae. Genetic 12219-27 (1989).
44
Ieva, R. et al. Mgr2 plays the role of lateral porter for the preproteic sorting in the inner membrane of mitochondria. Mol. Cell 56641-652 (2014).
45
Morgenstern, M. et al. Definition of a high confidence mitochondrial proteome on the quantitative scale. Cell Rep. 192836-2852 (2017).
46
Schindelin, J. et al. Fiji: an open-source platform for the analysis of biological images. Nat. The methods 9676-682 (2012).
47
Wilson-Kubalek, E.M., Brown, R.E., Celia, H. & Milligan, R. A. Lipid nanotubes as substrates for helical crystallization of macromolecules. Proc. Natl Acad. Sci. United States 958040-8045 (1998).
48.
Hagen, W.J.H., Wan, W. and Briggs, J.A. G. Implementation of a cryo-electron tomography-tilt scheme optimized for averaging on high resolution at medium resolution. J. Struct. Biol. 197, 191-198 (2017).
49
Mastronarde, D. N. Automated electron microscopy tomography using robust prediction of sample movements. J. Struct. Biol. 152, 36-51 (2005).
50
Grant, T. & Grigorieff, N. Measurement of optimal exposure for single-particle cryo-EM with the aid of a 2.6 Å reconstruction of VP6 rotavirus. eLife 4e06980 (2015).
51.
Zheng, S. Q. et al. MotionCor2: Anisotropic correction of beam-induced motion to improve cryo-electron microscopy. Nat. The methods 14, 331 to 332 (2017).
52
Castaño-Díez, D., Kudryashev, M., Arheit, M. & Stahlberg, H. Dynamo: a flexible and user-friendly development tool for the average subroutine of cryo-EM data in high performance computing environments. J. Struct. Biol. 178139-151 (2012).
53
Pettersen, E.F. et al. UCSF Chimera – a visualization system for exploratory research and analysis. J. Comput. Chem. 251605-1612 (2004).
54
Whitford, P.C. et al. Excited states of translocation of ribosomes revealed by integrative molecular modeling. Proc. Natl Acad. Sci. United States 108, 18943-18948 (2011).
55
Noël, J.K. et al. SMOG 2: Versatile software for generating structure-based models. PLOS Comput. Biol. 12, e1004794 (2016).
56.
Harvey, M. J. & De Fabritiis, G. AceCloud: simulations of molecular dynamics in the cloud. J. Chem. Inf. Model. 55909-914 (2015).
57
Best, R.B. et al. Optimization of the CHARMM all-atom additive protein force field targeting better sampling of the skeleton, ψ and side chain1 and2 dihedral angles. J. Chem. Comput Theory. 83257 to 3273 (2012).
58
Pronk, S. et al. GROMACS 4.5: a high-throughput and highly parallel open source molecular simulation toolbox. bioinformatics 29845-854 (2013).
59
Theile, C.S. et al. N-terminal labeling specific to a protein site by means of sortase-induced reactions. Nat. Protocol. 81800-1807 (2013).
60.
Meglei, G. & McQuibban, G. A. The Mgm1p protein, bound to dynamin, assembles into oligomers and hydrolyzes the GTP for it to function in mitochondrial membrane fusion. Biochemistry 48, 1774-1784 (2009).
61.
Roux, A. et al. The curvature of the membrane controls the polymerization of dynamin. Proc. Natl. Acad. Sci. United States 1074141-4146 (2010).
62
Rujiviphat, J. et al. The maintenance protein of the mitochondrial genome 1 (Mgm1) modifies the membrane topology and promotes the local curvature of the membrane. J. Mol. Biol. 427, 2599-2609 (2015).
63.
Mühleip, A. W. et al. The helical lattices of U-shaped ATP synthase dimers form tubular ridges in ciliated mitochondria. Proc. Natl Acad. Sci. United States 1138442-8447 (2016).
64.
Tarasenko, D. et al. The MICOS Mic60 component displays a preserved membrane folding activity necessary for the morphology of normal ridges. J. Cell Biol. 216, 889-899 (2017).
65.
Barbot, M. et al. Mic10 oligomerizes to fold the internal membranes of mitochondria at the junctions between streaks. Metab Cell. 21756-763 (2015).
66.
Bohnert, M. et al. Central role of Mic10 in the mitochondrial contact site and the system of organization of cristae. Metab Cell. 21747-755 (2015).
67.
Hessenberger, M. et al. Mic60-regulated membrane remodeling controls the formation of mitochondrial crista junctions. Nat. Common. 815258 (2017).
68.
Lee, H., Smith, S.B. and Yoon, Y. The short variant of mitochondrial dynamin, OPA1, maintains the mitochondrial energetics and the crista structure. J. Biol. Chem. 292, 7115 to 7130 (2017).
Source link