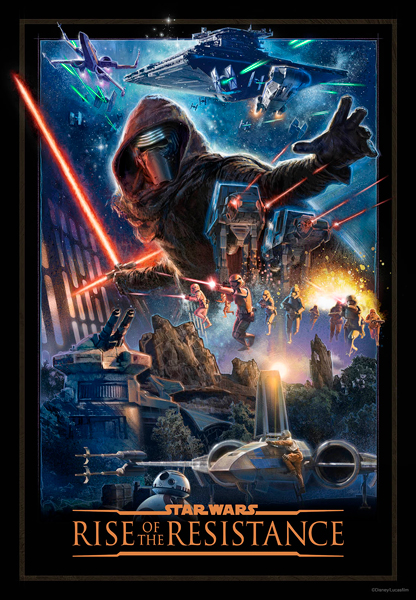 After months of anticipation, Galaxy & # 39; s Edge visitors will finally find a new Star Wars attraction. Disney parks announced today that the huge "Rise of the Resistance" will be taking over Disney World on December 5th – which would have been Walt Disney's 118th birthday.
Bad news for the Disneyland annual pass holders: it will not be open in California until January 17, 2020, slightly later than the originally announced opening date. This means that the Millennium Falcon Space Flight Simulator: Smugglers Run will be the only Star Wars themed hike for the rest of the year.
"These are not the dates we are looking for," said an anxious fan responded on Twitter.
Disney's official announcement describes the new attraction as an attraction that "will blur the boundaries between fantasy and reality," dropping guests in the midst of a decisive battle between the First Order and the Resistance. Yes, it could mean a face-to-face confrontation with Kylo Ren himself.
Earlier in March, CEO Bob Iger had called the park's "most technologically advanced and immersive" ride.
Upon arrival, the guests will be immediately transported to the world of the carousel, passing through queues with painted walls that look like old rock caverns while sounding droids resound in the lobby. will light up with the targets of the Resistance fighter on a map of the Star Wars galaxy. This is as usual in enemy territory.
But when they enter the Ready Room or secret hideout of the merry-go-round, the riders quickly turn into rookies and encounter an animatronic version of the BB-8 and a digital version of Rey. She will signal to them to participate in a mission against the First Order.
From there, 50 runners at a time will be escorted into the cockpit of a transport vessel. When taking flight, the ground will move and shake.
"You will physically move and you will feel the sensation of taking off," said Creative Director John Larena, creative director at Walt Disney Imagineering. "It will be a sweet trip."
It will not be peaceful either. Shortly after their journey, the new Resistance fighters will confront the First Order and be surrounded by Star Destroyers. From there, the runners will be escorted out of their ship, separated into small groups and thrown into prison cells for questioning.
"That's the kind of room (where) Poe Dameron was actually interviewed by Kylo Ren in" The Awakening of the Force, "Larena said." Well, the same kind of thing is going to happen. " arrive. You will receive a visit from Kylo Ren and then the rest of the race will happen for you. I can not tell you how. "
Runners will have to find their own way to escape the first order. For those looking for juicy details about the cross-platform experience, Disney Parks have announced that they would share periodic updates on their blog.
Amanda Bartlett is an editorial assistant at SFGate. Email: amanda.bartlett@sfchronicle.com