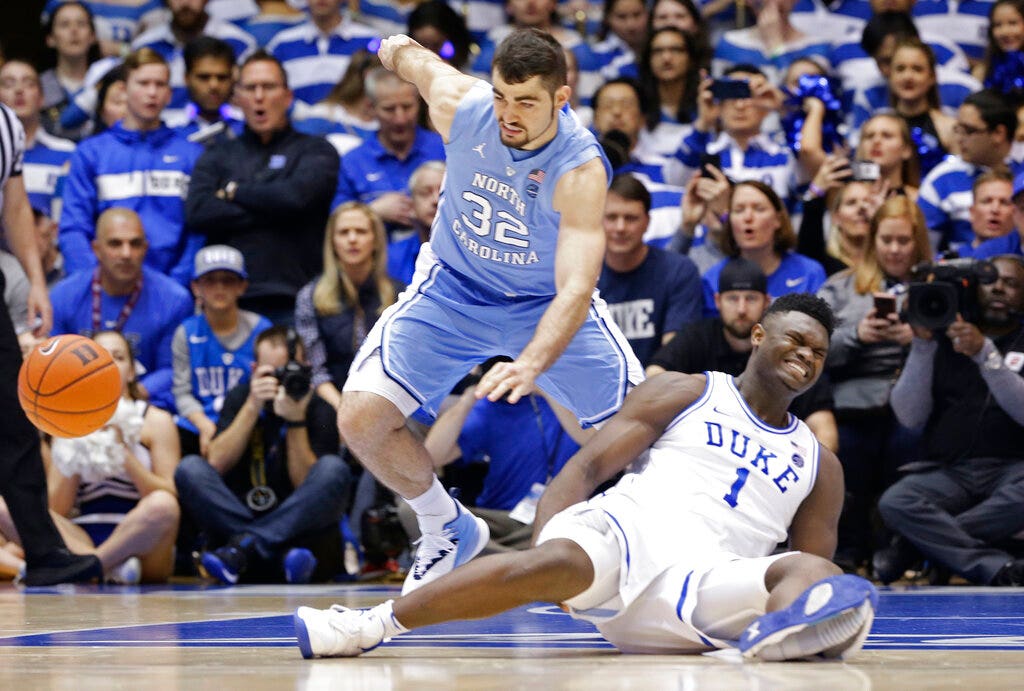 [ad_1]

A monstrous injury to Duke star player Zion Williamson during Wednesday night's game re-examined the NCAA's policy and challenged Williamson's future in college basketball.
A writer from Deadspin has made it clear: Williamson has nothing to gain from college basketball.
The accident occurred in the first 36 seconds of the match against the Tar Heels of North Carolina. Williamson, 18, dribbled when his shoe seemed to open, causing a twisting of his knee and a passage of the right foot through the shoe. He was forced to spend the rest of the game.
Duke head coach Mike Krzyzewski said Thursday that Williamson's injury was "a slight knee sprain" and was "stable". But if Williamson continues the season, it's finally up to him, said ESPN.
The incident drew attention to NCCA's policy of not paying its university athletes while maintaining multi-million contracts with companies such as Nike, Williamson's shoe manufacturer.
"Once again, let's remember all the money that has been invested in this game … and these players have nothing to do with it" and now Zion is hurt … something has to change @NCAA, "tweeted Donovan Mitchell, Utah Jazz's player.
NBA ALUMNI WISHES WISH TO WILD TO ZION WILLIAMSON, BUT NATIONAL TAGS PARK IS COMING
Crews DeMarcus of the Warriors called the college basketball team and asked him to "do the best for you and your family" and be "ready for the next level".
GET THE FOX NEWS APP
Willamson, widely regarded as one of the NCAA's best players, is expected to be available for the NCAA Tournament next month, pending his decision to stay with the team.
Nicole Darrah from Fox News contributed to this report.
[ad_2]

Source link