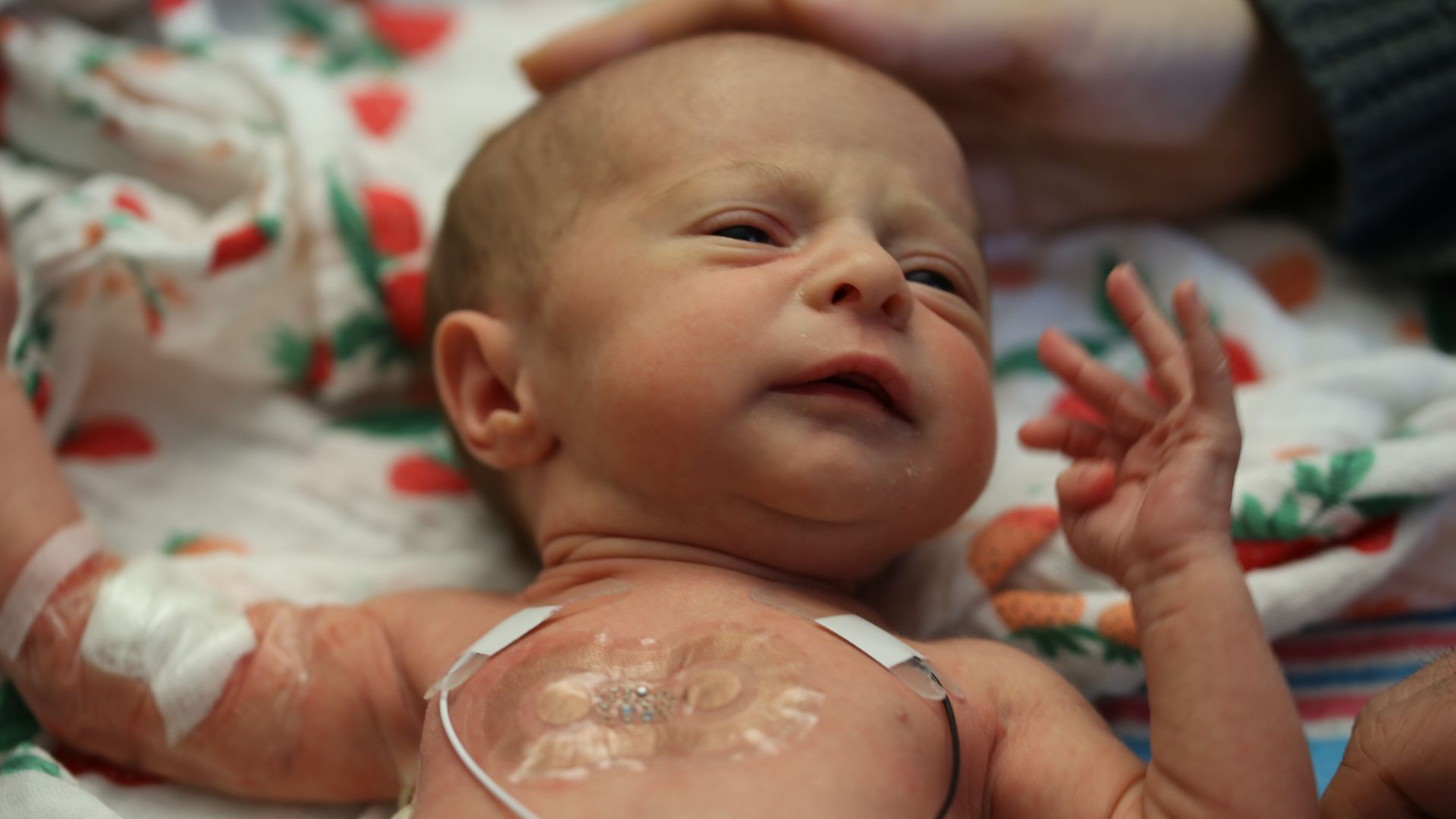 [ad_1]
"The technology is fascinating and is an exciting example of applied engineering formulated and used to help care for some of our smallest and most fragile infants."
– Lawrence Eichenfield, who was not part of this study, tells Axios
Context: Current technology, developed in the 1960s, uses rigid electrodes with powerful baby adhesives, connected to giant computer systems that monitor the heart rate and oxygen saturation of healthy premature babies.
For people born with critical issues, more and more monitors are added, such as those to control exhaled carbon dioxide levels, monitor other breathing parameters, and monitor brain wave activity .
Adhesives can damage and even heal the underdeveloped skin of newborns, says co-author Steve Xu of Northwestern University.
The threads can make it difficult for doctors or nurses to quickly access the baby and parents to hold him close to him, skin-to-skin as therapeutically recommended, or even to breastfeed, Axios explains co-author Amy S. Paller of Northwestern University.
"The most exciting thing for me is for parents," said Paller. "I saw the faces of the parents." They sit in the [NICU] room, sometimes trying to hold their little hands, but the babies are absolutely tied up. "
What did they do: The researchers worked on both the development of soft mechanisms and adhesives that would not damage the baby's skin and the lightest technology that does not require wires or batteries, but can nevertheless monitor and integrate vital signs, Xu tells Axios.
The sensor's exterior uses advances in materials science and biomedical engineering to create a skin-like silicone material that overlies the technology.
Using near field communication (similar to Apple Pay), sensors collect vital sign data at high sampling rates and use a Bluetooth chip to transmit data to a mobile device.
The unit is wirelessly powered by radio frequency energy. "The absence of battery allows the device to be ultra thin and discreet.It also allows easy cleaning of the device … and compatible with medical imaging" explains Xu.
They tested this on 21 newborns (while simultaneously using the traditional surveillance system) for the published study and conducted additional tests on about 60 other babies with the same results, says Paller.
What they found:
Paller says he is "delighted" by the accuracy of the sensors, as they work well when they are wet and compatible with advanced medical imaging techniques such as MRI and CT scans. . None of the babies had negative side effects, she adds.
Ruth Guinsburg of the Escola Paulista de Medicina – Federal University of São Paulo writes in a Science perspective piece that it is an "innovative approach".
"Integrated surveillance brings efficiency and integration, which will allow for an integrated assessment of vital factors and other parameters to assess the health status of infants." It is also interesting to make the baby more accessible to parents (and personal), without the entanglement of is now standard, "says Eichenfield, professor of dermatology and pediatrics at the University of San Diego.
Developing countries can also benefit from that, because that would require less technology, say the authors.
"We use smartphones and tablets to transmit and display data, which eliminates the need for costly old equipment – the cost of these devices is low because large-scale manufacturing facilitates deployment in the poorest countries. you can apply a technology, "says Xu.
"This technology can improve the care of very preterm infants in developed countries, but it also has a significant impact on surveillance practices around the world and can give many newborns a fairer chance to survive." , according to Guinsburg.
Yes, but: Eichenfield says more research is needed on a larger cohort of premature babies. Paller says that's the plan, and adds that although other research has shown the interest of skin-to-skin contact, they have not been able to evaluate this particular advantage in this study because babies had to wear traditional monitors.
And after: Paller said her team plans to launch a major trial in Zambia, India, and Pakistan later this year and that she will continue her research in the United States. If all goes well, she hopes to get approval from the FDA in five years.
Watch more via the Northwestern video.
[ad_2]
Source link